Updated Oct 12, 2023 -

World
Blinken tells Netanyahu in Israel: U.S. "will always be by your side"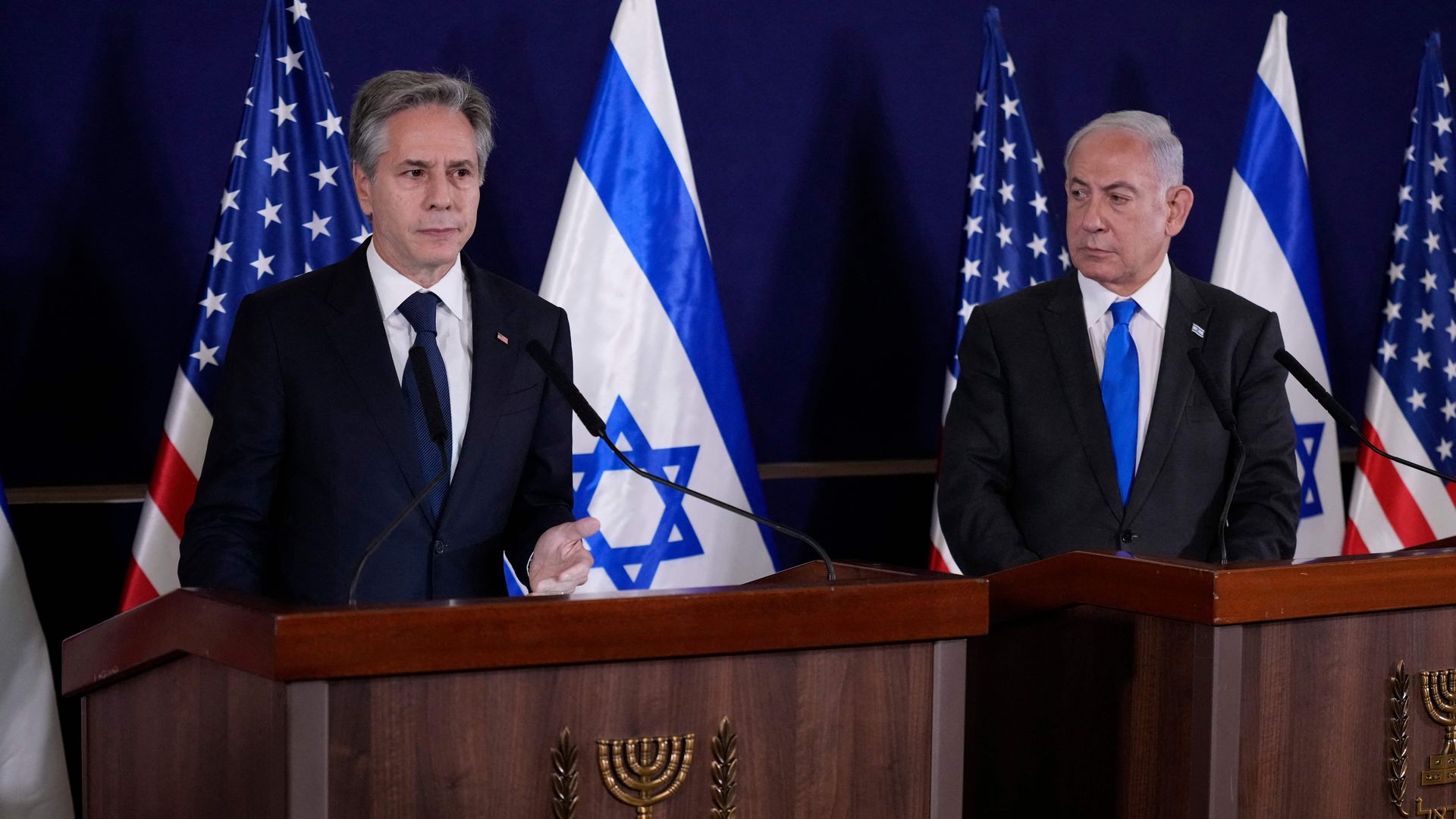 Secretary of State Antony Blinken arrived in Israel on Thursday and met Prime Minister Benjamin Netanyahu and the members of the "war Cabinet," which was formed as part of the new emergency government to respond to the Hamas attack.
Why it matters: U.S. and Israeli officials say Blinken's trip to Israel is focused on showing solidarity and support for Israel. But he's also in the region to discuss a possible safe passage for Americans and other foreign nationals who are in Gaza.
More than 1,200 Israelis and 1,350 Palestinians have been killed, thousands have been injured, and hundreds of thousands have been displaced since the fighting began.
The number of Americans killed by Hamas rose to 25 on Thursday, Blinken said. At least 17 Americans are missing, and U.S. citizens are among those held hostage by Hamas in Gaza, U.S. officials said on Wednesday.
What they're saying: Netanyahu told Blinken after their meeting that Hamas, which is considered a terrorist organization by the U.S., Israel and other countries, should be treated like ISIS. "No leader should meet them. No countries should harbor them, and those that do, need to be sanctioned," he said.
Blinken told Netanyahu that he arrived in Israel not only as the U.S. secretary of state but also as a Jew. "My grandfather fled pogroms in Russia and my stepfather survived concentration camps," he said.
Blinken said Hamas doesn't represent the Palestinian people or their national aspirations.
"This is a moment for moral clarity. Everyone must condemn Hamas. Hamas doesn't stand for the future the Palestinians want for themselves. Hamas has only one agenda — to destroy Israel and kill Jews," he said.
Blinken said Israel is strong enough to defend itself by itself but stressed it has the full support of the U.S. "My message is this: As long as America exists, we will always be there by your side," he said.
The Israeli Prime Minister's Office said that Netanyahu showed Blinken photos of babies who were killed by Hamas. In one photo, a baby was shot in the head, and in another photo, a baby's body was burned.
State of play: Blinken said the U.S. has already supplied Israel with ammunition and interceptors for the Iron Dome missile defense system and more shipments are on the way.
"As Israel's security needs evolve, we will work with Congress to make sure they are met. There is overwhelming bipartisan support in Congress for Israel's security," Blinken said.
Blinken said Israel has the right to defend itself and create a reality that prevents Hamas from attacking it in the future, but he stressed "every possible precaution" must be taken "to avoid hitting civilians."
The big picture: Blinken also said the U.S. welcomes "the formation of the new emergency government and the unity in Israeli society." It was the first U.S. response to the dramatic political development in Israel.
Netanyahu and former Defense Minister Benny Gantz agreed to the emergency unity government on Wednesday.
The fact that Gantz, a member of the opposition, is joining the government underscores how big the crisis in Israel is as a result of the deadly Hamas attack.
A new small "war Cabinet" has been formed, with Gantz, who is a former IDF chief of staff, as a member along with Netanyahu and current Defense Minister Yoav Gallant.
Former IDF Chief of Staff Gadi Eisenkot, who is a member of Gantz's party, and current Minister of Strategic Affairs Ron Dermer are also part of the war Cabinet.
Between the lines: The Biden administration has a close relationship with Gantz, who visited the White House several days before the Hamas attack.
Both Gantz and Eisenkot have decades of close ties with the Pentagon.
What to watch: Blinken is expected to meet in Israel with the families of U.S. citizens who were killed and others who are still missing or were taken hostage by Hamas.
Blinken is joined by Steve Gillen, the deputy U.S. special envoy for hostage affairs, who is expected to stay in Israel to work with the families and with the Israeli government on the issue.
Blinken will travel to Jordan later on Thursday and meet King Abdullah II. He will meet Palestinian President Mahmoud Abbas in Amman on Friday.
Blinken is also scheduled to meet senior officials in Saudi Arabia, the United Arab Emirates and Egypt as part of the U.S. diplomatic effort around the war in Gaza, the State Department said on Thursday.
Go deeper: Biden says U.S. "made it clear" to Iran it should not intervene in Hamas-Israel war
This story has been updated with additional details from the Israeli Prime Minister's Office and to reflect additional stops and meetings scheduled for Blinken.
Go deeper