Biden says U.S. "made it clear" to Iran it should not intervene in Hamas-Israel war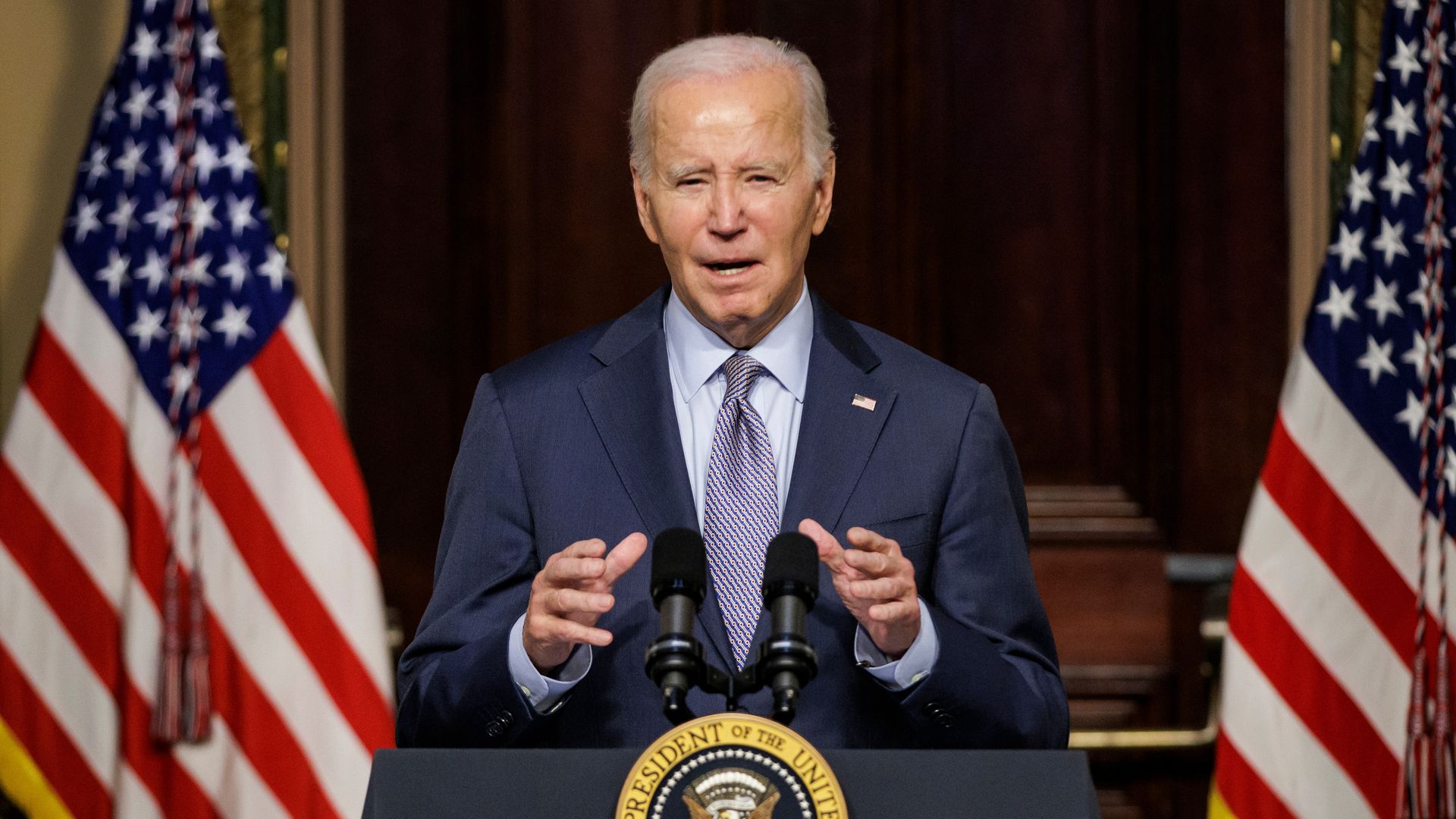 President Biden said in a meeting with the leaders of the Jewish organizations in the U.S. on Wednesday that the U.S. has "made it clear" to Iran that it should "be careful" and not intervene in the war between Israel and Hamas.
Why it matters: Biden in his previous public comments has warned "against any other party hostile to Israel seeking advantage" of the situation in Israel and Gaza, but until Wednesday, hadn't specifically mentioned Iran.
The U.S. and other countries have sought to deter Iran, Hezbollah and other groups in the region from getting involved in the war.
State of play: Chairman of the Joint Chiefs of Staff Gen. Charles "CQ" Brown said in a press conference on Wednesday that the U.S. has no indication that any player in the region is planning to join the war.
The U.S. earlier this week moved an aircraft carrier strike group into the Eastern Mediterranean and Biden said that he is prepared to move additional assets to the region as necessary.
The White House declined to share details about the messages the U.S. has been sending to Iran in diplomatic channels.
"The arrival of the world's largest aircraft carrier – the USS Gerald R. Ford Carrier Strike Group – in the Eastern Mediterranean yesterday sends a strong signal of deterrence should any actor hostile to Israel consider trying to escalate or widen this war," a White House National Security Council spokesperson told Axios.
The big picture: Hezbollah hasn't joined the war but in recent days there have been almost daily skirmishes on the Israeli-Lebanese border and tension in the area is very high.
Hezbollah on Wednesday fired anti-tank missiles on Israeli military vehicles on the border. The organization claimed responsibility for the attack.
Hezbollah said it was a retaliation for the death of five members earlier this week when Israel attacked the group's positions as it responded to an attack by gunmen from the Palestinian Islamic Jihad who infiltrated Israel through the Lebanese border.
Go deeper: Zelensky asks to visit Israel in show of solidarity
Go deeper