Scoop: Zelensky asks to visit Israel in show of solidarity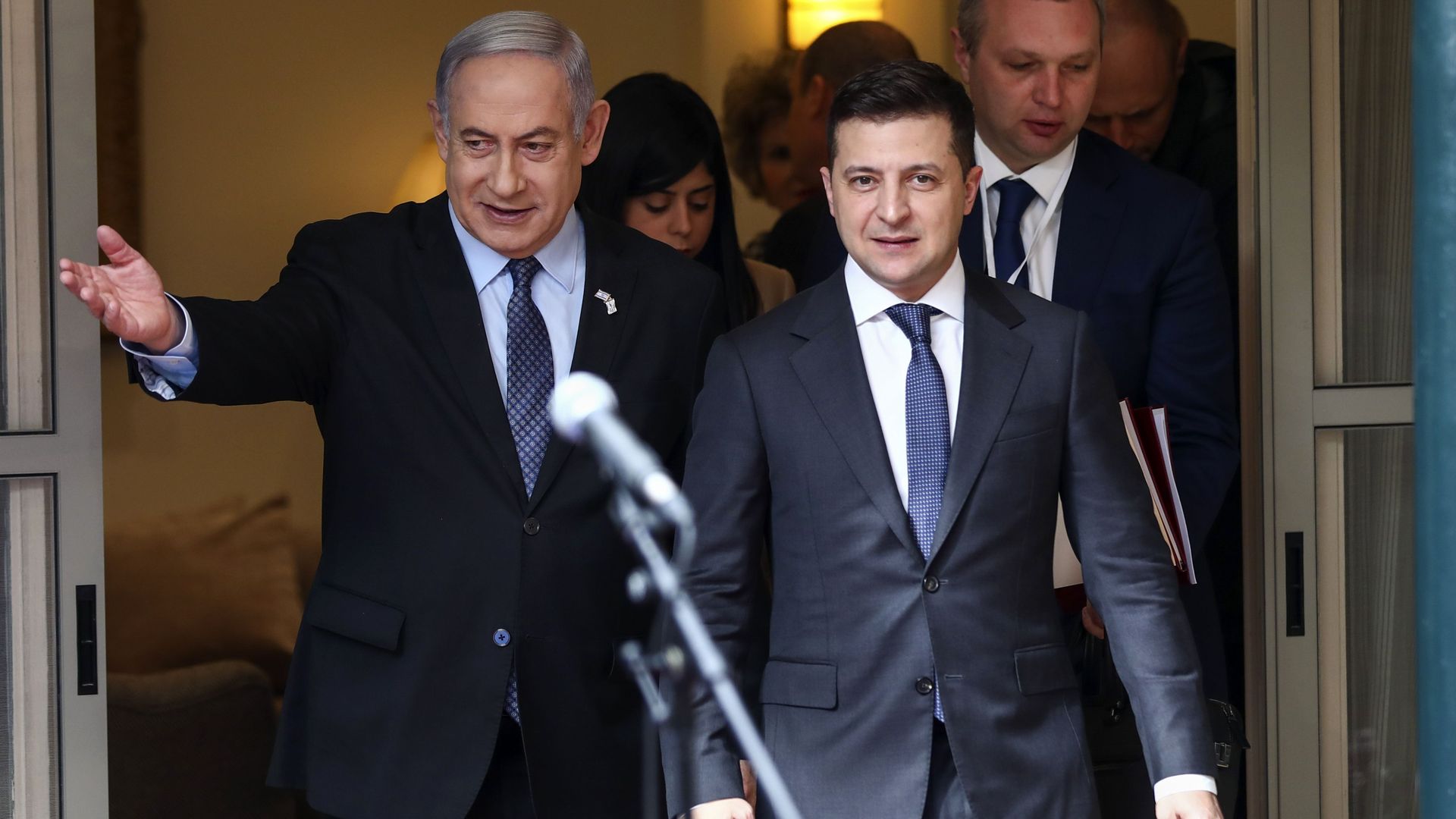 Ukrainian President Volodymyr Zelensky wants to visit Israel in a show of solidarity with the country amid the fighting in Gaza, two Ukrainian and Israeli officials told Axios.
Why it matters: A visit by Zelensky would boost international support for Israel's counteroffensive against Hamas in Gaza.
Behind the scenes: Zelensky's office sent an official request to the Israeli Prime Minister's office asking to coordinate a visit, the Ukrainian and Israeli officials said.
The officials said the talks on the issue are preliminary and there is still no date for a visit.
Zelensky told reporters on Wednesday that in the early days of Russia's invasion, it was critical for Ukraine not to feel alone and that international support helped a lot.
"This is why I urge all leaders to visit Israel and show their support for the people. I'm not talking about any institutions, but about support for the people who suffered from terrorist attacks and are dying today," Zelensky said after a meeting with NATO Secretary General Jens Stoltenberg in Brussels.
Zelensky's office and the Israeli Prime Minister's Office declined to comment.
Driving the news: Since Hamas' attack on Saturday, Zelensky has given Israel strong public support and equated Hamas to Russian President Vladimir Putin's invasion of Ukraine.
Zelensky was one of the first leaders to call Israeli Prime Minister Benjamin Netanyahu and express support for Israel.
"In the face of such a terrorist strike, everyone who values life must stand in solidarity ... Israel has the full right to defend itself against terror," Zelensky said in a statement shortly after the attack.
The big picture: Russia has not expressed support for Israel or condemned Hamas. Putin on Tuesday said the violence was "a vivid example of the failure of United States policy in the Middle East," per Reuters.
Russia has been holding formal talks with Hamas for years, including hosting official Hamas delegations in Moscow.
Putin hasn't spoken to Israeli Prime Minister Benjamin Netanyahu since the war began.
During a call with Turkish President Recep Tayyip Erdoğan on Wednesday, Putin expressed concern over the "catastrophic increase" in the number of civilians killed in the war, the Kremlin said.
State of play: Ukraine is seeking additional aid from Congress to support its war effort, but the House speakership crisis has empowered Republican hardliners who oppose new funding.
Some members of Congress are considering tying Ukraine and Israel aid together, but some Republicans are opposed, Axios' Andrew Solender reports.
Go deeper