"Squad" comments on Hamas reignite Dems' Israel tensions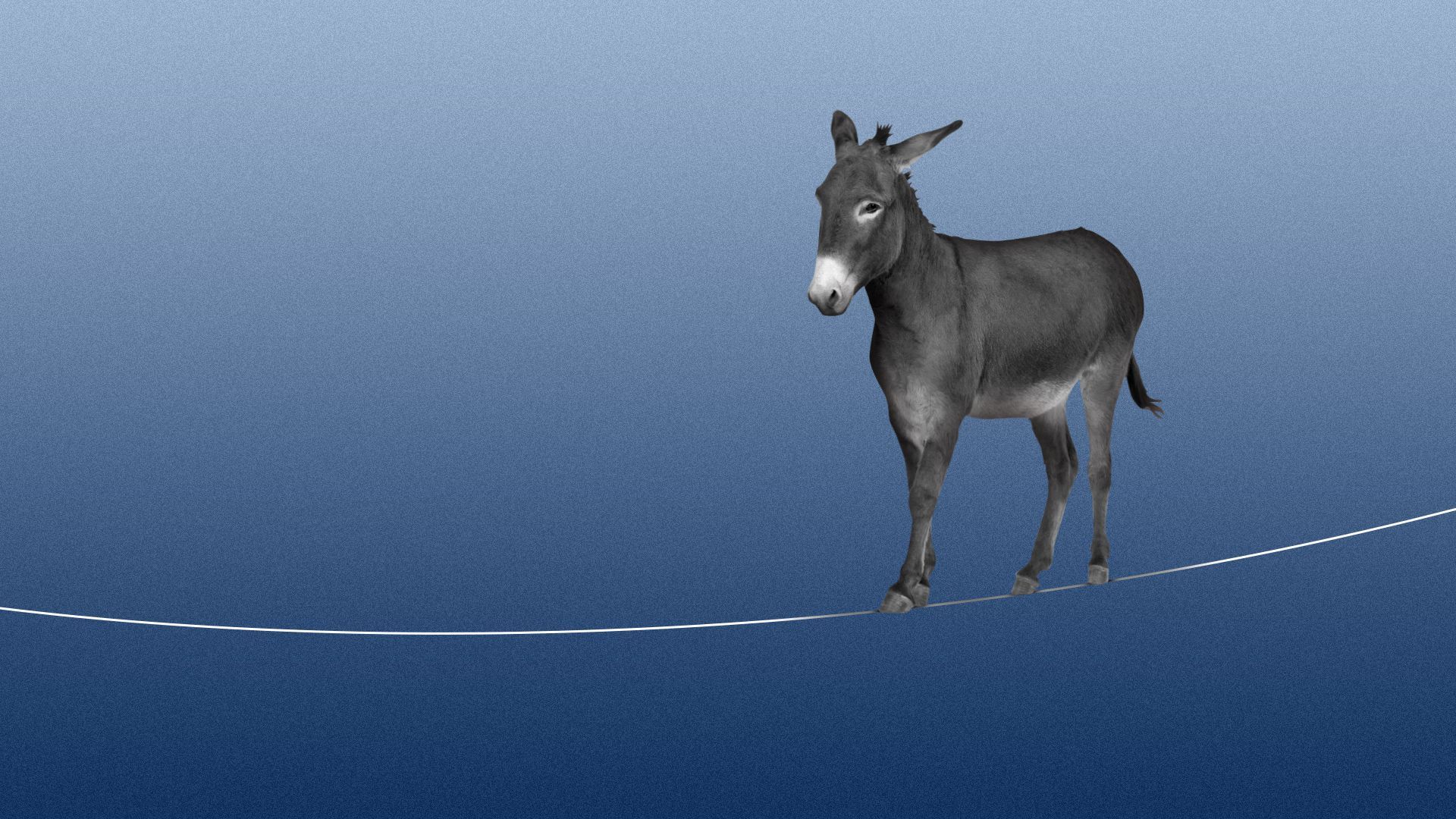 House Democrats' long-simmering divisions over Israel are bubbling to the surface in the aftermath of Hamas' attacks on Israeli civilians.
Why it matters: The overwhelmingly pro-Israel Democratic Caucus tends to tolerate the high-profile, left-wing "Squad," which generally is more sympathetic to the Palestinian cause — but Squad members' comments about the attacks have sparked a swift internal backlash.
Driving the news: To the dismay of some of their Democratic colleagues, Squad members' reactions to Hamas' attack included decrying the "cycle of violence" between Israelis and Palestinians and demanding an end to U.S. military assistance to Israel.
"I was pained to read those comments," Rep. Steve Cohen (D-Tenn.) told Axios.
What they're saying: Squad Rep. Cori Bush (D-Mo.) called for an end to U.S. aid to Israel, while Ilhan Omar (D-Minn.) called to end "unconditional" military aid. Rep. Rashida Tlaib (D-Mich.) said "this heartbreaking cycle of violence will continue" unless the funds are cut off.
Tlaib, a Palestinian American, did not mention Hamas and made only a passing reference to the recent violence in her statement, which decried the "Palestinian and Israeli lives lost yesterday, today, and every day."
Other Squad members offered more cautious responses. Rep. Alexandria Ocasio-Cortez (D-N.Y.) criticized Hamas' attacks and urged "de-escalation" between the two sides.
The other side: "I think that it's unfortunate that they made [these statements] at this time," Cohen said. "There's a time and a place ... but this is a time to reflect on the horrific, animalistic butchery of Hamas."
"There should have been reflection on the horrors that were caused to Israeli victims," he added. "I think it's a political mistake, and a moral mistake. It's morally wrong not to reflect on the atrocities."
Rep. Ritchie Torres (D-N.Y.) told Axios that "everyone in politics should clearly condemn" the attacks. "No one should blame the victim, no one should explain or excuse the terrorism."
Rep. Josh Gottheimer (D-N.J.), in a statement obtained by Axios, said of Bush and Tlaib's comments: "It sickens me that while Israelis clean the blood of their family members ... they believe Congress should strip U.S. funding to our democratic ally and allow innocent civilians to suffer."
The intrigue: The Squad members' comments even got pushback from the White House, with Press Secretary Karine Jean-Pierre telling reporters, "We believe they are wrong, we believe they are repugnant and we believe they are disgraceful."
"There are not two sides here," Jean-Pierre added.
The big picture: For House Democrats, this cycle — moderates disavowing anti-Israel comments from their left-leaning colleagues — is familiar.
The caucus was in a similar position just a few months ago, when many Democrats condemned Progressive Caucus chair Pramila Jayapal's (D-Wash.) for calling Israel a "racist state."
The bottom line: Democrats' broad support of Israel was reflected by House Minority Leader Hakeem Jeffries (D-N.Y.), who called on Congress to "stand with Israel until the invasion by Hamas has been crushed."
"Being loud does not make you right, nor does it make you strong, it just makes you loud," said Rep. Brad Schneider (D-Ill.), who cited the 390 co-sponsors on a bipartisan pro-Israel resolution first reported by Axios.
"Support to Israel is not a question. I mean, it just isn't," said another House Democrat. "Yes, there are these tweets from a couple members, but the rest of the United States Congress ... [is] fully there."
In an unusual show of unity, all 24 Jewish House Democrats — including some staunch progressives — signed onto a statement Saturday saying they "are united in standing with and supporting our ally Israel as it responds to terrorist attacks from Gaza."
Editor's note: This story has been corrected to clarify that Rep. Illhan Omar wants to end "unconditional" military aid to Israel.
Go deeper