House to vote on pro-Israel measure following Jayapal comments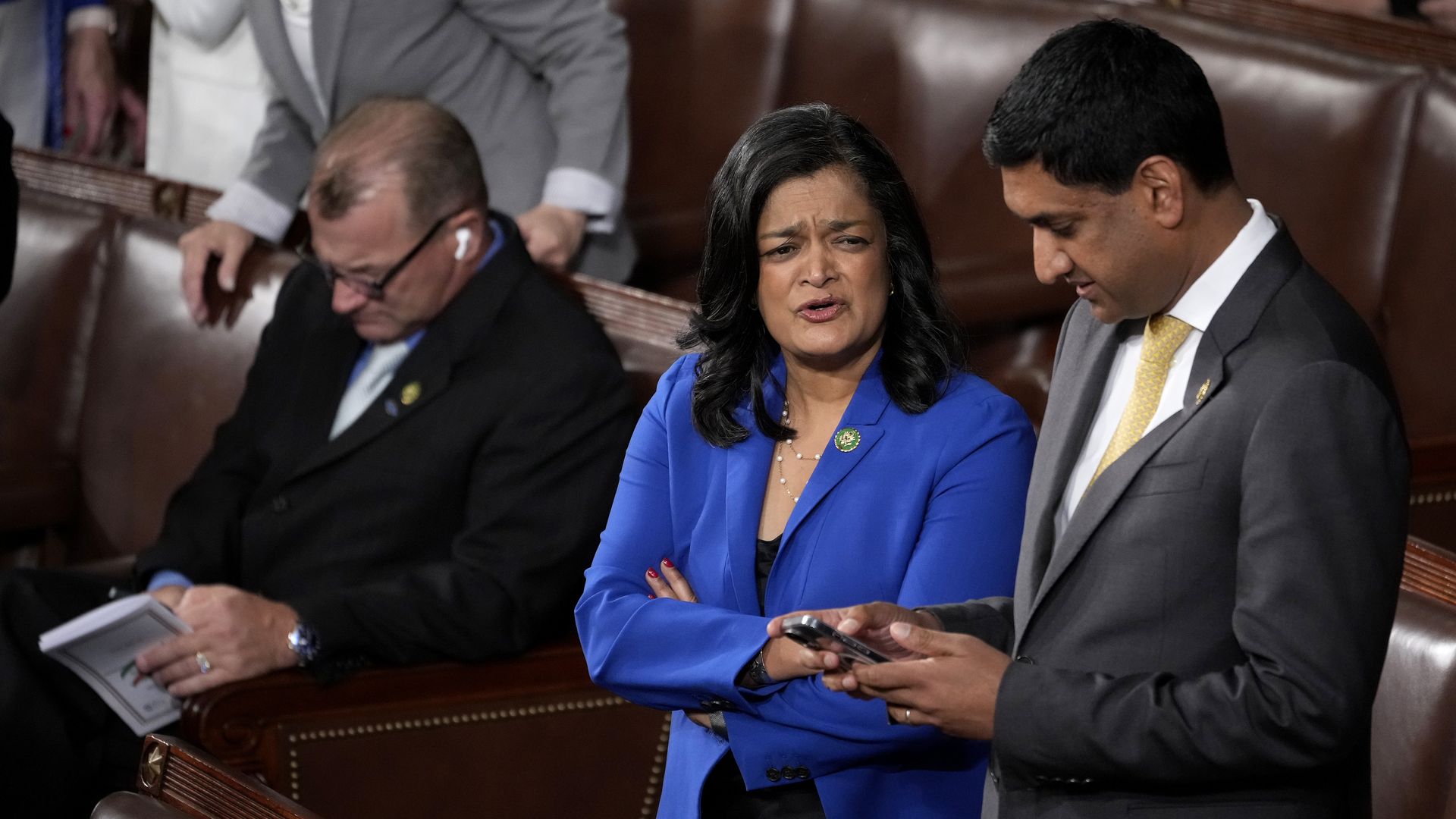 House Republicans are planning a vote this week on a resolution denouncing anti-semitism and defending Israel, Axios has learned.
Why it matters: It is a direct response to comments from Congressional Progressive Caucus Chair Pramila Jayapal (D-Wash.) over the weekend calling Israel a "racist" state.
The remarks have spurred condemnation from both Republicans and Democrats.
House Speaker Kevin McCarthy (R-Calif.), told reporters on Monday Democratic leaders "need to do something" about such remarks from their members.
Driving the news: The House will vote Tuesday on a one-page resolution from Rep. August Pfluger (R-Texas) declaring that Israel is not a "racist or apartheid state," House Majority Leader Steve Scalise's (R-La.) office confirmed to Axios.
The resolution also rejects "all forms of antisemitism and xenophobia" and states that the U.S. "will always be a staunch partner and supporter of Israel."
A spokesperson for Jayapal declined to comment on the resolution, saying they are still reviewing the text.
What they're saying: Pfluger in a statement to Axios called Jayapal's comments, as well as past anti-Israel remarks from progressive Reps. Rashida Tlaib (D-Mich.) and Ilhan Omar (D-Minn.), "unacceptable and disgusting."
Pfluger said his resolution will ensure "all Americans know where their Representatives stand when it comes to supporting Israel and our Jewish communities."
The backdrop: After a panel she was participating in on Saturday was disrupted by anti-Israel protesters, Jayapal said, "I want you to know that we have been fighting to make it clear that Israel is a racist state."
Jayapal, in a statement the following day, said her comments were meant to be aimed at Israeli Prime Minister Benjamin Netanyahu's government. "I do not believe the idea of Israel as a nation is racist," she said.
A group of moderate Jewish Democrats responded by circulating a denunciation of Jayapal's statement, which 43 Democrats, including some Progressive Caucus members, signed onto.
What we're watching: The vote is likely to be significantly bipartisan.
"I'll be supportive," Rep. Greg Landsman (D-Ohio), a Jewish lawmaker from a swing seat, told Axios, adding: "Blaming Israel for everything doesn't work."
Rep. Debbie Wasserman Schultz (D-Fla.) said "of course" she will vote for it. "It's three very simple, very straightforward clauses I agree with," she said.
Both were co-authors of the statement denouncing Jayapal's remarks.
The big picture: The vote comes ahead of Israeli President Isaac Herzog's address to a joint session of Congress on Wednesday, which some progressives plan to boycott.
"I will not be there … I'm boycotting," Rep. Cori Bush (D-Mo.) said Wednesday.
She is joining Reps. Ilhan Omar (D-Minn.), Rashida Tlaib (D-Mich.), Jamaal Bowman (D-N.Y.) and Alexandria Ocasio-Cortez (D-N.Y.).
Meanwhile, some Democrats on the House "weaponization" subcommittee are pushing for the GOP-led panel to cancel an upcoming appearance by Robert Kennedy Jr. over his recent antisemitic remarks about COVID.
Republican leadership signaled Monday they will not rescind the invitation.
Go deeper