Kevin McCarthy won't get help from House Democrats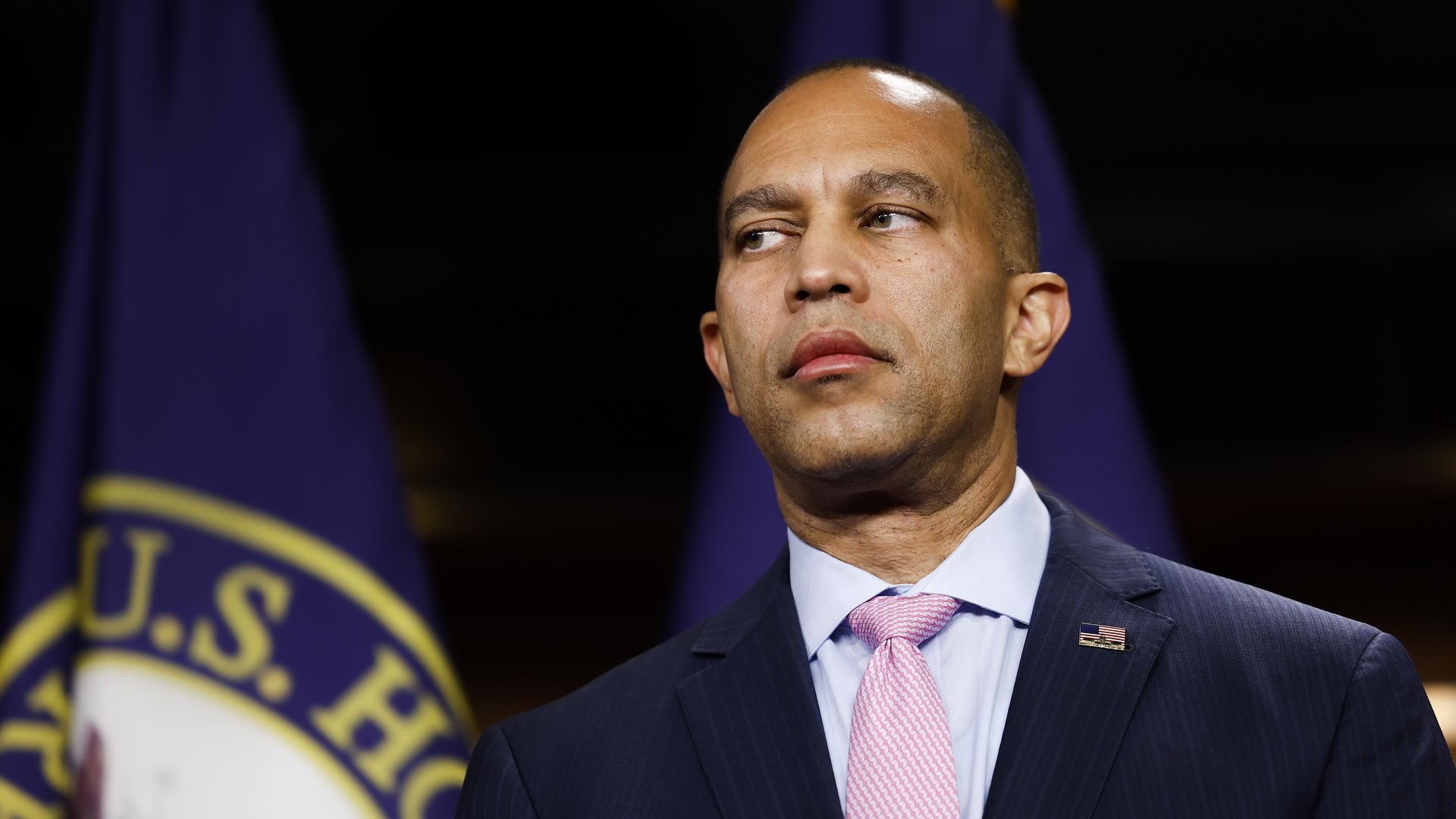 House Speaker Kevin McCarthy (R-Calif.) shouldn't expect a lifeline from across the aisle as he fights to keep his job.
Why it matters: If a half dozen Republicans support the motion to vacate introduced by right-wing Rep. Matt Gaetz (R-Fla.), which is set for a vote on Tuesday afternoon, McCarthy will need Democratic votes to survive.
Driving the news: McCarthy faces a final vote on his leadership within the next two business days after a procedural motion to block the challenge failed on Tuesday afternoon.
Ten Republicans voted against blocking the challenge.
House Minority Leader Hakeem Jeffries (D-N.Y.) said in a letter to colleagues on Tuesday that "House Democratic leadership will vote yes on the pending Republican Motion to Vacate the Chair."
After listing off reasons not to keep McCarthy, Jeffries said Democrats "remain willing to find common ground on an enlightened path forward."
"Unfortunately, our extreme Republican colleagues have shown no willingness to do the same," he wrote. "It is now the responsibility of the GOP members to end the House Republican Civil War."
The backdrop: Coming out of an extended closed-door caucus meeting to discuss the vote on Tuesday morning, Democrats telegraphed overwhelming opposition to saving McCarthy.
"I think we're unified in saying ... we're not here to bail out Kevin McCarthy," said Rep. Jim McGovern (D-Mass.). "I expect everybody to stay unified."
"Everybody was just very clear on how nobody should support McCarthy," said one House Democrat, citing his "history of not keeping his word."
Zoom in: McCarthy's most likely allies would be moderates, but he's getting no love from those corners of the Democratic Caucus.
Reps. Jared Golden (D-Maine) and Annie Kuster (D-N.H.), the chairs of the centrist Blue Dog Coalition and center-left New Democrat Coalition, both put out statements following the meeting blasting McCarthy.
"Absent any significantly meaningful benefit for Maine's Second District, I see no reason to vote for him," said Golden, one of the most right-leaning Democrats in Congress.
One House Democrat, who spoke on the condition of anonymity, told Axios that "a number of the most centrist members" spoke against McCarthy during the meeting, which many found "surprising."
What we're hearing: Democrats' hours-long caucus meeting turned into a "vent" session against McCarthy, in the words of Rep. Richie Neal (D-Mass.).
"I'll refrain from some of the words" that were said about the GOP speaker, Neal quipped.
Among the laundry list of examples of McCarthy's perceived untrustworthiness, according to members: Opposing the Jan. 6 commission, going back on the bipartisan debt ceiling deal and giving Democrats little time to review last week's stopgap spending bill.
Nobody spoke in McCarthy's defense, according to multiple members.
The intrigue: Rep. Steve Cohen (D-Tenn.), a progressive who previously told Axios he would vote to save McCarthy, said after the meeting on Tuesday he is undecided: "I'm thinking about not being present, I'm thinking about being present."
"He's no Jesus," Cohen said of McCarthy. "You've got to put the institution first. Is Kevin McCarthy good for the institution? Maybe not. Is it good for the institution not to have a leader for a while? Probably not."
"So we've got a lot of bad choices."
Editor's note: This article was updated to add the details of the procedural vote.
Go deeper