"I never give up": McCarthy faces judgment day as House speaker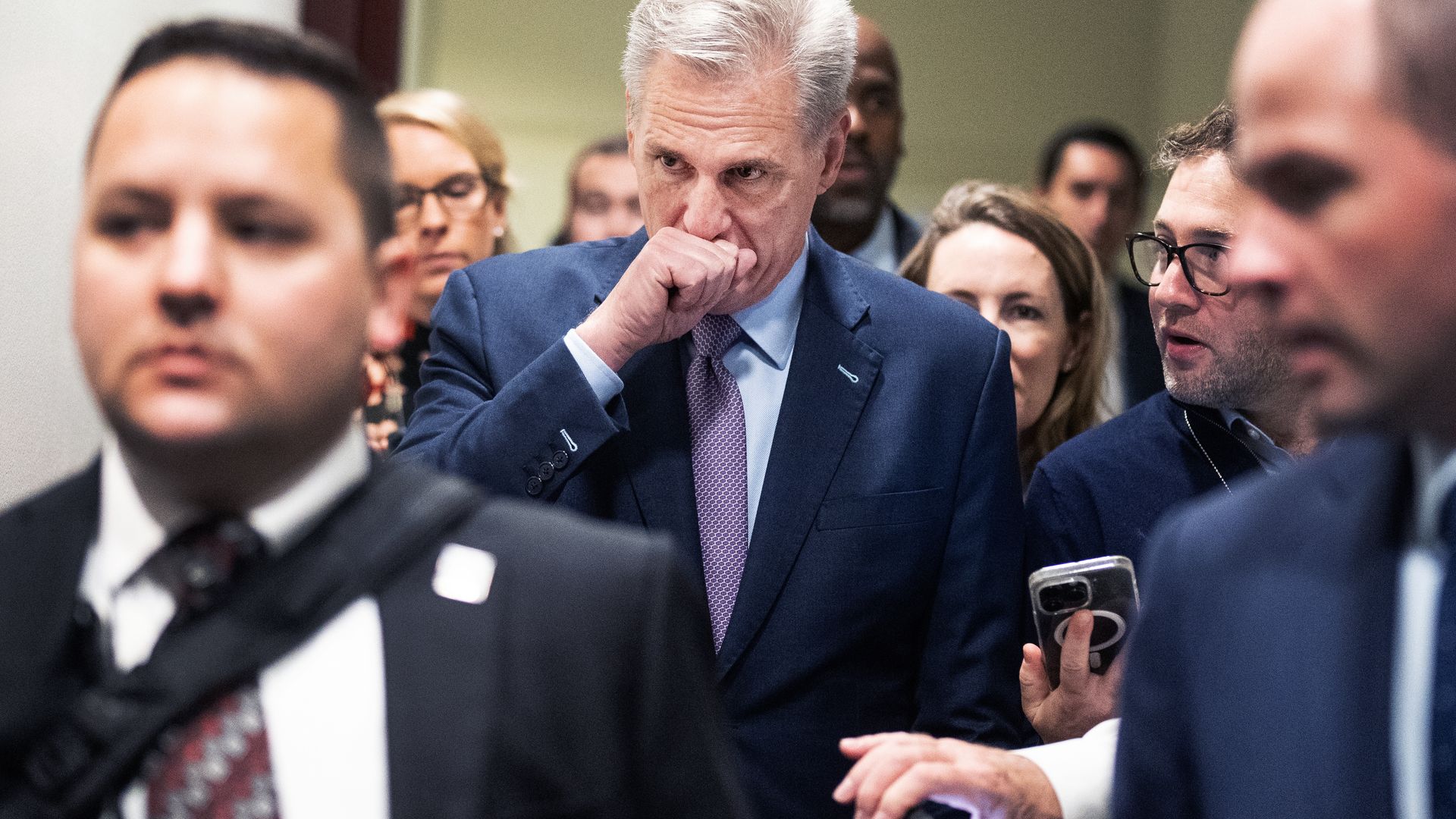 Speaker Kevin McCarthy (R-Calif.) told his members during a closed-door meeting that he's ready to face a leadership challenge head-on when votes start on Tuesday.
Why it matters: McCarthy's speakership is facing its most difficult test yet, leaving him at risk of becoming the first speaker to ever be removed from his post if Rep. Matt Gaetz (R-Fla.) is successful in his motion to vacate.
McCarthy moved up the timeline of the vote after Gaetz introduced the motion, which would force a vote within 48 hours.
"I truly believe, though, the institution of the House, at the end of the day, if you throw a speaker out that has 99% of their conference, that kept government open and paid the troops, I think we're in a really bad place for how we're going to run Congress," McCarthy told reporters Tuesday morning.
Inside the room: Multiple GOP lawmakers said that the majority of the room rallied around McCarthy, who received multiple standing ovations while defending his leadership tenure.
McCarthy told members: "I never give up and my clock doesn't run out," according to one lawmaker in the meeting.
Another member told Axios that when members were asked for a show of hands on who would back McCarthy, "many, many hands went up to keep the speaker."
One senior GOP source in the room noted that most of those who have spoken out against the McCarthy were not in attendance or left early.
What they're saying: Gaetz has repeatedly accused McCarthy of violating the terms of the deal struck with conservatives to obtain the gavel in January, and alleged that he struck a "secret Ukraine deal" with Democrats in order to pass a stopgap funding bill needed to avert a government shutdown.
"We're gonna have to sort out who's lying because somebody's lying about whether or not this CR negotiation, there was a secret side deal on Ukraine funding — we'll see," Gaetz said of McCarthy's denial there was a side deal to bring Ukraine funding to the floor.
The big picture: Democrats largely appear unified in their decision not to back McCarthy, making the path more difficult for the California Republican.
Gaetz has asserted that he has not ruled out bringing additional motions to vacate to the floor if this doesn't succeed.
Go deeper