Why retail shopping is no fun anymore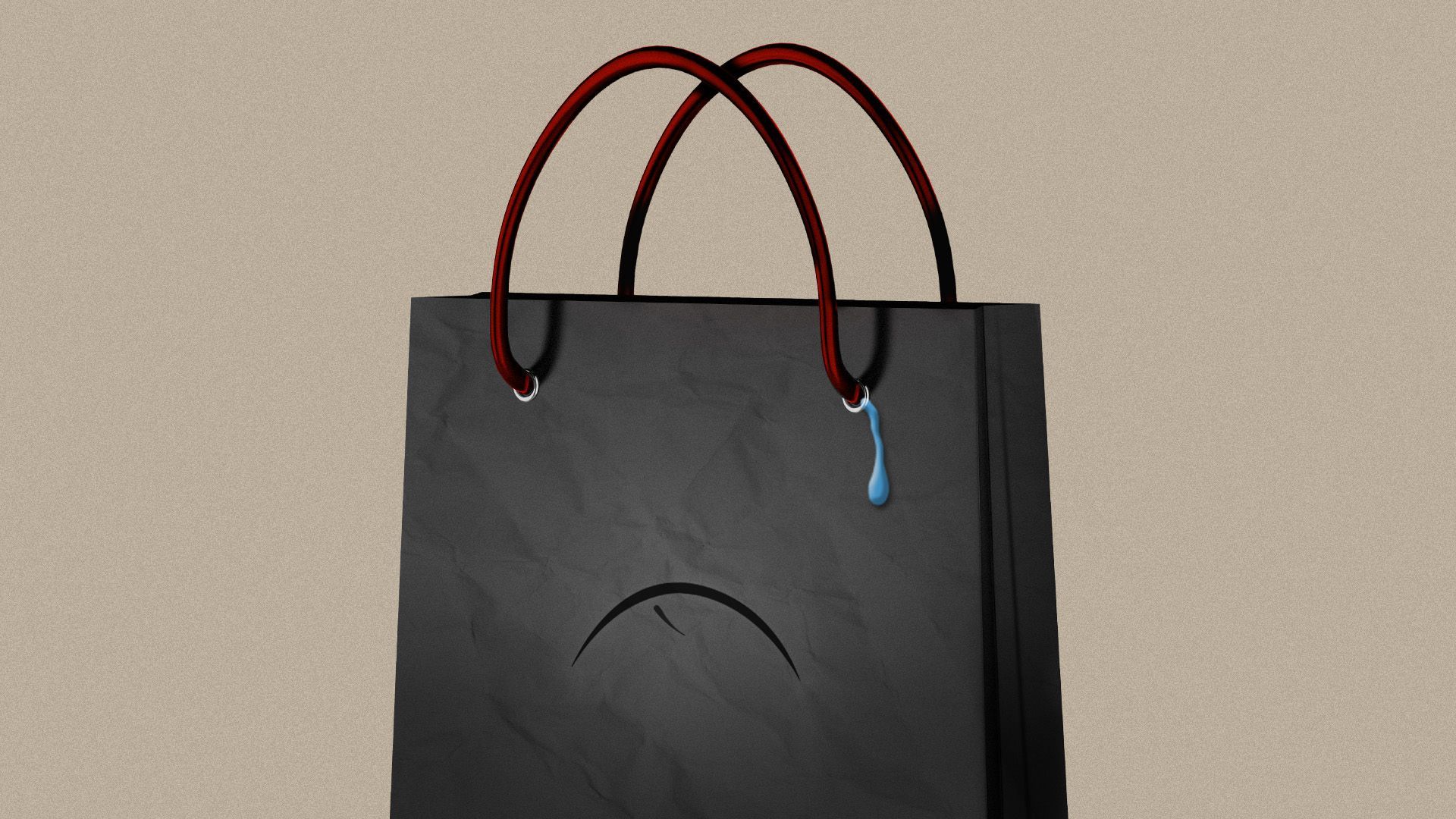 A confluence of depressing factors — from stores closing en masse to frustrating self-checkout lanes and unwearable fashion trends — has made the time-honored tradition of a fall shopping trip lose its luster.
Why it matters: While retail sales are healthy, the industry sorely needs shoppers to return to stores rather than just buying online, lest the in-person shopping experience — so important to that magic alchemy that bonds consumers to a brand — wither and atrophy.
Customers who visit stores tend to buy extra stuff, are less likely to return things, and drive traffic to retailers' websites.
The big picture: Robust consumer spending belies the fact that malls and downtowns are dotted with vacancies, discouraging shoppers and blighting neighborhoods.
Post-pandemic retail inventories tend to be spotty, leaving exasperated shoppers to forsake bricks for clicks.
How many adult women want chartreuse green dresses and wide-legged jumpsuits?
Inflation has made everything seem expensive, from everyday purchases to minor splurges.
Driving the news: Target, Walmart, Nordstrom, Macy's, CVS and others have blamed losses from organized shoplifting for their decision to shutter stores, particularly in urban areas. (The latest crime spree hit Philadelphia last week, with looters plundering Apple, Foot Locker and Lululemon.)
Many stores that remain open are locking down goods, forcing shoppers to hunt for a sales clerk to unbolt that bottle of shampoo or pack of air freshener.
The scarcity of retail workers — who often fear for their safety — has translated to long checkout lines and more self-service machines (which, in my experience, often refuse to believe you've brought your own bag).
Plus, there are too few salespeople to help you get a different size or tell you how great you look in that green dress.
What they're saying: "'Going shopping' is dead," declared Vox, which called the current state of America's retail pastime "a battle that leaves consumers feeling defeated."
The trend seems to be hitting at all price points except for ultra-luxury, with stores like Prada and Louis Vuitton still going strong.
Amazon surpassed Walmart as the #1 apparel seller in 2021, according to Wells Fargo analysts — a factoid that points to the vanquishing of in-person retail.
Remember how much fun it used to be to prowl the aisles of Bed Bath & Beyond? (Sniff!)
Catch up quick: The terms "retail apocalypse" and "urban doom loop" both refer to a sort of death spiral for IRL shopping — which the end of the pandemic was supposed to fix, but hasn't.
First, COVID-19 kept people home, where they discovered how much better the online shopping experience had become.
Now, they're staying there — since it's easier to have stuff delivered and to avoid the crowds, parking problems and sticker shock of the outside world.
By the numbers: 3,200 U.S. stores will close in 2023, Insider reports.
That includes 896 Bed Bath & Beyond, 545 Foot Locker, up to 500 Rite Aid, and 50 Bath & Body Works locations.
Store theft led to more than $112 billion in retail losses in 2022, the National Retail Federation said last week.
Yes, but: Some chains are pouring money into their physical locations, aiming to draw back shoppers through conveniences like centralized checkout counters (JCPenney), fabulous new escalators (Saks) and showpiece artwork (Tiffany's).
There's a trend toward opening more "small format stores" with limited selections in urban centers and college towns, the BBC reports.
Amazon keeps trying to roll out physical stores of its own, suggesting there's still money/power in a brick-and-mortar presence.
Between the lines: Outside of discount stores — where consumers are flocking — all too many mainstream retailers now feature laugh-out-loud high prices for professional wardrobe staples like turtlenecks and slacks — seemingly due to a noxious cocktail of inflation, supply chain issues and the quest to make everything cashmere.
At the same time, inadvisable fashion trends that flatter no one — like bare midriffs, shredded denim, the "no pants" look and "mom" jeans — stubbornly persist.
Garments that older women happily put to rest in the 1990s — like jeggings, leopard prints and boxy women's jackets — are back in force, snapped up by younger consumers.
Can we discuss rompers? These are essentially baby onesies for grown-ups, and they're on lots of store shelves this year.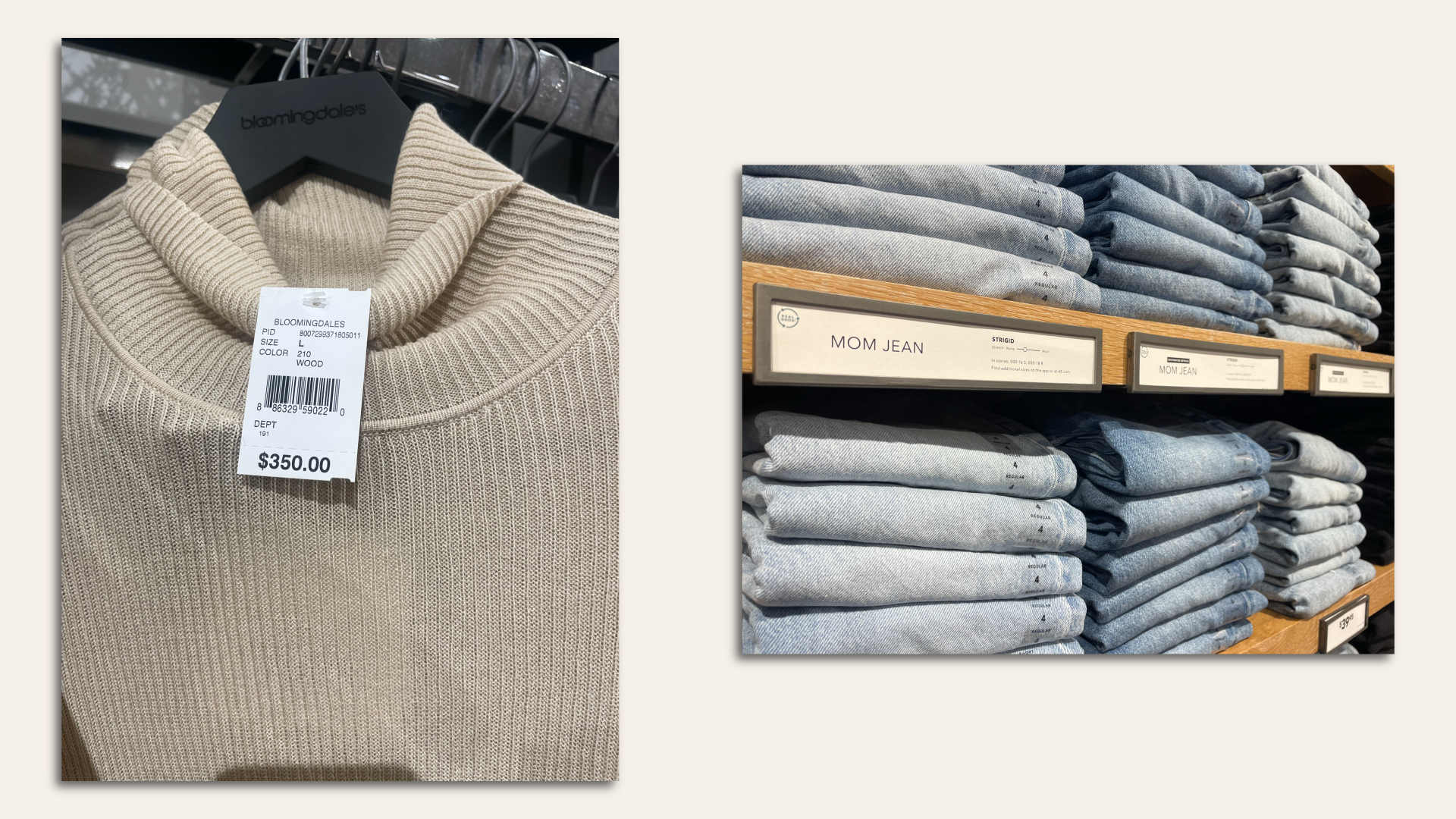 Zoom in: Studies show that touching the merchandise can motivate us to buy it, as it increases our psychological feelings of ownership.
When buying goes online-only, something experiential is lost — and not just the fact that those size 9 shoes that you ordered without trying on turned out to be too small.
Jennifer's thought bubble: As I checked out during a recent shopping trip in midtown Manhattan, I kept thinking, "Why buy that here and carry it around all day when I can go home and order it online?"
Then I got concerned that the stores I visited wouldn't get "credit" for my purchases, and thus might be at greater risk of closing.
What's next: The critical holiday shopping season has started extra early this year as retailers seek to compensate for their brick-and-mortar woes.
Go deeper