It's Taylor Swift's world and we're just living in it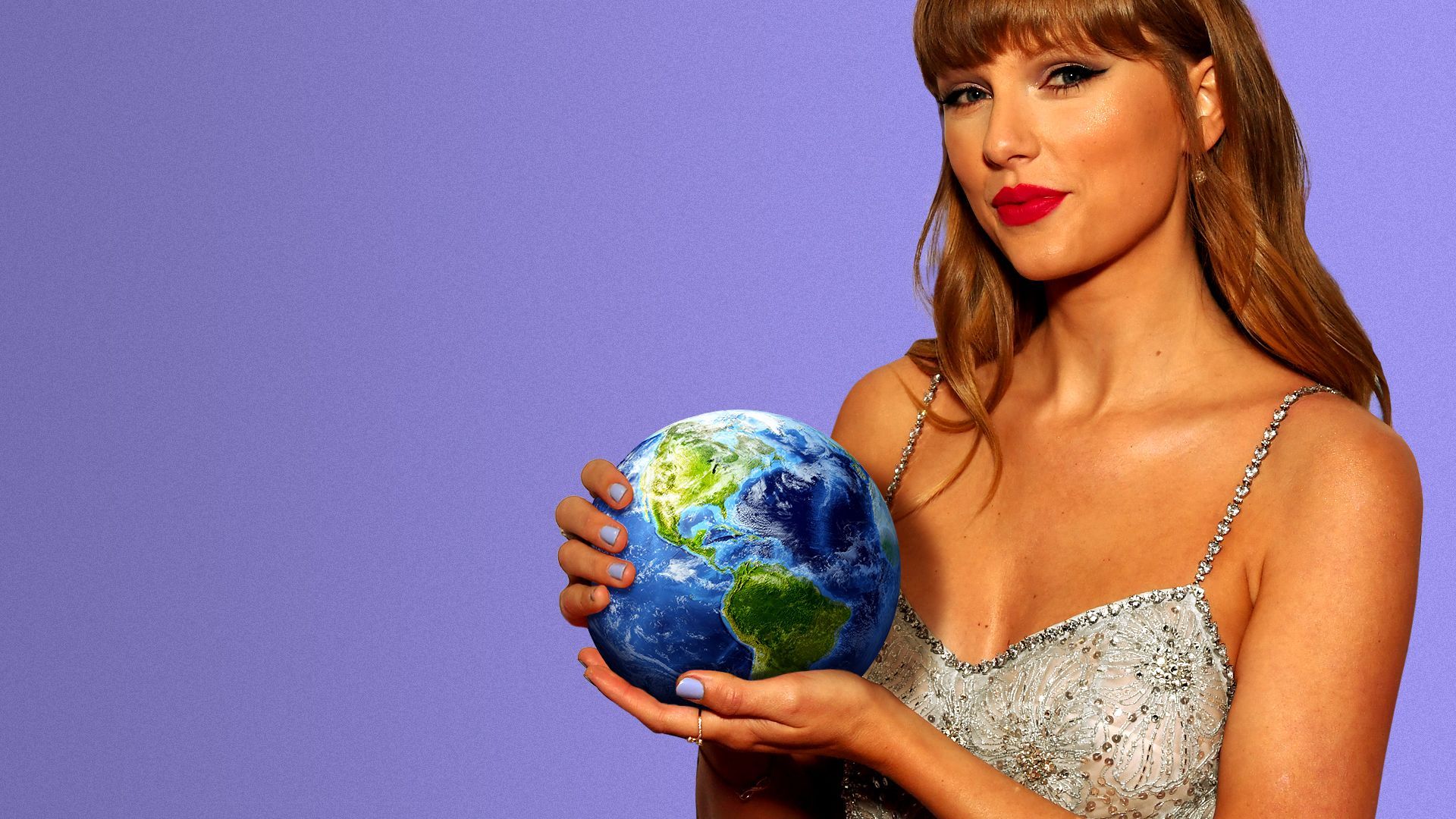 Taylor Swift isn't just a pop icon anymore; she's the next great American dynasty, singlehandedly steering some of the country's most vaunted brands and institutions.
Why it matters: She already fueled the nation's economy for much of the summer and drove thousands to register to vote. Now, she's a beacon of opportunity — and cash — for both the NFL and Hollywood.
The NFL: Swift was spotted cheering on the Kansas City Chiefs alongside Donna Kelce, mother of Chiefs tight end, Travis Kelce, during last Sunday's game against the Chicago Bears.
Throughout the broadcast, Fox panned over to Swift nine times throughout the game and social media was abuzz over her attendance.
The NFL flashed images of Swift in their game day graphics throughout the game, released 10 TikToks on the official NFL account — which changed its bio to read "9/24/23. Taylor was here' — and NFL on Fox even ran an ad capitalizing on her romantic link to Kelce.
Kelce is also a recipient of the halo effect. In the 24 hours following the game, he gained over 300,000 new social media followers, saw a 400% increase in merchandise sales and his podcast ranked #1 on the Apple charts.
By the numbers: Her attendance did in fact drive ratings, particularly among young, female viewers
The Chiefs vs. Bears game drew 24.3 million viewers, making it the most-viewed telecast of the week, and female viewership in the key 18-49 demo saw a 63% increase.
What they're saying: "This buzz around Travis Kelce and Taylor Swift isn't just about speculation about their relationship, it's about the Halo Effect at work - where one person's influence boosts the appeal of others around them. Suddenly, football is more than a game; it's a stage for pop culture," said communication expert Molly McPherson.
"It isn't just an academic theory; it's a savvy marketing move. When an All-Pro tight end like Travis Kelce invites Taylor Swift to a game, he's essentially inviting her entire fan base to tune in as well. Swift, Kelce, the NFL, and the Kansas City Chiefs all come out ahead. There was only one loser in Sunday's game, and it was the Chicago Bears."
Box office: With Hollywood mired in the depths of dual labor disputes, this fall's movie slate was looking pretty bare for theaters — until Swift delivered an unexpected jolt with the surprise announcement of her "Eras Tour" film, set for release this month.
Swift and her family directly negotiated a distribution deal with theater chain AMC, leaving out the traditional studio middlemen via an agreement that could upend how concert films are released in the future, per Puck's Matthew Belloni.
The concert film is tracking toward a $100 million opening weekend domestically — and likely much higher, according to Deadline, with one analyst calling it a "unicorn."
Its announcement also forced a last-minute jolt of Hollywood's release calendar, as Blumhouse head Jason Blum moved up the release of the forthcoming "Exorcist" sequel by a week, declaring "#TaylorWins."
The big picture: Swift has so much influence, clout and engagement for a reason.
She has won over the trust of her fandom — referred to as Swifties — through authentic and direct communication across social media and through fan experiences.
Her penchant for hiding clues and Easter eggs throughout her communiques is so well-known that she took over Google Search to reveal new song titles last month.
Music accolades aside, Swift gained even more respect from her fellow musicians by challenging the way artists were compensated across streaming platforms.
What's next: Swift is expected to attend this week's Chiefs vs Jets game, which could continue to bring more eyeballs, more chatter and more money to the NFL.
The bottom line: When Taylor Swift gets involved, the only blank space that matters is on the checks that'll inevitably be cashed.
Go deeper