McCarthy's weekend from hell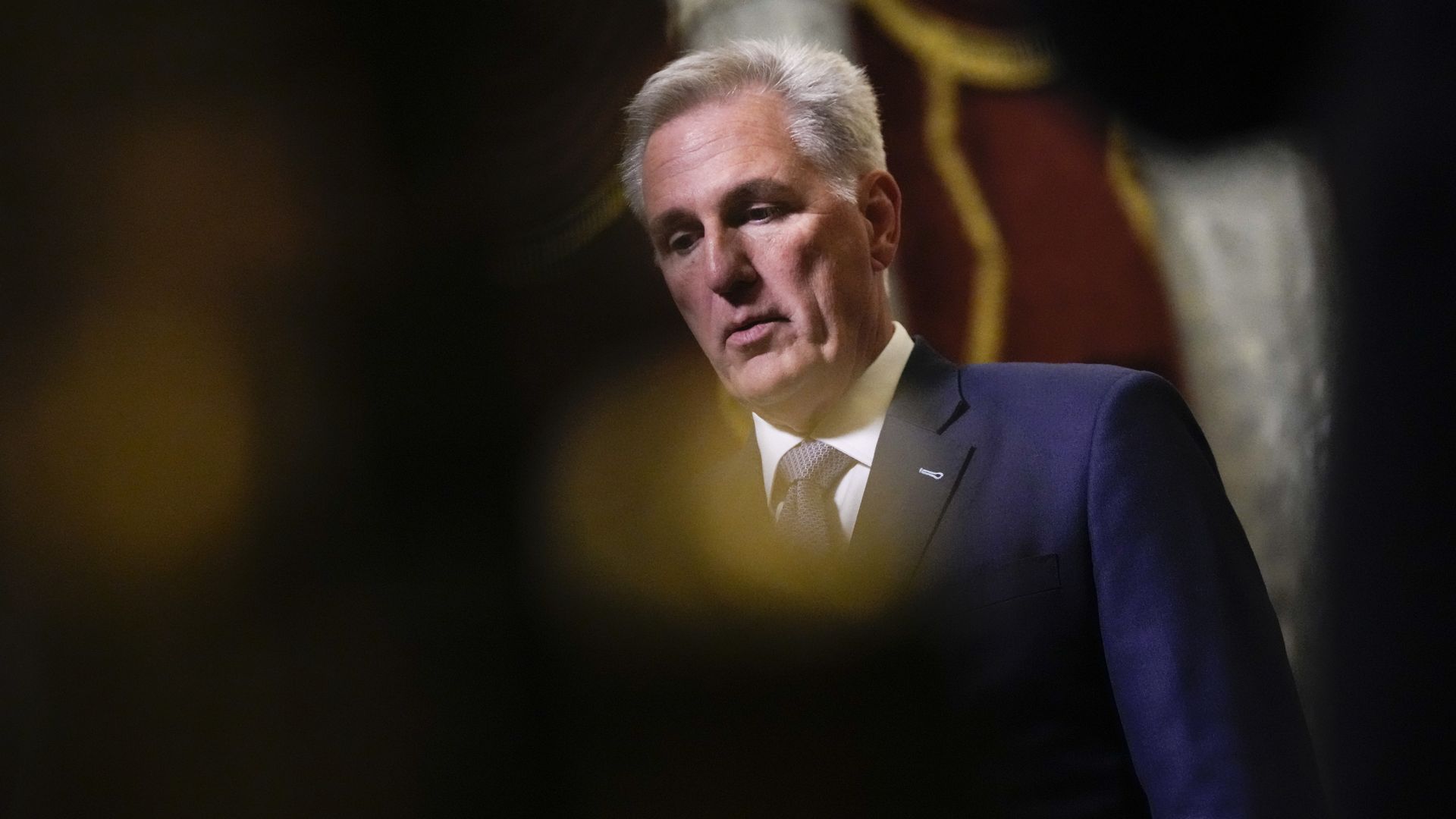 Speaker Kevin McCarthy (R-Calif.) lacks an easy path to funding the government that wouldn't put his leadership position in jeopardy, with lawmakers growing increasingly exasperated as Congress barrels toward a shutdown on Oct 1.
Why it matters: The California Republican is stuck between moderates who fear a shutdown will cost them their seats and conservative hardliners who threaten to take his gavel unless the House passes spending cuts that are dead on arrival in the Senate.
It's a "worse dynamic in conference than January," one GOP lawmaker told Axios.
Zoom in: During a contentious conference meeting on Friday evening, McCarthy told members they could either:
Pass a GOP-led spending stopgap.
"Dare Democrats" to vote against a short-term bill that keeps current funding intact but attaches disaster relief.
"Eat the Senate bill that includes Ukraine funding" (McCarthy later posted on X that the Senate bill was dead on arrival.)
Face a government shutdown.
Leadership told members Friday they are canceling recess to pass their remaining appropriations bills.
Rep. Matt Gaetz (R-Fla.) — who McCarthy has publicly sparred with in recent days — continues to the hold the threat of a motion to vacate over the speaker's head, maintaining his position that they need to pass individual spending bills instead of "kicking the can down the road."
What's next: After repeated failed attempts at passing a stopgap that included spending cuts and language on border security, McCarthy publicly floated the idea of a "clean stopgap" on Friday evening.
"I think if we had a clean [stopgap] without Ukraine on it, we could probably be able to move that through. I think if the Senate puts Ukraine on there and focuses Ukraine over America, I think that could cause real problems," he said.
A one or two week stopgap has also been floated, with a handful of conservatives saying they could back it now that there is a clear schedule for completing work on appropriations bills.
Moderates have been weighing procedural options to force a vote on a bill that could potentially pass both chambers, arguing that Republicans are likely to get blamed for a shutdown, which would put the majority at risk.
Between the lines: A short-term bill that keeps current funding levels intact but attaches language on border security has been discussed as an option.
But one Republican lawmaker told Axios that the "Senate GOP is saying border security doesn't have the votes in a CR."
The big picture: Both a government shutdown and a motion to vacate are looking possible with just a day for both chambers to fund the government.
House Republicans have struggled to pass the individual spending bills that have come to the floor, despite the legislation being dead on arrival in the Democrat-controlled Senate due to lower spending levels.
Some lawmakers fear the House's failure to pass a stopgap has limited their leverage to negotiate with the Senate to score conservative wins.
Go deeper