Looming government shutdown sparks financial panic in Congress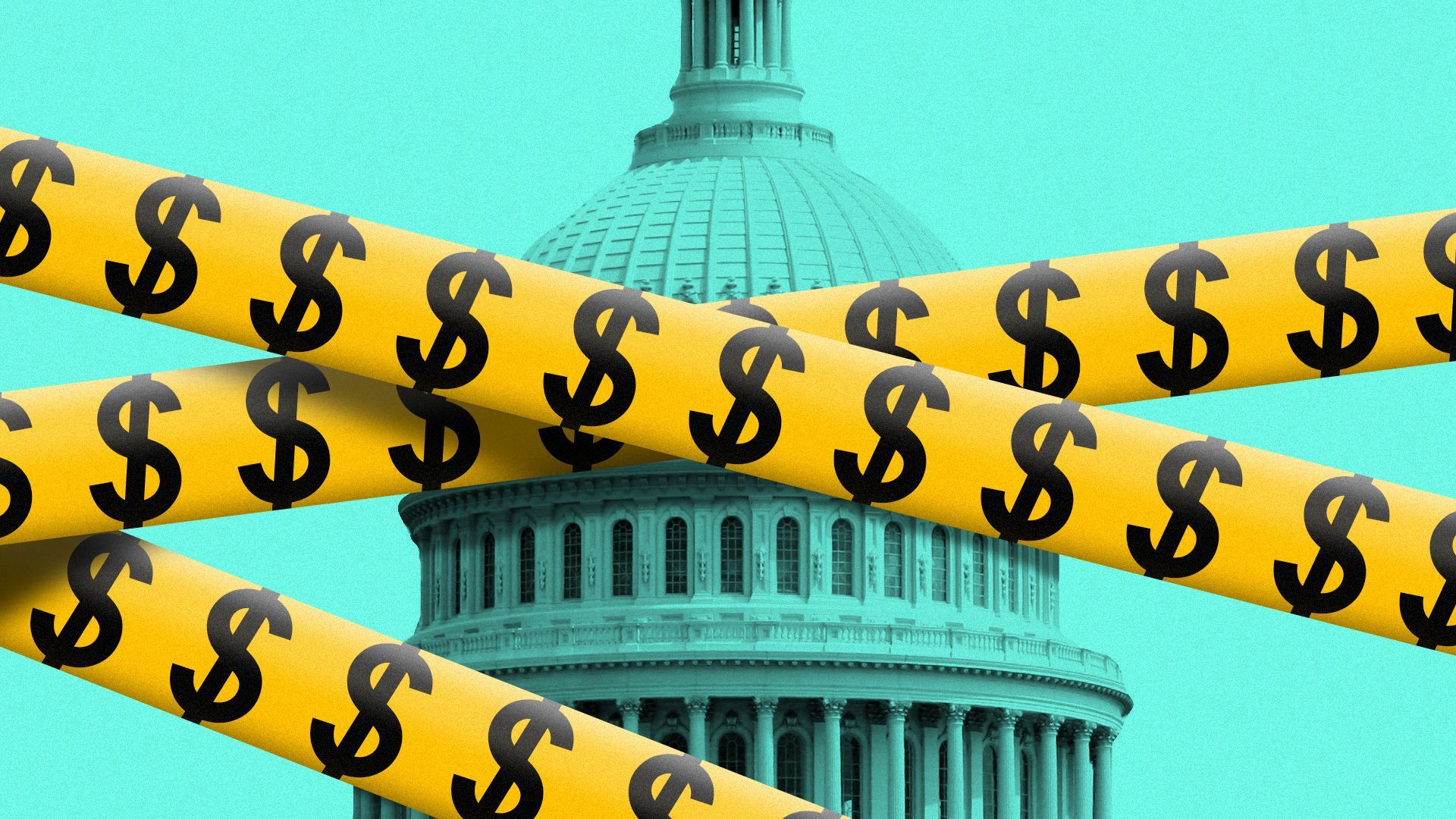 Lawmakers in both parties are unnerved about the potential ramifications a government shutdown could have on the U.S. economy.
Driving the news: Credit rating firm Moody's said Monday that a shutdown would be "credit negative" for the U.S., potentially endangering the country's last remaining "triple A" rating from the big three credit rating firms.
What they're saying: "When the most powerful government in the world beclowns itself and demonstrates to the world that it's being run by kindergarteners, there's also a huge effect in terms of risk perception and confidence and stability," Rep. Jim Himes (D-Conn.) told Axios.
Himes, a member of the House Financial Services Committee, also noted that the potentially millions of furloughed federal workers won't be "aggressive consumers."
"It is impossible to shut down one quarter of the economy without risking broader economic consequences," said Rep. Ritchie Torres (D-N.Y.).
The intrigue: It's not just Democrats raising alarm bells. Rep. Mike Lawler (R-N.Y.), a Biden-district Republican also on the Financial Services panel, said "any government shutdown would have a profound impact on our stock market, on our economy, on 401k plans."
Lawler cited inflation, which has cooled in recent months, saying, "People are hurting and we have an obligation to govern."
Senate Appropriations Committee Vice Chair Susan Collins (R-Maine) said the Moody's warning "certainly indicates how high the stakes are. … The implications are very serious."
"I'm concerned about it," said Sen. Shelley Moore Capito (R-W.Va.), a member of Senate GOP leadership. "The experts are saying it could be very damaging."
Reality check: While a shutdown could dampen recent economic growth, analysts told Axios this month that they expect its impact to be relatively minor, noting that past shutdowns did not have lasting effects on the economy.
The big picture: Credit agencies have been warning for years about partisanship and its impacts on Congress' ability to perform routine but essential tasks like funding the government and raising the debt ceiling.
S&P was the first agency to downgrade U.S. credit from AAA — the highest possible rating — to AA+ in 2011 amid a similar partisan debt ceiling standoff to the one that occurred this spring.
But one factor has since made U.S. credit much shakier: the national debt growing from about 66% of U.S. GDP in 2011 to 100% today.
The other side: Some Republicans who spoke to Axios said their main concern is not the shutdown, but growing U.S. budget deficits and mounting federal debt.
"Fitch mentioned some of the process issues here, but the bigger issue is the long-term fiscal unsustainability of the nation," said Rep. Byron Donalds (R-Fla.), a member of the right-wing Freedom Caucus. "That has always been what the credit agencies have talked about."
"Clearly it's not a positive development for our economy," Rep. Dan Meuser (R-Pa.) said of a shutdown. "But it pales in comparison to the inflation caused by Bidenomics … [and] the spending."
Yes, but: Some Republicans still say forcing a shutdown to achieve budget cuts — a tactic some GOP hardliners have embraced — is not the right approach.
"I don't believe that a shutdown is constructive," said Rep. French Hill (R-Ark.). "Analyzing past shutdowns, [they] don't lend themselves to meeting objectives of, say, curtailing spending or better policy outcomes."
"A shutdown is never a good policy no matter what your goals are."
Go deeper: How a government shutdown would affect Wall Street and the economy
Go deeper