GOP tensions flare as McCarthy grasps for shutdown solution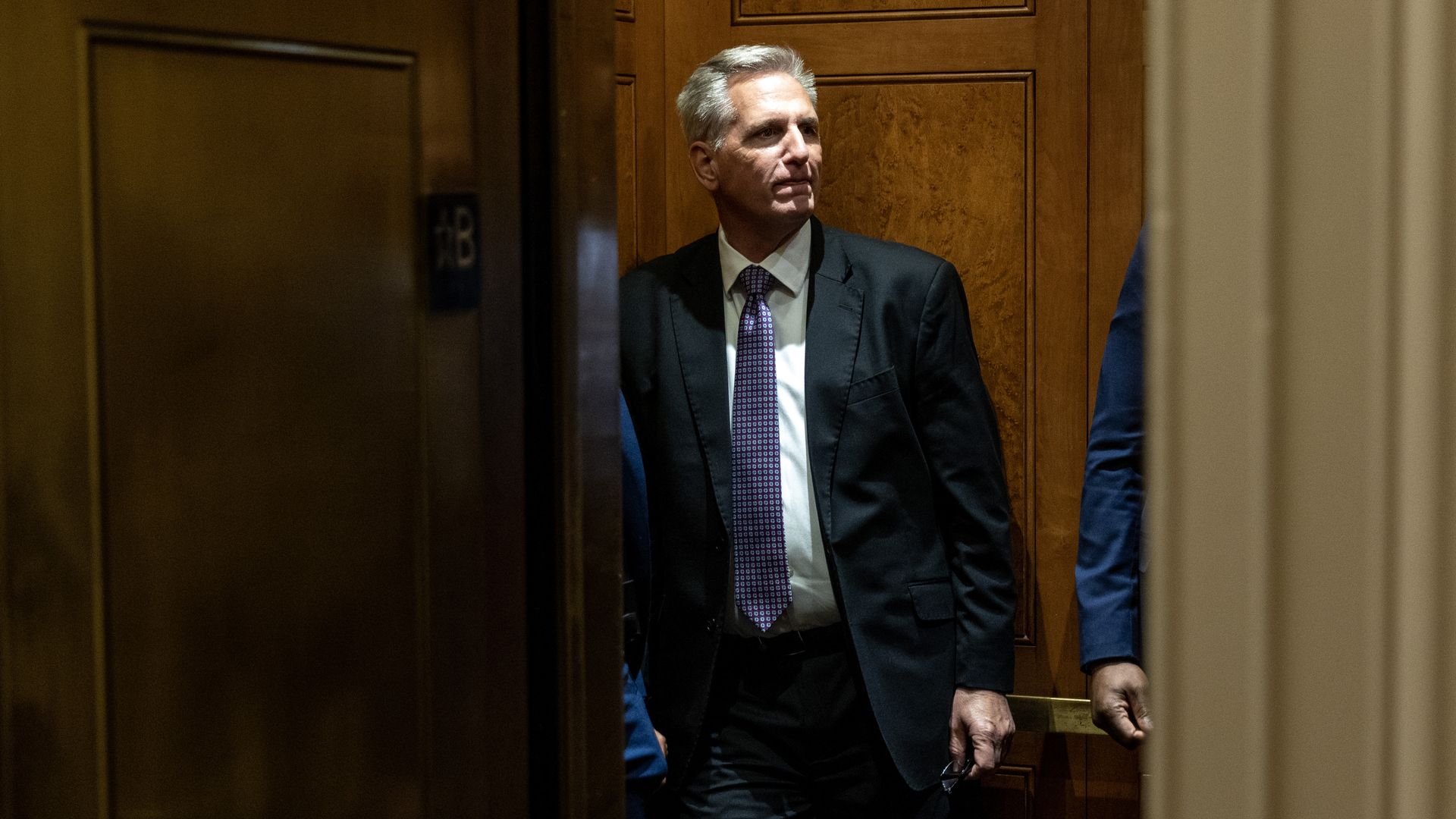 House Republicans are at their wits' end as they try to cobble together yet another plan to pass legislation aimed at averting a government shutdown that would start at midnight on Saturday.
Driving the news: A closed-door GOP conference meeting devolved into accusations and recriminations on Friday evening after Republicans failed to pass a 30-day funding extension, according to lawmakers and sources in the room.
What they're saying: Rep. Greg Murphy (R-N.C.) told Axios there is "frustration" at the GOP hardliners who "want to chase cameras and want to move the goal line."
Murphy criticized Republicans who have "said some honestly ridiculous things online about other Republicans." He stood up during the meeting to say: "If you have something to say to me ... say it to my face."
Leaving the meeting early, Rep. George Santos (R-N.Y.), told Axios it was "unproductive," adding, "We're just screaming at each other at this point."
"We've taken a setback here. There's some emotions going on," said Rep. Steve Womack (R-Ark.). "You make a lot of mistakes when you are tired and mad, and we are both right now."
The intrigue: Most of the 21 holdouts weren't present for much of the meeting, according to several members.
"They weren't even here. I called them out for not being in conference. One of them apparently went down to Bullfeathers," Murphy said, referring to a Capitol Hill tavern.
"They're not in the room, so we end up kind of talking to ourselves," said Womack.
The state of play: House Majority Leader Steve Scalise (R-La.) announced the cancellation of a planned two-week October recess and laid out a schedule for passing the remaining eight appropriations bills by the end of the month, according to multiple sources in the room and photos obtained by Axios.
Rep. Dan Bishop (R-N.C.), one of the hardliners who opposed the 30-day bill, said cancelling the recess is "absolutely" the right call, but the appropriations schedule is "far too lax."
What we're hearing: Republicans are currently whipping votes on an identical version of the failed stopgap bill that would stave off a shutdown for two weeks in the hopes of peeling off some of the 21 holdouts, according to several House Republicans.
But where there is a carrot there is also stick: Rep. Andy Barr (R-Ky.), a deputy GOP whip, told Axios he expects a vote on a bipartisan measure –potentially the Senate's bill –  if the whip count shows insufficient right-wing support to pass even a 14-day bill.
That strategy appears to have paid some dividends, with right-wing Rep. Ralph Norman (R-S.C.) telling reporters the 21 holdouts are "down to nine."
Yes, but: The strategy still may fall short, as many of the holdouts have said they aren't willing to vote for any stopgap bill, period.
"I'm not a fan," said Rep. Tim Burchett (R-Tenn.). "I never say never, but I'd say I'm 95% there."
Barr sounded pessimistic, saying "I don't think the whip count shows that there's enough of the 21 that would even vote for a shorter [stopgap]."
Even if Republicans pass a party-line bill, its spending cuts and conservative policy riders would make it a non-starter in the Senate, putting Congress no closer to actually avoiding a shutdown.
The bottom line: "I think it's pretty safe to say that tomorrow at midnight, the lights are going to go out," said Womack, calling a shutdown "inevitable."
Go deeper