House Democrat under investigation for pulling Capitol Hill alarm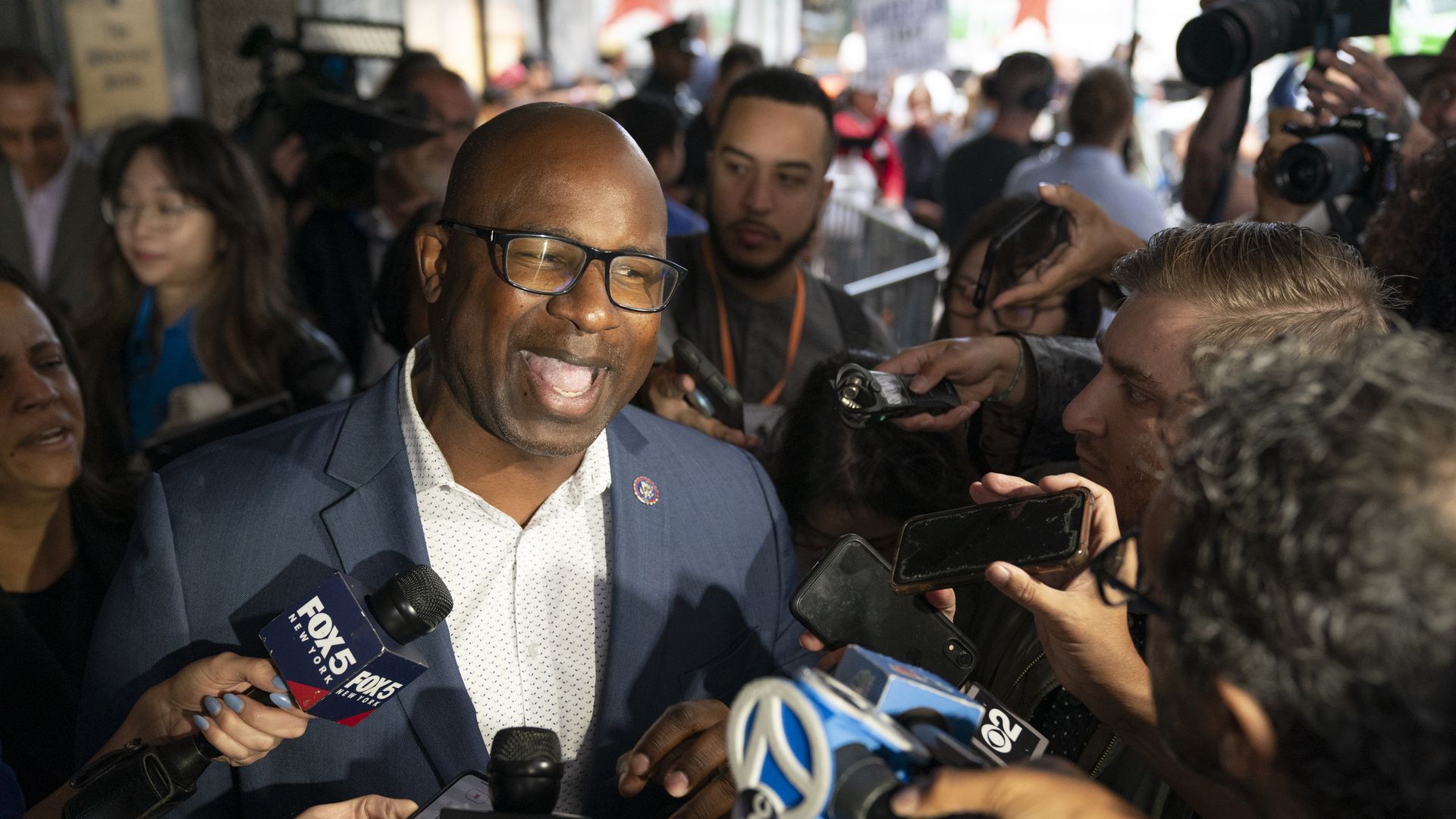 Rep. Jamaal Bowman (D-N.Y.) is facing an investigation and a Republican-led expulsion effort after he pulled a fire alarm in a House office building while the House scrambled to head off a government shutdown on Saturday.
Driving the news: Bowman spokesperson Emma Simon told Axios in a statement that the congressman "did not realize he would trigger a building alarm as he was rushing to make an urgent vote."
Bowman later told reporters he "thought the alarm would open the door" because "the door that's usually open wasn't open."
The backdrop: In the lead-up to a House vote on a measure to extend federal funding for 45 days, an audible alarm went off in the Cannon House office building that prompted the Capitol Police to evacuate staff.
House Administration Committee Chair Bryan Steil (R-Wisc.) said in a statement: "Rep Jamaal Bowman pulled a fire alarm in Cannon this morning. An investigation into why it was pulled is underway."
"An investigation into what happened and why continues," Capitol Police spokesperson Paul Starks.
What we're hearing: Rep. Nicole Malliotakis (R-N.Y.), a fellow New Yorker, has drafted a resolution to expel Bowman from Congress, her office told Axios.
That resolution could face an uphill battle – it would require a two-thirds vote, meaning many Democrats would have to cross the aisle to vote to expel one of their own.
But Reps. Harriet Hageman (R-Wyo.) and Lisa McClain (R-Mich.) are both working on measures to censure Bowman, their offices told Axios. Such a vote would need only a simple majority.
What they're saying: Rep. Joe Morelle (D-N.Y.) told Axios that "it appears from the footage [of the incident] to be him ... I'd like to understand, obviously, what his explanation is."
"A member of Congress should certainly never put people in jeopardy and this puts people in the middle of health and safety issues," Morelle added.
McCarthy said he is "going to have a discussion" about it with House Minority Leader Hakeem Jeffries (D-N.Y.).
Axios' Juliegrace Brufke contributed to this story.
Go deeper