TikTok defenders emerge in Congress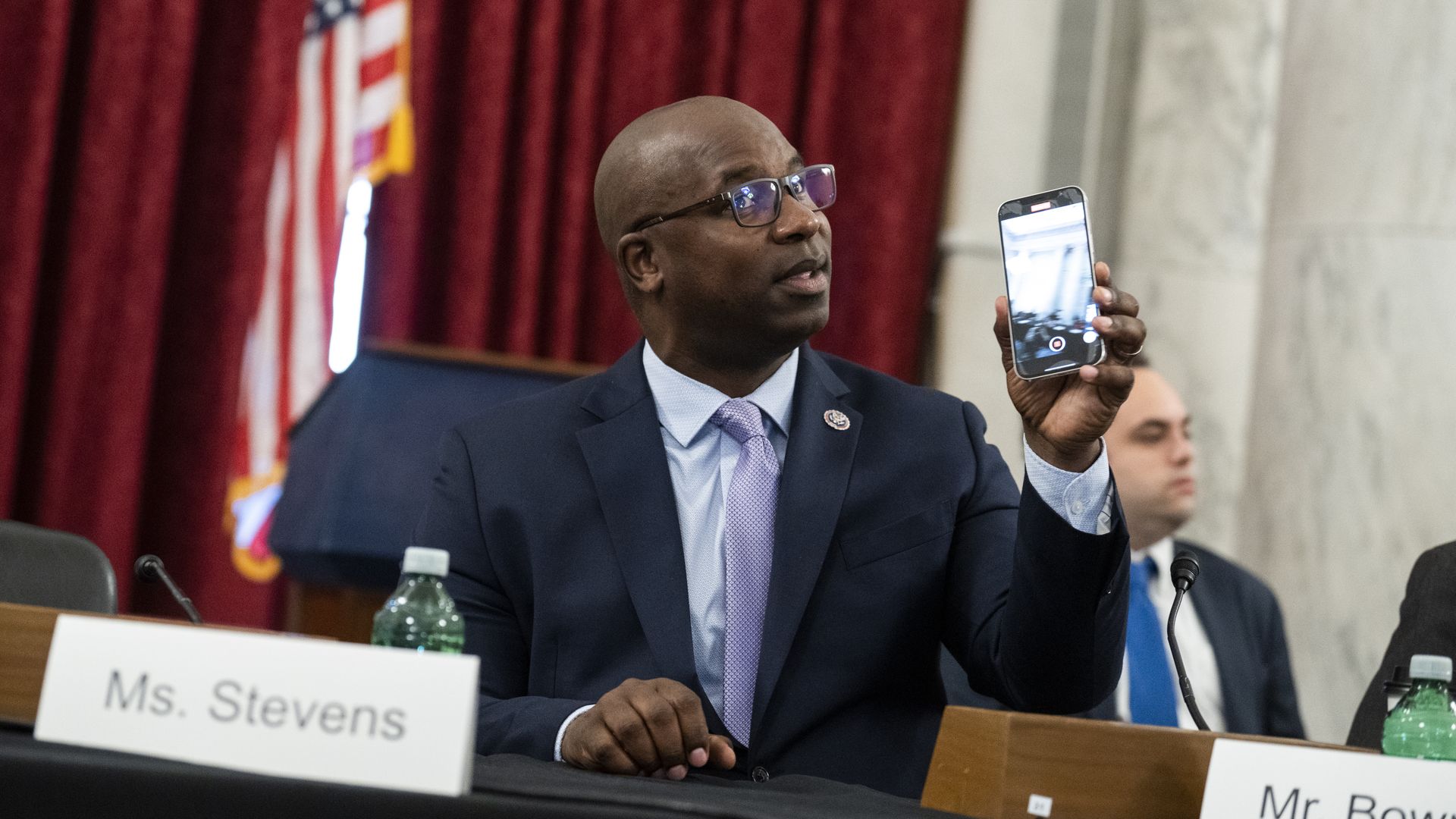 A group of progressive members of Congress plans to mount a public defense of the social media app TikTok against the backdrop of bipartisan efforts to facilitate a ban of the app in the U.S.
Why it matters: While opposition to TikTok has abounded on Capitol Hill, it has proven difficult to find lawmakers who will speak favorably of the Chinese-owned company amid scrutiny of its data collection practices.
Senate Intelligence Committee Chair Mark Warner (D-Va.), a leading critic of TikTok, told reporters on Wednesday he is concerned about "the notion of this many Americans' data in jeopardy, and the ability to have this platform to be used for propaganda purposes."
Driving the news: Rep. Jamaal Bowman (D-N.Y.), a member of the progressive "Squad," is holding a press conference on Wednesday evening with more than 20 TikTok creators opposing a ban of the app.
At least two fellow progressives, both co-chairs of the LGBTQ+ Equality Caucus, will join Bowman: Reps. Mark Pocan (D-Wisc.) and Robert Garcia (D-Calif.).
Bowman is one of several Democratic House members who have built a large TikTok following – the former middle school principal has amassed nearly 160,000 followers on the app.
"More than 150 million Americans, including 5 million U.S. businesses, use TikTok to inspire creativity, bring joy, and support their livelihoods," says his advisory announcing the press conference.
Between the lines: The hesitation to banning TikTok doesn't end at those three members – though others aren't ready to come out forcefully against a ban.
An aide to another progressive member said their boss has reservations, telling Axios that Bowman is speaking to concerns shared by a lot of members about banning a hugely popular app without more information.
What they're saying: Garcia, a self-described "super-consumer" of TikTok content, told Axios, "I think there has got to be a way of ensuring that we don't disrupt a huge opportunity for the country."
The former Long Beach mayor cited the use of the app to find therapy, promote small businesses and explore LGBTQ+ identity, saying he shares the concerns of some Democrats about alienating young voters.
"This is how young people are communicating," Garcia said, "So I think there has to be a way to find a better solution than shutting TikTok down."
The other side: Reps. Mary Miller (R-Ill.), Anna Paulina Luna (R-Fla.) and Troy Nehls (R-Texas) are holding a competing "Moms Against TikTok" press conference at the Capitol on Thursday to press for a ban.
The speakers include a staffer for the conservative Heritage Foundation and Chaya Raichik, the operator of "Libs of TikTok."
The state of play: The Biden administration is pressing TikTok's Chinese parent company ByteDance to sell its stake in the American version of the app or face a ban in the U.S., Axios' Sara Fischer and Ashley Gold reported.
TikTok CEO Shou Zi Chew plans to argue that ByteDance is "not an agent of China" and that a ban "damages the [U.S.] economy" in testimony to the House Energy and Commerce Committee on Thursday.
Go deeper