Scoop: Biden to start giving foreign aid for deportations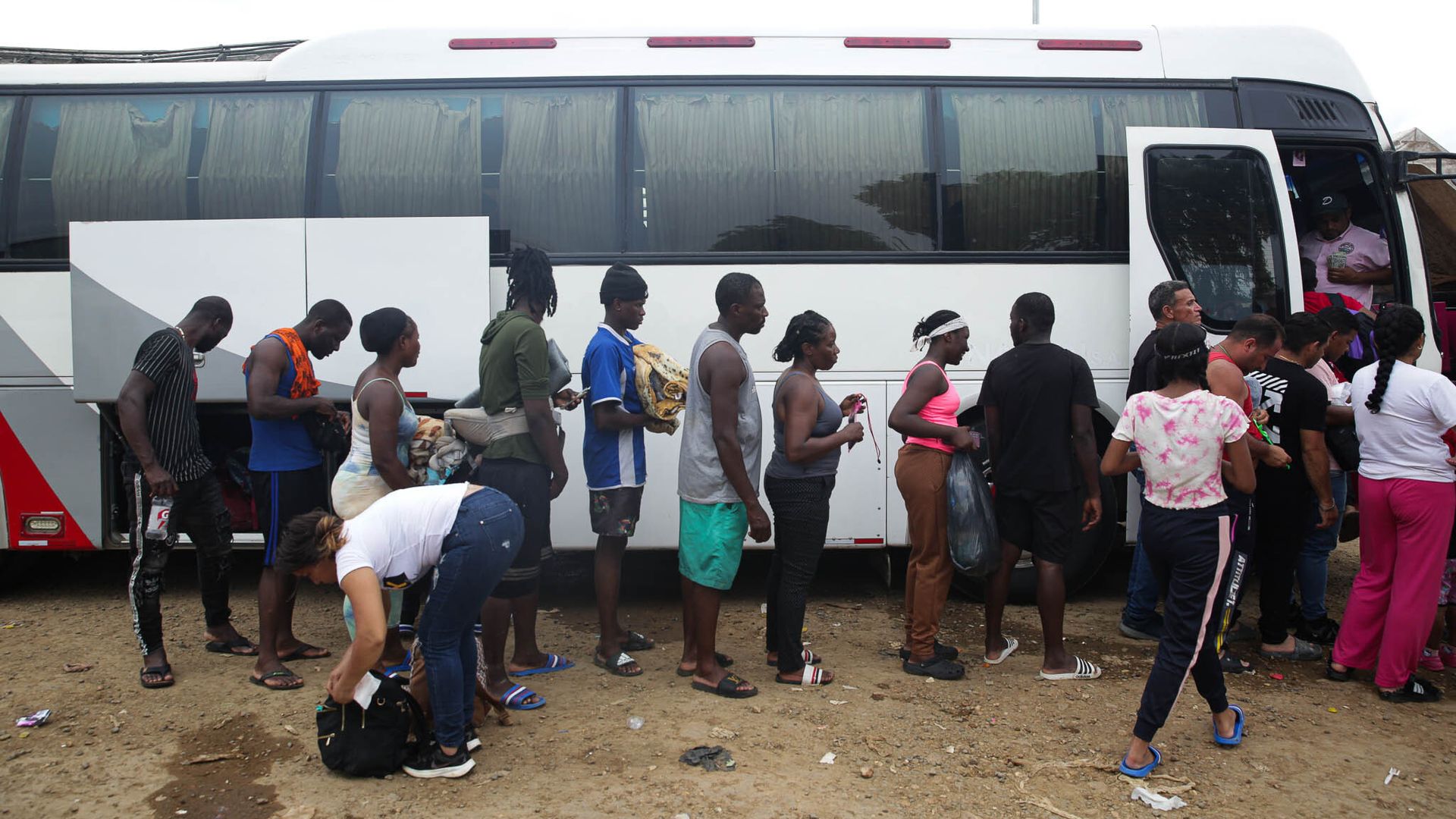 The Biden administration plans to direct millions of dollars in foreign aid to help Panama deport more migrants — intended to stop people long before they reach the U.S.-Mexico border, Axios has learned.
The intrigue: The unprecedented pilot program has been blocked by Sen. Bob Menendez (D-N.J.) for months, but that has ended now that Menendez has ceded the chair of the Senate Foreign Relations Committee after being indicted on bribery charges.
The rapid action on a controversial plan is another indication of the administration's desperation to slow the number of people arriving at the border.
Driving the news: The Biden administration plans to notify Congress on Friday that it intends to spend up to $10 million in foreign aid on a pilot program to help Panama deport more migrants who do not qualify for protections, sources directly familiar tell Axios.
It would be a six-month pilot program, involving the State Department and Department of Homeland Security. The funds would initially be used to target single, adult males.
The pilot could launch as early as mid-October.
Panama has been asking the U.S. for this kind of help, according to internal planning documents viewed by Axios.
Between the lines: The Trump administration pursued a similar proposal in 2018, which was also blocked by Menendez.
U.S. foreign assistance has specific purposes, and it has never been used to assist a country's deportation efforts.
Menendez has long opposed changing that precedent — starting under the Trump administration. Menendez has been one of the loudest pro-immigrant voices in Congress, and has broken with the Biden administration on other immigration policies.
On Thursday, Sen. Ben Cardin (D-Md.) was named as Menendez's replacement to chair the committee.
Zoom out: This comes as a significant number of migrants and asylum seekers have been voyaging through the deadly jungles of the Darién Gap that lies between Colombia and Panama, many headed for the U.S.
334,000 migrants have made the trek since January, according to Panamanian statistics. 60% have been Venezuelan.
Venezuelans have long posed a unique challenge for immigration officials as the authoritarian government does not cooperate with U.S. efforts to deport its citizens, leaving few options once migrants arrive.
Having Panama conduct those deportations with support from the U.S. could be a workaround.
By the numbers: The news comes as the Biden administration again is grappling with a spike in the number of people attempting to cross the southern border without proper visas.
August saw a record number of families crossing the border.
Over the past three weeks, the average daily number of encounters with migrants and asylum seekers has surpassed 9,000, according to internal statistics obtained by Axios.
The daily numbers have neared 11,000 in recent days.
What they're saying: "Panama requested the assistance of the United States to develop its repatriation program," a senior administration official told Axios.
"Assistance will include support for procedures to proactively and properly screen for and provide protection to individuals who would face persecution or torture if returned."
"We call on all countries to take a balanced approach to offering access to protection and conducting humane border management activities, like repatriations."
The other side: "Assisting other countries to instead deport vulnerable asylum seekers back to the dangers they fled would fly against our domestic and international obligations to those seeking refuge from persecution and oppression," Menendez told Axios in a statement.
"It was wrong under Trump and it would be wrong under Biden. I urge the Biden administration to abandon any such plans. For my part, I will continue to defend the fundamental right to seek asylum and stand with immigrant communities."
Editor's note: This article was updated with a statement from Sen. Menendez.
Go deeper