Haley shines, Trump a target: Key takeaways from the GOP debate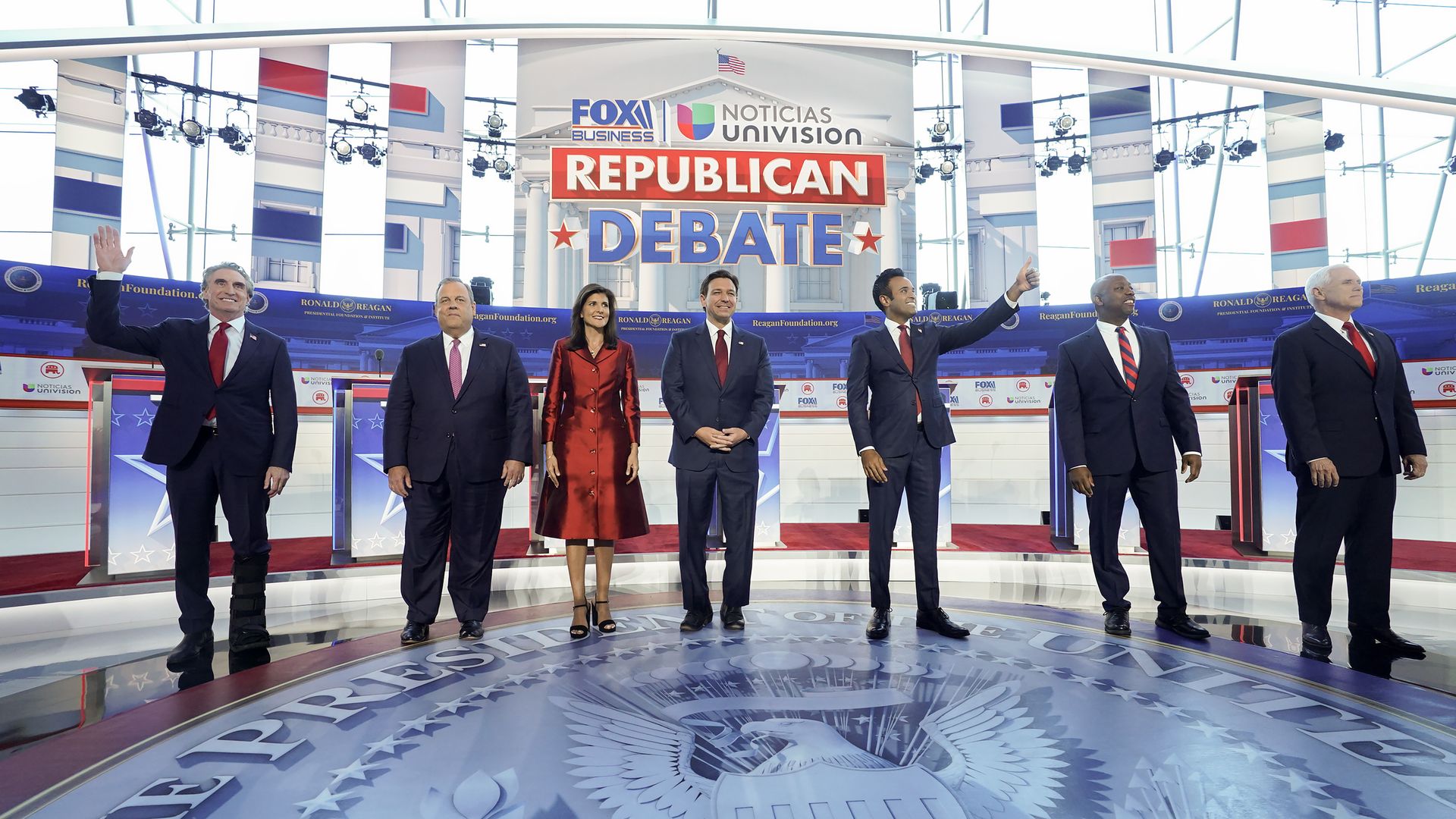 Chaos reigned in the second GOP presidential debate, which brought together seven candidates who are collectively polling at around 37% — a full 16 points below former President Trump.
Why it matters: Trump has paid no price for skipping the debates — his polling share has actually increased from 52% to 54% since the August affair — and he looks set to steamroll his way to the GOP nomination absent a political earthquake or consolidation of the field.
Florida Gov. Ron DeSantis, who is clinging to second place after a summer reset, delivered perhaps the only appropriate response to the long odds he and every other candidate faces: "Polls don't elect presidents — voters elect presidents."
But as the two-hour spectacle wound down at the Ronald Reagan Presidential Library in Simi Valley, Calif., strong performances from DeSantis, former UN ambassador Nikki Haley and Sen. Tim Scott ultimately seemed unlikely to reshape the trajectory of the race.
4 takeaways
1. Trump's presence was felt.
DeSantis finally made his move at Trump after ignoring the former president during the first debate: "Donald Trump is missing in action. He should be on this stage tonight," he declared, before returning to the well later on to attack Trump over positions on abortion.
The problem? DeSantis' reluctance to assert himself early on allowed former New Jersey Gov. Chris Christie, who has centered his campaign on taking down Trump, to make virtually the same point 90 seconds earlier.
Christie dubbed Trump "Donald Duck" for skipping the debates — a line that produced groans from the audience but achieved its apparent goal of trending on social media.
2. Haley flaunts "bring it on" mentality.
Haley, who saw the biggest polling boost after her first debate performance, was sharp on policy details and came prepared to brawl — including by launching the first attack DeSantis had faced in either of the two debates.
The former South Carolina governor had a heated exchange with Scott over who has better experience — at one point confidently responding, "Bring it, Tim" — and renewed her feud with entrepreneur Vivek Ramaswamy over his foreign policy views.
"Honestly, every time I hear you, I feel a little bit dumber for what you say," Haley snapped at Ramaswamy after he defended his campaign's decision to join TikTok.
In a sign that Haley has come to be viewed as a potential threat, the Trump campaign circulated a fact sheet in the middle of the debate titled, "The Real Nikki Haley."
3. Knives out for Ramaswamy.
Haley wasn't the only one to go after Ramaswamy, the Trump-praising, "America First" newcomer whose stock has tumbled some since he broke out as a potential threat to DeSantis' hold on second place.
After Ramaswamy stated "these are good people on this stage," Scott reminded him of his claim from the first debate that every candidate besides Ramaswamy was "bought and paid for."
Scott then jabbed Ramaswamy over his business dealings in China.
Former Vice President Mike Pence piled on: "I'm glad Vivek pulled out of his business deal in 2018 in China. That must have been about the time you decided to vote in presidential elections."
4. Ads steal spotlight.
One of the night's most fascinating dynamics was what played on screen during the various commercial breaks.
Right before the debate began, Fox aired the Biden's campaign first ad of the election season attacking Trump — specifically over the former president's record with autoworkers and manufacturing jobs.
As the candidates wrapped up a heated debate over the national security threat from TikTok, Fox cut to a commercial from the Chinese-owned social media app that several of them have vowed to ban.
A group called Republicans for Ukraine also aired an ad highlighting how U.S. aid has helped degrade Russia's military without putting American boots on the ground — a highly divisive issue within the GOP that's playing out in Congress' spending impasse as well the debate stage.
The bottom line: The Biden and the Trump campaigns were both active in attacking the candidates on stage throughout the night, but they're reserving most of their fire for each other.
Go deeper