As foes bash him in California, Trump courts workers in Michigan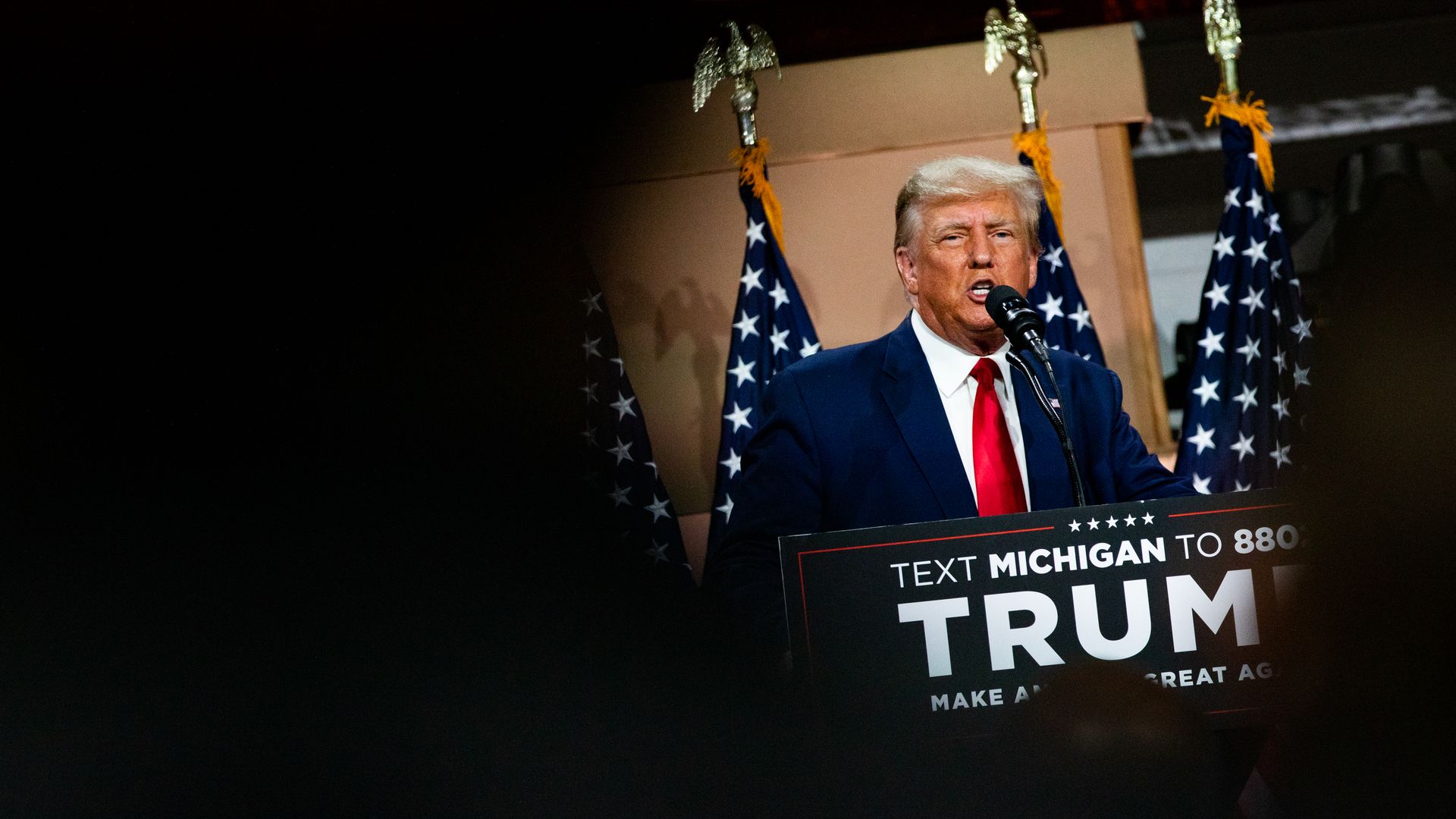 CLINTON, Mich. — While other GOP contenders chided him for skipping the debate in California, former President Trump was in the Detroit suburbs, courting blue-collar workers and taking aim at President Biden as the UAW strike neared the two-week mark.
Why it matters: Trump's appearance came a day after Biden walked a picket line with striking autoworkers in nearby Wayne County, Mich., and reflected how the GOP hopes to cut into Biden's edge in union support in Michigan, a swing states likely to be key in deciding the 2024 election.
Driving the news: "You're striking for wages but your jobs are only going to be here for another two or three years if you're lucky," Trump said, speaking to about 300 current and former autoworkers, pipe-fitters and plumbers at a non-union plant in Macomb County.
Trump criticized Biden's support of electric vehicles, telling the workers that EV mandates amount to "a government assassination of your jobs."
Between the lines: Trump's efforts to champion the working class is a markedly different stance than his position in 2008 when he complained about union workers feeling entitled to year-end bonuses.
When Trump was president, the National Labor Relations Board and several Trump court appointments, particularly to the Supreme Court, helped to hand unions a series of setbacks, CNN reported.
The big picture: In Michigan, which Biden won by 150,000 votes in 2020, Trump's campaign is targeting Oakland, Macomb and Wayne counties, where it hopes anxiety over changes in the auto industry will help Trump lure suburban working-class voters, a campaign official told Axios.
Behind the scenes: Trump's attempt to counterprogram Wednesday's GOP debate, tweak Biden and pitch blue-collar workers all at once got a chilly reception from the UAW's leadership.
UAW President Shawn Fain, who appeared with a supportive Biden on Tuesday, declined to meet with Trump, saying of the former president: "I don't think the man has any bit of care about what our workers stand for."
Back in California: At the GOP debate, meanwhile, Trump's rivals were unloading on the Republican frontrunner for other reasons.
Former New Jersey Gov. Chris Christie and Florida Gov. Ron DeSantis stepped up their criticism of Trump, who has a big lead in early polls despite facing four felony indictments and other legal issues related to his conduct and real estate business.
Christie accused Trump of "hiding behind the walls of his golf clubs" and refusing to "show up here to answer questions like the rest of us."
DeSantis called Trump "missing in action."
"He should be on this stage tonight," DeSantis said. "He owes it to you to defend his record where they added $7.8 trillion to the national debt. That set the stage for the inflation we have now."
Go deeper