Ads become a sideshow in Republicans' debate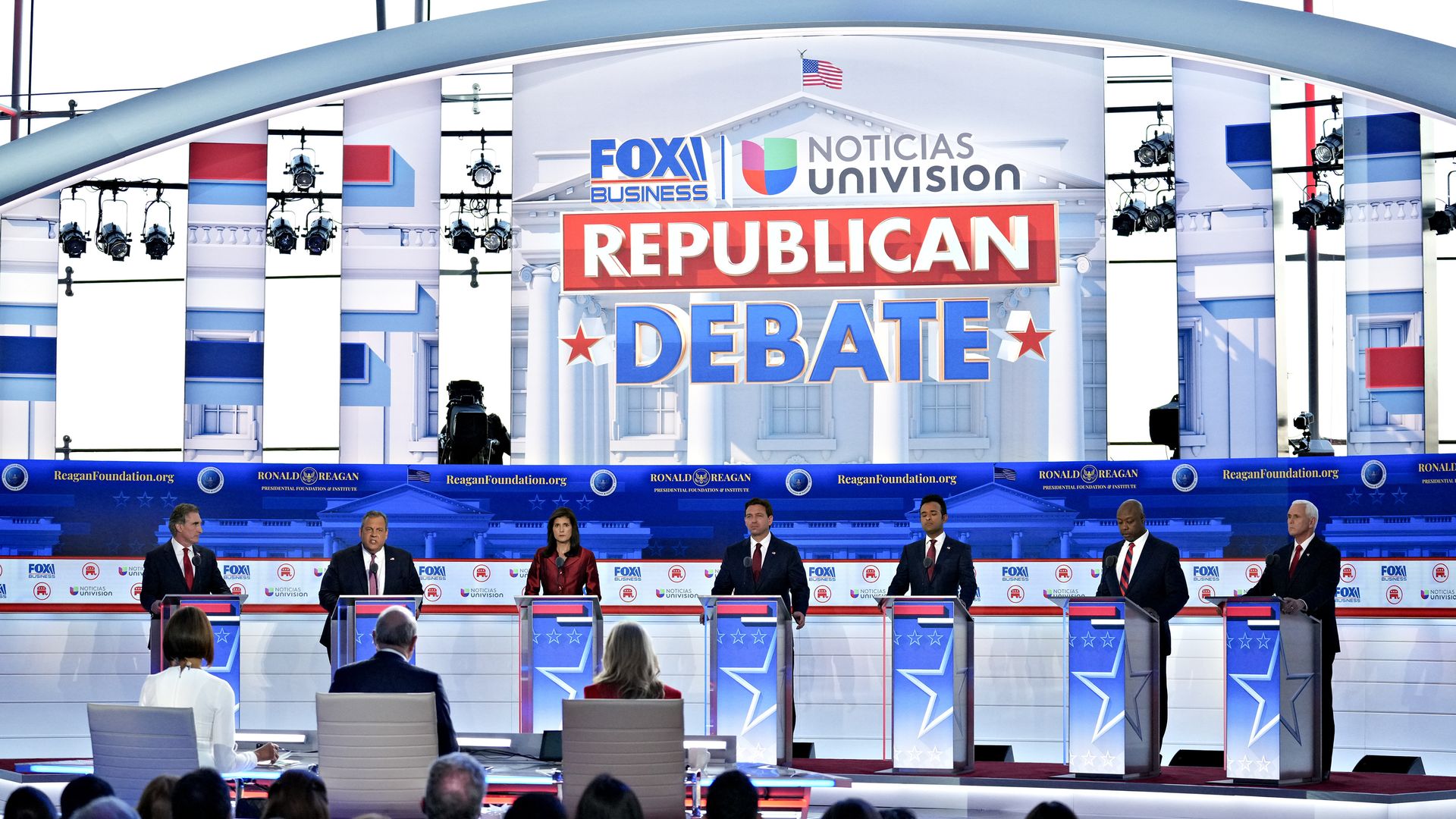 Following a heated exchange over TikTok between former UN ambassador Nikki Haley and businessman Vivek Ramaswamy during the second GOP primary debate, the commercial break featured an ad for, well, TikTok.
Why it matters: As candidates sparred on stage, an assortment of interestingly timed ads took the spotlight — touching on political flashpoints and one from the Biden campaign taking aim at former President Trump.
Driving the news: The Biden campaign, which earlier on Wednesday released its first anti-Trump ad of the 2024 cycle, ran the ad criticizing Trump's record with autoworkers on Fox Business just before the debate began.
"He says he stands with autoworkers, but as president, Donald Trump passed tax breaks for his rich friends, while automakers shuttered their plants and Michigan lost manufacturing jobs," the narrator in the 30-second ad claims.
South Dakota Gov. Kristi Noem (R) also ran an ad during Wednesday's debate highlighting her state's economy.
The intrigue: After endorsing former President Trump earlier this month, Noem has drawn speculation that the ex-president is considering her as his running mate.
Zoom in: Another ad urged providing funding for Ukraine in its ongoing war with Russia, an issue that divides many Republicans and has emerged as a particular sticking point in ongoing budget negotiations.
Conservative non-profit Defending Democracy Together launched the $2 million ad campaign to make a plea for GOP support for providing Ukraine aid, CNN previously reported.
Between the lines: In one of the most contentious clashes during the debate, Haley slammed Ramaswamy for being on TikTok, a Chinese-owned app that the other Republican candidates have snubbed.
"Honestly, every time I hear you, I feel a little bit dumber," Haley said, referring to Ramaswamy's use of TikTok.
Moments after the clash, Fox Business played an advertisement for TikTok, which has been banned from government devices, the White House announced earlier this year.
Go deeper: Campaign cash floods 2024 swing states
Go deeper