Democrat Bob Menendez finds unlikely defenders in the GOP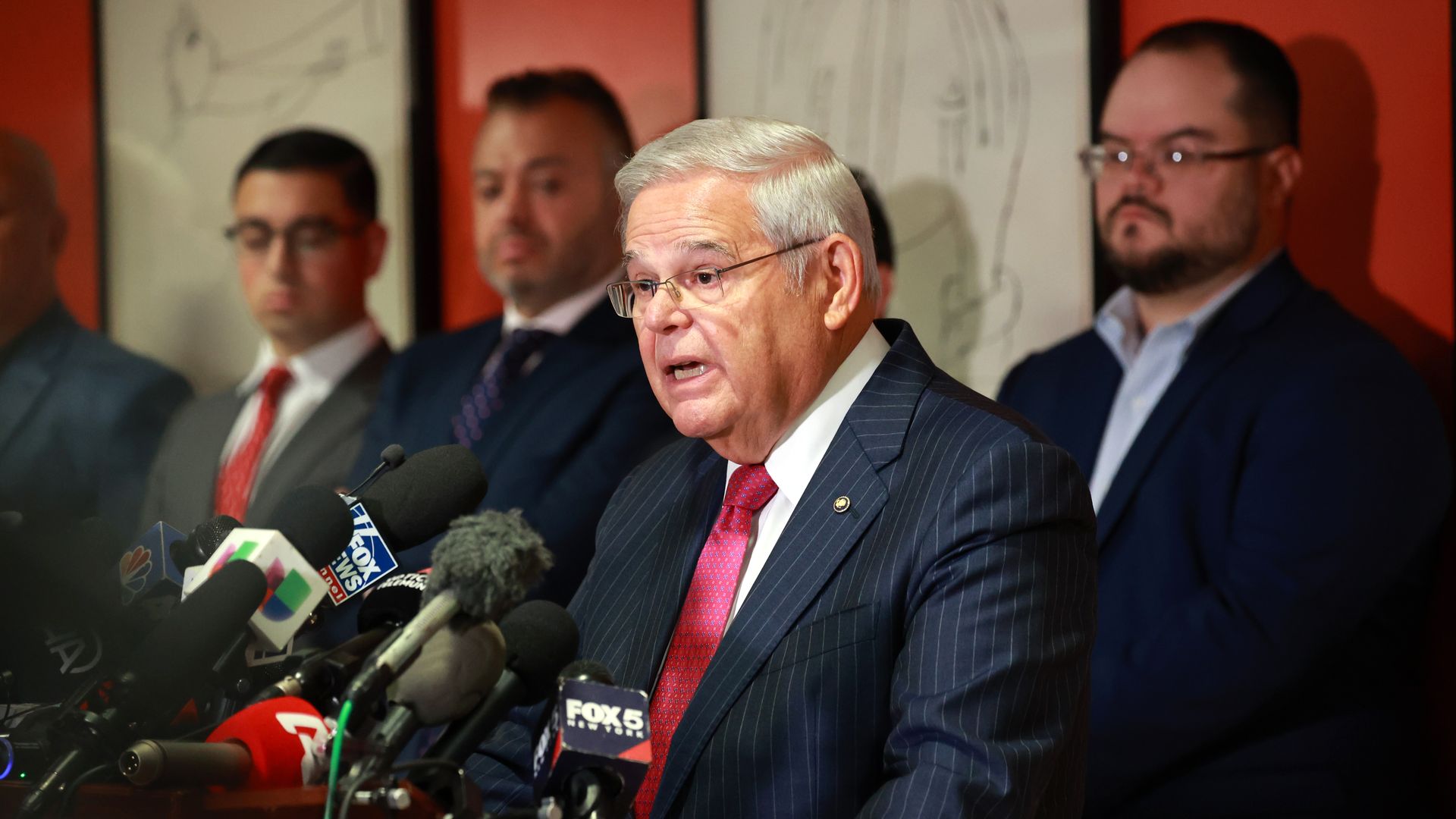 As embattled Sen. Bob Menendez (D-N.J.) faces calls to resign from more than half of Senate Democrats, a surprising group of lawmakers is backing up his decision to stay and fight: Republicans.
Why it matters: It's a stark example of how the two parties have diverged on the question of what scandals and legal challenges disqualify someone from serving in public office.
Context: Menendez was indicted on Friday on federal bribery charges, with prosecutors accusing him of using his chairmanship of the Senate Foreign Relations Committee to benefit New Jersey businessmen and the Egyptian government.
Among the allegations in the explosive indictment are that Menendez took bribes in the form of luxury gifts, cash and even gold bars — and that he provided "provided sensitive U.S. government information" to Egypt.
What they're saying: "Senator Menendez has a right to test the government's evidence in court, just like any other citizen. He should be judged by jurors and New Jersey's voters, not by Democratic politicians who now view him as inconvenient to their hold on power," Sen. Tom Cotton (R-Ark.) tweeted.
Sen. Marco Rubio (R-Fla.) sounded a similar note, tweeting: "The allegations against the Senior Senator from New Jersey are nasty & the evidence offered difficult to explain away. But in America guilt is decided by a jury, not politicians in fear of their party losing a Senate seat."
Sen. Susan Collins (R-Maine) said the charges against the New Jersey senator are "extremely serious," but added "it's up to him and the voters of New Jersey to make the resignation decision."
"That's up to the Democrats," said Sen. Steve Daines (R-Mont.), the chair of the Senate GOP's campaign arm, when asked if Menendez should resign.
Sen. J.D. Vance (R-Ohio), a staunch Trump ally, said: "Whether Bob Menendez steps down is a decision for the voters of New Jersey. Clearly the guy's been accused of some pretty crazy stuff ... but we do have innocence until proven guilty here."
"Everyone is entitled to the presumption of innocence, and Bob is as well," said Sen. Ted Cruz (R-Texas), another Trump ally.
Yes, but: There are faint calls within the Senate GOP for Menendez to step aside.
"If one ounce of what's in the indictment is true, then yes," Sen. Mitt Romney (R-Utah) said when asked if Menendez should resign. "If not even one ounce is true, then he'll have to make that decision himself."
State of play: More than 20 Senate Democrats had called for Menendez's resignation by Tuesday evening — though many members of leadership, including Senate Majority Leader Chuck Schumer (D-N.Y.), have not.
Even Sen. Cory Booker (D-N.J.), Menendez's close ally who testified on his behalf at his 2017 trial, joined calls for his resignation on Tuesday.
The intrigue: House Speaker Kevin McCarthy (R-Calif.) told reporters on Saturday that Menendez should resign, but by Tuesday he had changed his tune.
"I think George [Santos] could have his day in court, I think Menendez could have a day in court," McCarthy said, adding that it "could be [Menendez's] choice what he wants to do."
Go deeper