Bob Menendez bleeds support from fellow Senate Dems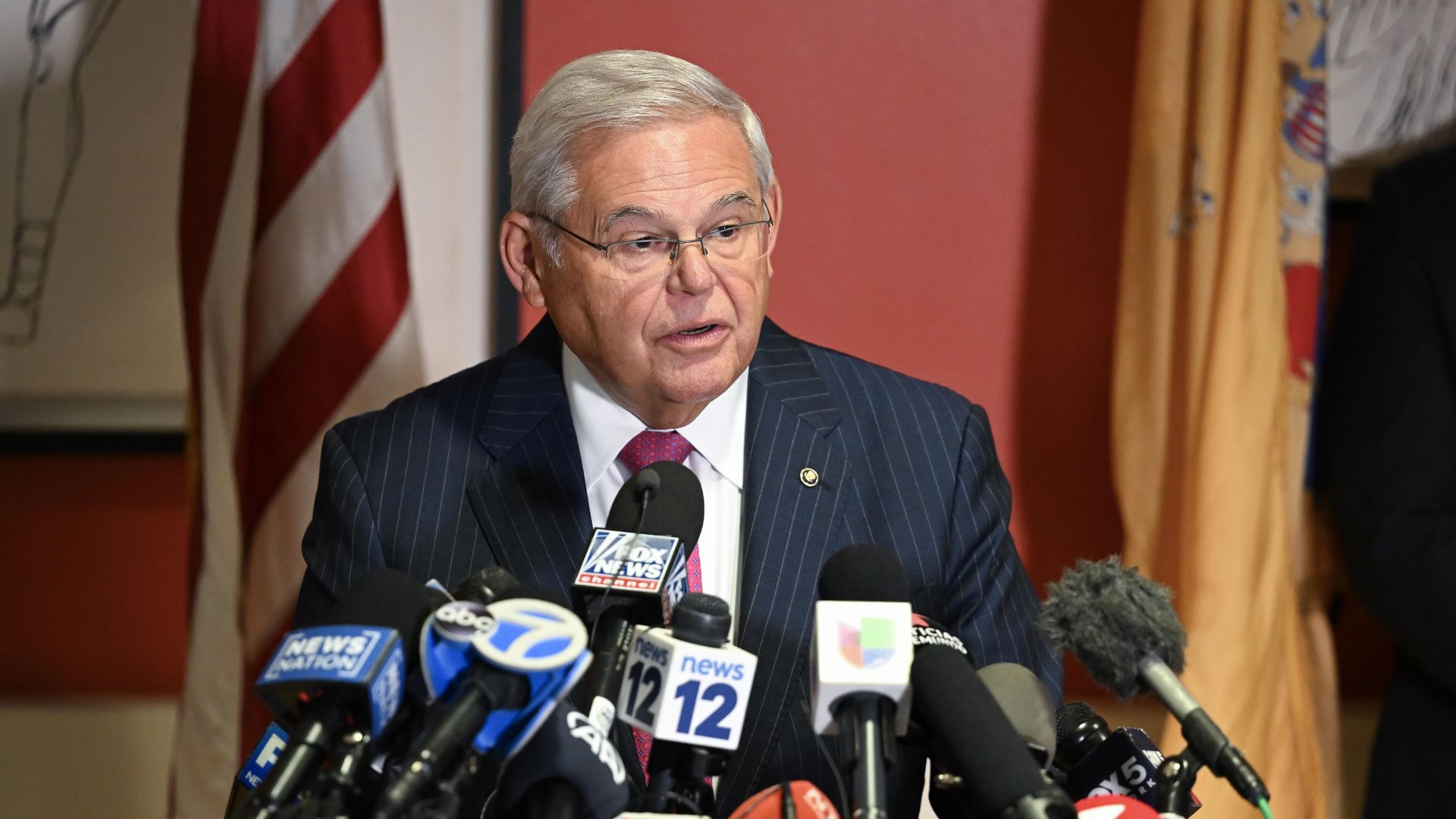 More than half of Senate Democrats are calling on Sen. Bob Menendez (D-N.J.) to resign after he was indicted on explosive federal bribery charges last week.
Why it matters: Menendez has refused to step down despite mounting political pressure and the emergence of a credible primary challenger.
The latest: Sen. Gary Peters (D-Mich.), the chair of Senate Democrats' campaign arm, became the highest ranking Senate Democrat to call for Menendez to step down on Tuesday.
"Given the serious nature of these charges and how they have undermined the public faith, he is no longer able to serve effectively in the U.S. Senate," Peters said in a statement.
The loss of Peters' support is a blow to the reelection campaign Menendez is reportedly gearing up for.
State of play: What began as a trickle over the weekend became a deluge by Thursday morning as Democratic senators came out of the woodwork to publicly urge the defiant Menendez to step down.
Sens. John Fetterman (D-Pa.), Sherrod Brown (D-Ohio) and Peter Welch (D-Vt.) were the only senators calling for Menendez to step down as of Monday, but the number grew to 28 by Wednesday morning.
The ranks of senators calling for Menendez's resignation on Tuesday included Sen. Cory Booker (D-N.J.), a close ally who was character witness for Menendez in his 2017 corruption trial that ended in a hung jury.
"Senator Menendez fiercely asserts his innocence and it is therefore understandable that he believes stepping down is patently unfair. But I believe this is a mistake," Booker said.
Between the lines: Many of the first senators to call for Menendez's resignation were vulnerable incumbents up for reelection in 2024, including Brown and Sens. Jon Tester (D-Mont.), Tammy Baldwin (D-Wisc.) and Bob Casey (D-Pa.).
Any association with Menendez could be toxic for vulnerable Democratic senators as they try to keep the Senate majority next year.
The fact that so many of his Senate colleagues are breaking with him in response to this latest indictment underscores the seriousness of the allegations — and the political risks they pose.
Zoom in: New Jersey's governor, state assembly leader and state Democratic Party chair all called for Menendez to step down on Friday.
More than half the Democrats in the state's U.S. House delegation have followed suit.
And Rep. Andy Kim (D-N.J.) on Saturday launched a primary challenge against the embattled senator, with other prominent Democrats in the state reportedly considering runs.
Yes, but: Some top Senate Democrats are still sticking by Menendez as the former Senate Foreign Relations Committee chair prepares to go to trial.
Senate Majority Leader Chuck Schumer (D-N.Y.) said in a statement on Friday that he "has a right to due process and a fair trial."
"That's a decision to be made by Senator Menendez and the people of New Jersey," Senate Majority Whip Dick Durbin (D-Ill.) told CNN, referring to the calls for Menendez to resign.
Sen. Debbie Stabenow (D-Mich.), another member of leadership, said on MSNBC's "Morning Joe" that she is "not yet" ready to call for Menendez to resign.
The intrigue: Besides Democratic leadership, Menendez is getting backup from across the aisle.
Rep. George Santos (R-N.Y.), who faces his own myriad legal challenges, said the New Jersey Democrat "has the right to defend himself."
"He should be judged by jurors and New Jersey's voters, not by Democratic politicians who now view him as inconvenient to their hold on power," Sen. Tom Cotton (R-Ark.) said in a post on X.
What he's saying: "The allegations leveled against me are just that — allegations," Menendez said at a press conference Monday.
The indictment accused Menendez of taking bribes in exchange for helping a group of New Jersey businessmen, and using his role atop the Foreign Relations Committee to benefit the government of Egypt.
"Those who now are attempting to malign my actions as it relates to Egypt, simply don't know the facts," Menendez said Monday.
Go deeper