FBI report predicted 2020 election extremism 2 months before Jan. 6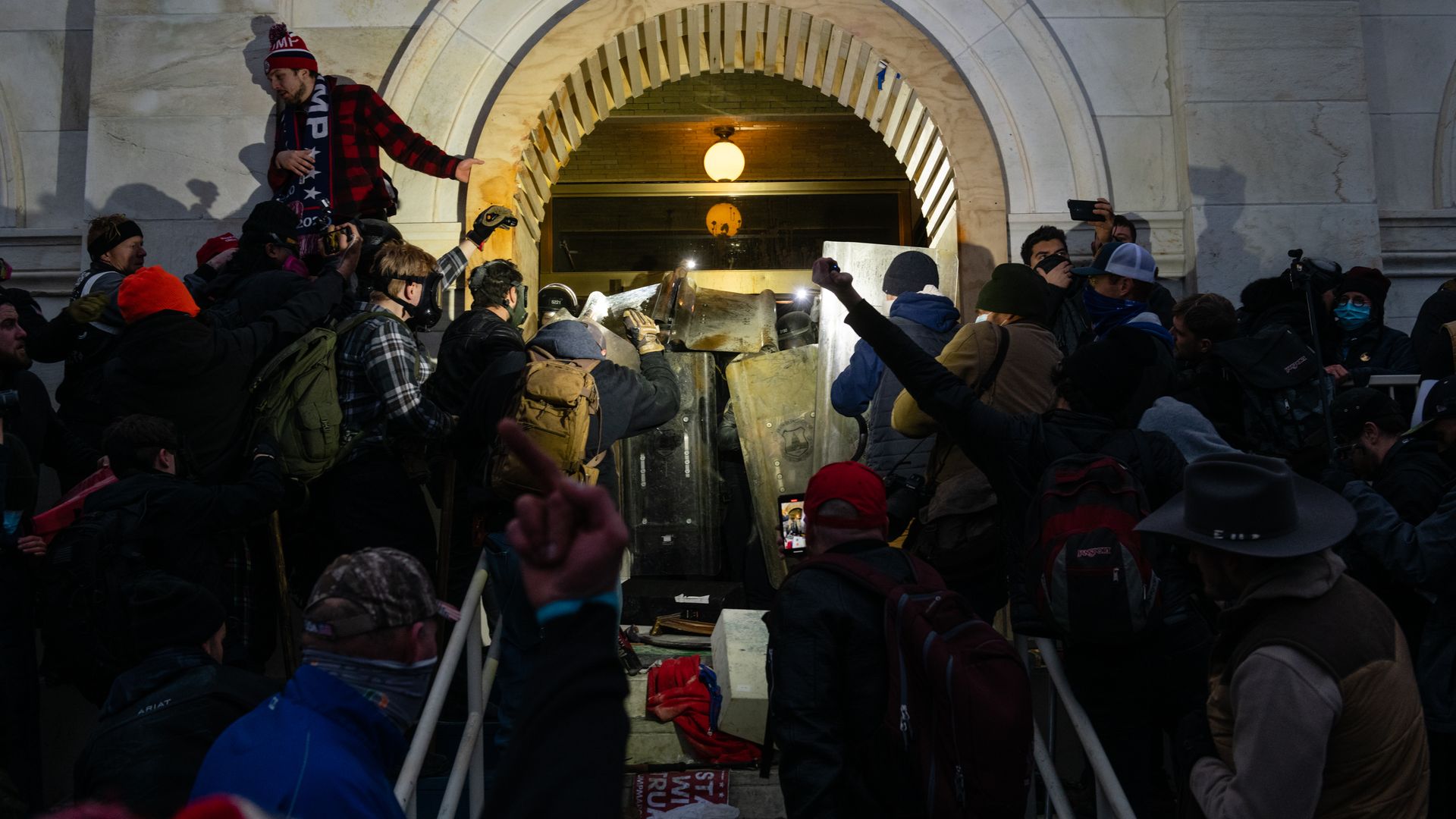 Two months before the Jan. 6 Capitol insurrection, an FBI internal report noted agents believed domestic violent extremists were "very willing to take action" if the upcoming 2020 election was disputed, according to documents obtained by NBC News.
Why it matters: The analysis that came one week before the election indicates that FBI entities had accurately predicted extremists' response to it, but potentially underestimated how capable they would be in carrying out violent actions over it.
It's also additional evidence that the FBI was aware of possible violence over the results, which were in part undermined by former President Trump through baseless claims of widespread voter fraud.
The fomented mistrust in the election culminated into the attack on the Capitol by Trump supporters while Congress was affirming the election results.
Zoom in: The report, obtained by NBC News through a Freedom of Information Act request, was based on an "alternative analysis" exercise conducted by the FBI Boston Field Office that considered four different scenarios.
The "most likely" scenario predicted by the exercise was that extremists would be very willing to take action but would lack the capabilities to do because of disorganization between separate groups and pressure from law enforcement.
A second and "less likely" scenario was that the groups would be both very willing and very capable of "a wide array" of violent activity.
The Boston Field Office, as well as the FBI's Intelligence Council, Counterterrorism Division, helped prepare the report with contributions from an undisclosed FBI entity.
What they're saying: Regardless of the scenario, the exercise concluded that extremist's willingness to act over a disputed election result would be compounded by "underlying grievances related COVID-19 mitigation measures and racial justice tensions," the report reads.
"Under this alternative analysis, law enforcement preemption and lack of coordination between [domestic violent extremists (DVEs)] would hinder widespread violence, though DVEs engaging in uncoordinated acts of violence remain a threat," it continues.
Context: Federal prosecutors have submitted evidence that indicated that there was widespread coordination between different far-right groups before the attack.
Evidence also suggested that members of those groups believed Trump would give them directions and may have perceived such signals through the former president's rhetoric.
Some Jan. 6 defendants have claimed they entered the Capitol at Trump's urging or that they were welcomed into the building at the "invitation" of the former president, who told his supporters before the riot to "fight like hell" and to walk to the Capitol. Trump denies responsibility for the insurrection.
The big picture: Members of Congress have criticized the FBI and other law enforcement agencies for failing to prepare for potential violence over election results.
A Senate report released in 2021 specifically faulted the FBI for not widely issuing formal intelligence bulletins about potential violence that day.
A Government Accountability Office report from last year said that multiple federal agencies, including the FBI, saw a chance for violence that day through open source data months prior to the attack.
Representatives for the FBI did not immediately respond to Axios' request for comment.
Go deeper: DOJ charges Trump supporter at center of a Jan. 6 conspiracy theory
Go deeper