Senate report: Failure to relay intelligence permitted Jan. 6 attack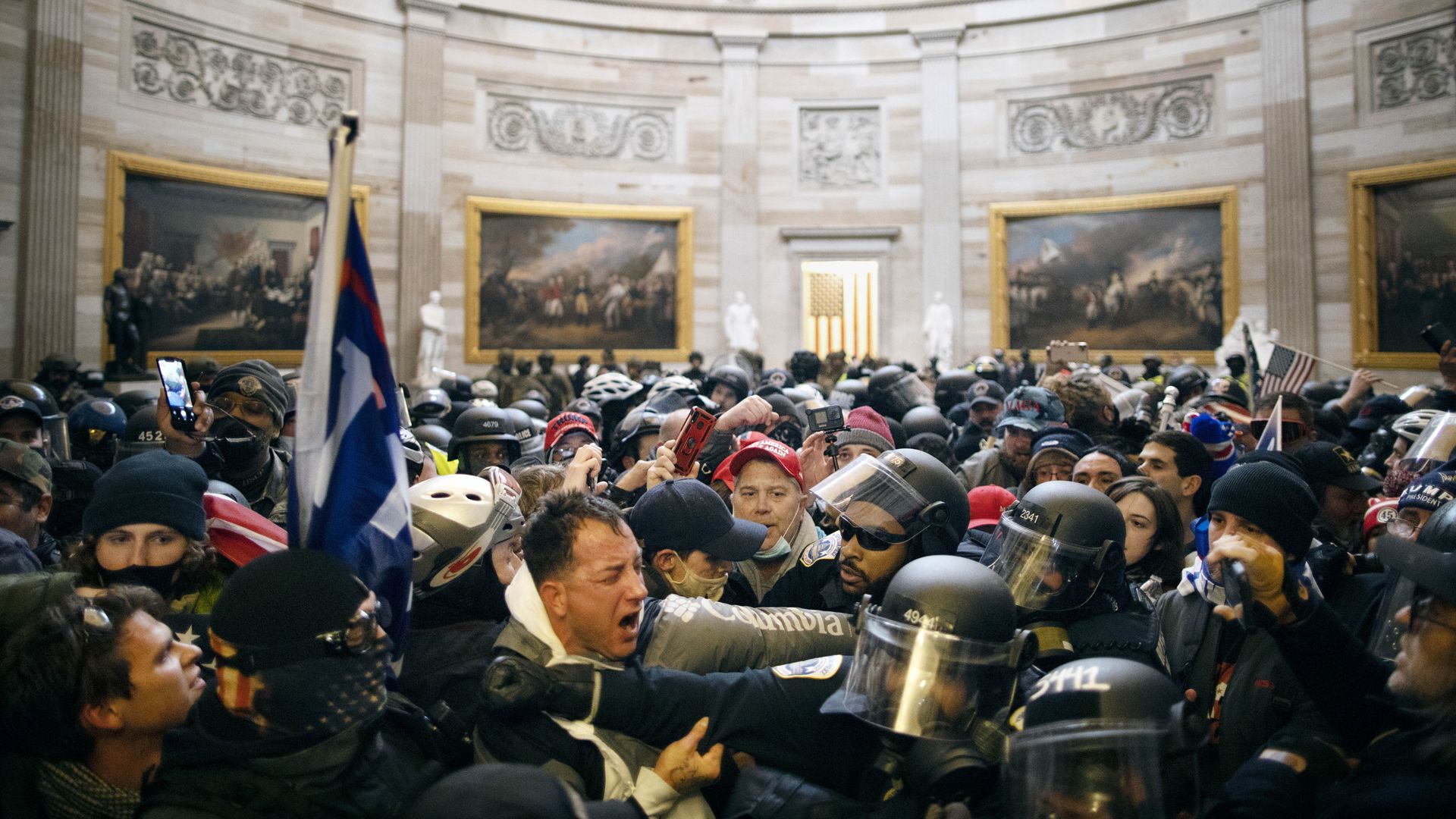 Last December, the Capitol Police intelligence division began gathering data from social media about plots to breach the Capitol, as well as specific calls for violence on Jan. 6 and maps of the building's tunnel systems, a new Senate report finds.
Why it matters: The scope of these threats was not relayed to USCP leadership, rank-and-file officers or federal law enforcement agencies. As a result, all were unprepared for the worst attack since the War of 1812, the 127-page document reveals.
The joint report — released Tuesday morning by the Democratic chairmen and ranking Republican members of the Senate Homeland Security and Rules committees — did not attempt to examine the origins and motivations of the people who participated in the attack.
It also did not analyze former President Trump's potential role. Many members of the mob were dedicated supporters of his who came to D.C. for the "Save America" rally immediately preceding the assault.
Sen. Roy Blunt (R-Mo.) told Axios this decision was made, in part, because the Justice Department was still identifying who was involved through its own investigation. Blunt said senators involved also felt they "could quickly assemble the information about the failure to defend the Capitol."
Key findings:
The report, led by Sens. Gary Peters (D-Mich.), Amy Klobuchar (D-Minn.), Rob Portman (R-Ohio) and Blunt, found:
Capitol Police had no operational or staffing plan for the Jan. 6 joint session to count and certify the 2020 Electoral College votes. USCP officers also were ill-prepared to deal with the attack, and did not have effective equipment or training.
Despite the intelligence gathered as early as December, it was not relayed to the FBI and Departments of Homeland Security, Justice and Defense.
The DHS and FBI also did not issue formal intelligence bulletins about potential violence on Jan. 6, which further hindered law enforcement.

The FBI's field office in Norfolk, Virginia, circulated a situational report late on Jan. 5 warning of people traveling to D.C. for "war" on Jan. 6. Former officials responsible for Capitol security on Jan. 6 testified they did not see the memo.

The Defense Department wanted to avoid looking over-militarized following its response to Black Lives Matter protests following George Floyd's murder.

Top agency officials spent hours "mission planning" as the riot unfolded, and multiple approvals for action were filtered between Army Secretary Ryan McCarthy, former acting Secretary of Defense Chris Miller and William Walker, former commanding general of the D.C. National Guard.

The Justice Department, according to the DOD, was the lead federal agency in charge of security and response on Jan. 6. The agency never created a security plan and did not coordinate a response during the attack, McCarthy told the committees.
Worth noting: The report said that the DHS, FBI and DOJ did not fully comply with the committees' requests for information.

"We have a number of requests for both the FBI and to the DHS to get out that our sense of what they knew and when they knew it. ...We want to find exactly where the problem arose, and we still don't have a satisfactory answer," Peters told reporters Monday night.
Among the 20 committee recommendations:
A department-wide plan for Capitol Police to create threat assessments for special events.
Congress to provide USCP with additional funding for training and protective equipment.
Give the USCP police chief unilateral authority to request National Guard support amid an attack.
Intelligence agencies should report domestic terrorism data to Congress.
DOD clarification of chain-of-command authorization to prevent delays in D.C. National Guard deployment.
The backdrop: The joint report comes shortly after Senate Republicans blocked a bipartisan, bicameral commission to investigate the insurrection.
A key argument from GOP leaders was that a 9/11-style commission would be duplicative of other investigations, including Tuesday's report from the Senate committees.
However, the report clearly states its scope was limited, and "further scrutiny of these failures and the preparations and response of federal agencies" is needed.
What's next: House Speaker Nancy Pelosi (D-Calif.) must soon decide how to move forward on a congressional investigation into Jan. 6 now that the commission has failed.
She has several options she can take. We're told she's leaning toward the formation of a select committee, but that could change as leaders continue to negotiate the best path forward.
Yes, but: Pelosi needs to move quickly, as lawmakers on both sides of the aisle are eager to find answers — and are wary of the investigation spilling into an election year.
Methodology: The committees reviewed thousands of documents, written statements from more than 50 USCP officers, and interviewed current and former officials from USCP, Senate sergeant-at-arms, House sergeant-at-arms, Architect of the Capitol, FBI, DHS, District of Columbia Metropolitan Police, DOD and the DCNG.
Go deeper