U.S. to redirect millions in military aid for Egypt to Taiwan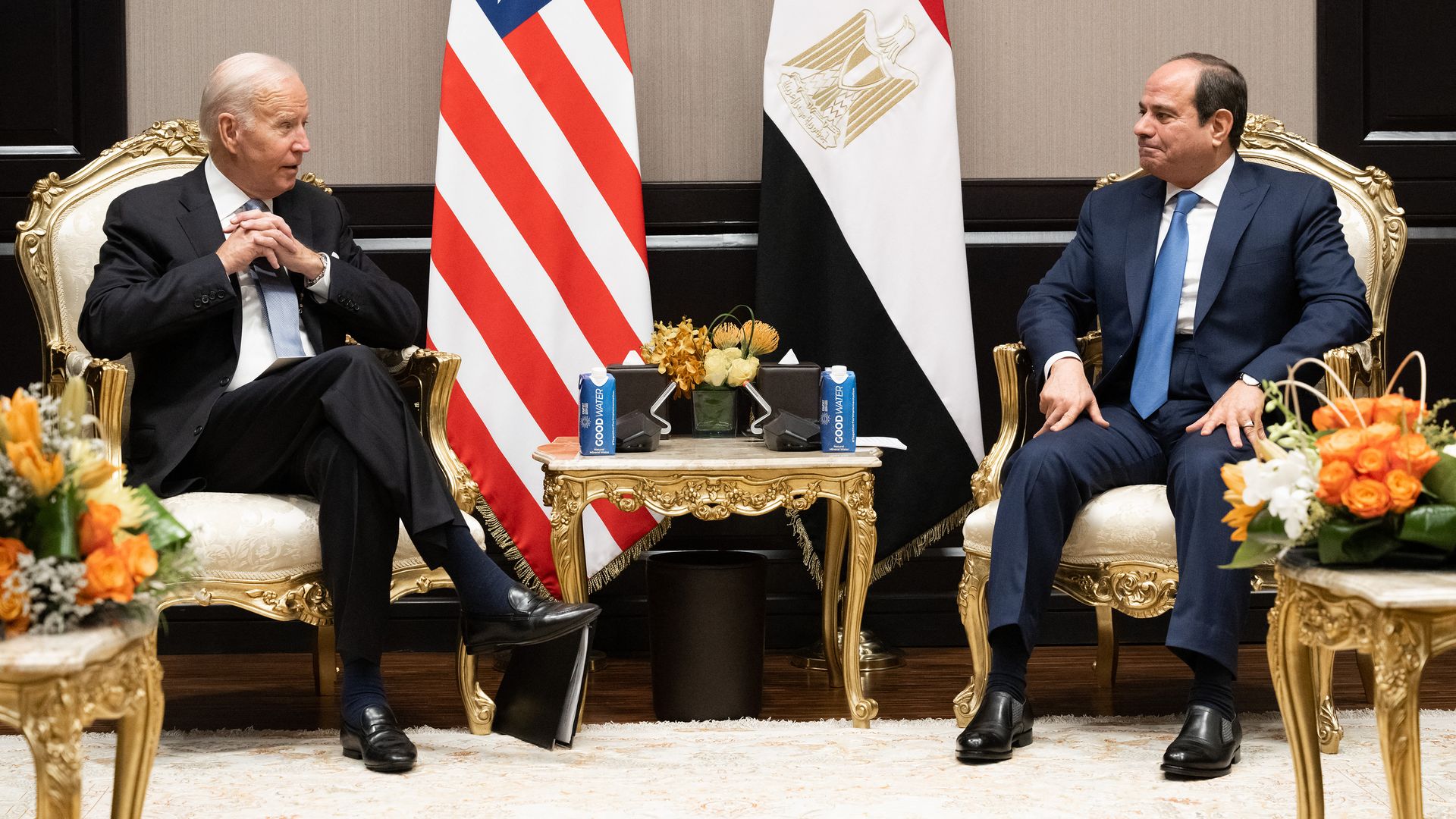 The Biden administration notified Congress this week of plans to deny Egypt $85 million in military aid and redirect much of it to Taiwan due to concerns about political prisoners and other human rights abuses in Cairo.
The big picture: The administration was criticized by lawmakers for both not going far enough to hold Egyptian leader Abdel Fattah el-Sisi's government to account for abuses including detaining political prisoners and for not assisting Taiwan enough in the face of threats from China.
Zoom in: Senate Foreign Relations Subcommittee Chair Chris Murphy (D-Conn.) said on the Senate floor Tuesday that the Biden administration had "rightly decided to withhold that first tranche, $85 million tied to the release of political prisoners, because there's just no question there has not been enough progress."
However, he added that the administration should "finish the job and withhold the full $320 million ... until Egypt's human rights and democracy record improves."
Meanwhile, Sen. Roger Wicker (R-Miss.) in a statement Thursday called the Biden administration's decision to provide $55 million in foreign military financing to Taiwan "a pittance" compared to Taipei's "enormous needs for self-defense and the United States' clear national interest in supporting" the self-governing island.
"It is doubly disappointing that rather than requesting standalone FMF [Foreign Military Financing] funding for Taiwan, as I have repeatedly challenged the administration to do, the president chose to source these funds from a different security partner," he added.
"This is especially counterproductive since Egypt has proven receptive to this administration's human rights concerns."
Between the lines: "While the amount of aid redirected to Taiwan may seem relatively small, it carries significant symbolic and strategic implications," Mohammed Soliman, director of the Strategic Technologies and Cyber Security Program at the Middle East Institute, told Breaking Defense magazine on Thursday.
"This move underscores a broader shift in U.S. priorities, signaling a pivot from the Middle East towards the Indo-Pacific region, with a particular focus on Taiwan."
Meanwhile, Washington and Cairo's relationship has become strained amid Egyptian resistance against U.S. requests to send Ukraine weaponry as it defends itself from Russia's military invasion and concerns about human rights abuses under Sisi's rule, per the Wall Street Journal, which first reported on the aid decision.
Thousands of "actual or perceived government critics or opponents" have been "arbitrarily detained and/or unjustly prosecuted" in Egypt, per a 2022 Amnesty International report.
What they're saying: State Department spokesperson Matthew Miller said at a briefing Tuesday that the administration had "not made a formal determination as of yet" on the issue of aid to Egypt, but noted "the deadline for that is approaching relatively soon."
Representatives for the Pentagon declined to comment on the matter and those from the State Department did not immediately respond to Axios' request for comment.
Flashback: Egypt's rights abuses and surveillance concerns loom over COP27
Go deeper