Companies wage PR campaigns against regulators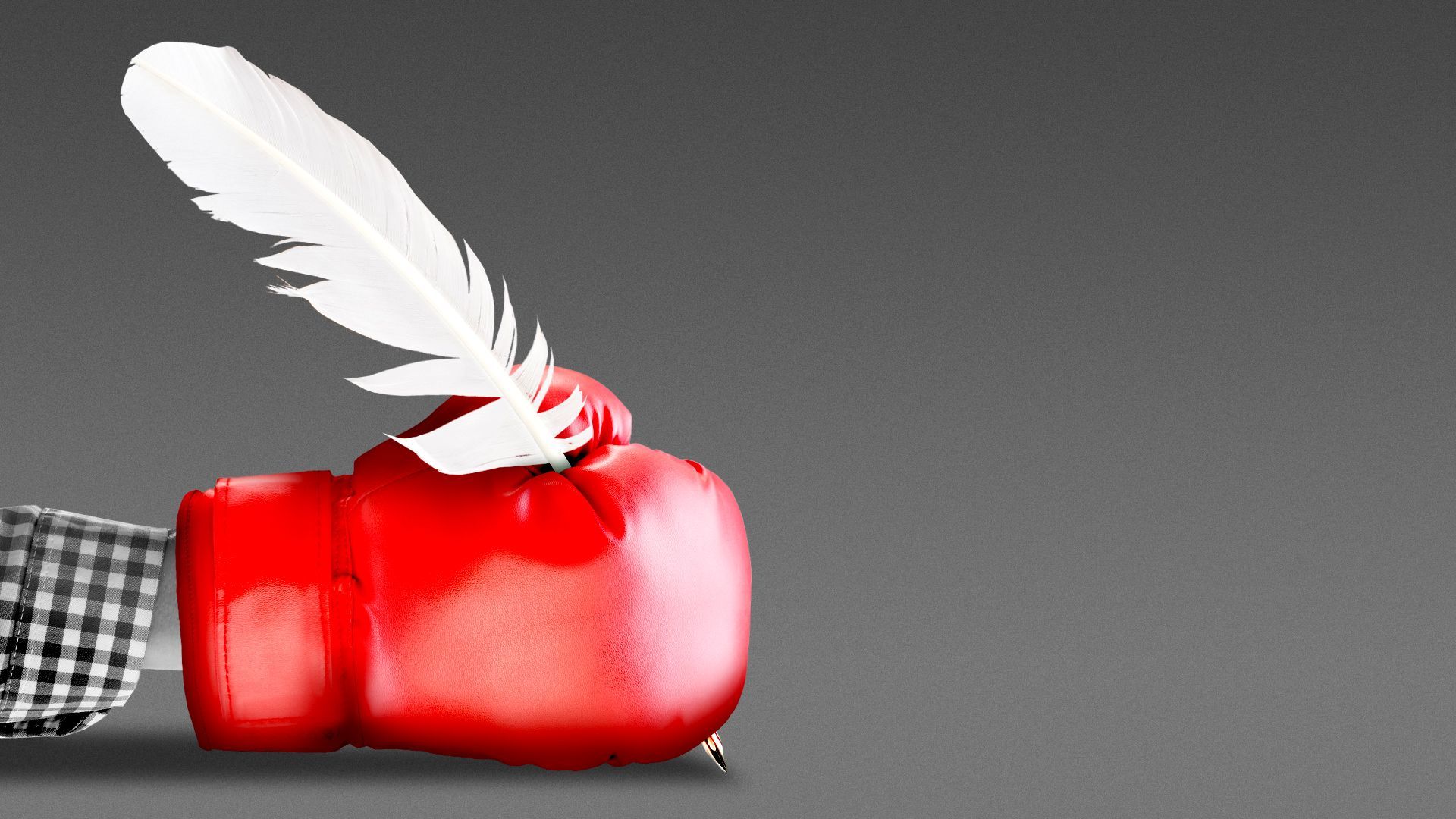 Corporate communicators have been successfully punching back at regulators, policymakers and critics through comprehensive messaging campaigns.
Why it matters: It's a shift toward the political way of communicating and a pivot away from the usual corporate playbook of strategic silence.
Driving the news: As Axios' Crystal Kim recently pointed out in her crypto newsletter, most companies clam up when the Securities and Exchange Commission (SEC) comes knocking, but that's not the approach Coinbase Global is taking.
Zoom in: Coinbase has been unusually vocal about run-ins with its primary regulator in blogs, tweets, podcasts and media interviews — offering up subpoenas, court filings (theirs and their adversaries) and legal analysis in near real time to the public.

Coinbase also started an advocacy campaign called Stand With Crypto seeking to mobilize public support for crypto rules.
"In terms of how we thought about public messaging, we needed to start with first principles to basically reconsider anything and everything we had been taught about how to engage," Paul Grewal, Coinbase's chief legal officer, told Kim.
Zoom out: Coinbase isn't alone.
Activision Blizzard and Airbnb haven't pulled punches in their battles with regulators, while DoorDash and Oatly have pushed back hard against misinformation or public critiques.
"There are advantages in speaking out and creating a public issue, so others can be aware and support the defense," Junaid Zubairi, an attorney at Vedder Price, told Axios.
State of play: These battles typically ensue when there's some sort of regulatory concern or legal spat and they are more likely to come from tech or founder-led companies.
What they're saying: Being more direct, more transparent and speaking plainly is key to addressing these complicated regulatory or corporate issues, Activision Blizzard's head of corporate affairs Lulu Cheng Meservey previously told Axios.
"Favorable recent court rulings have empowered businesses to be proactive and more public with their side of the story," says Ash Spiegelberg, partner and global co-head of technology, media and telecoms at Brunswick Group. "Central to the communications playbook is the policy and government affairs team. ...When there is a clear call to action, an M&A deal getting done or a regulatory matter with an outcome, it can sometimes be more effective to go out on the front foot, but only assuming that there is a compelling case."
Yes but: This playbook doesn't work unless you have bulletproof facts or legal standing — and sometimes saying too much can lead to an onslaught of litigation and reputational damage.
Between the lines: If an outside event or issue could threaten corporate reputation, then communications teams can proactively step in.
Once there's buy-in from senior leadership, teams can activate in the following ways:
Explain why this battle is one worth fighting, then back it up with research and effective storytelling.

Airbnb did this when it went head-to-head with local governments over zoning and tax laws.

Create simple, key messages that spokespeople or top executives can repeat over and over again on TV, in employee town halls and during investor meetings.
Establish the spokespeople and make sure they are prepared to advocate on the topic for a long time.
Create unified, cross-functional task forces that provide coverage across all channels — including representation from legal, marketing, social media, government affairs, community engagement, media relations, investor relations and more.
Define the key audiences and use data to figure out where these audiences are ... then go there, and keep going there.

And don't forget about the employee audience. They often make for important, unofficial spokespeople and need to feel informed and up-to-date.
The bottom line: It's all about presenting your case in the court of public opinion, and launching an aggressive messaging campaign has never been easier— a flurry of pithy social media posts or smart video messages can begin to move the needle.
Go deeper