McConnell's survival strategy as Senate GOP leader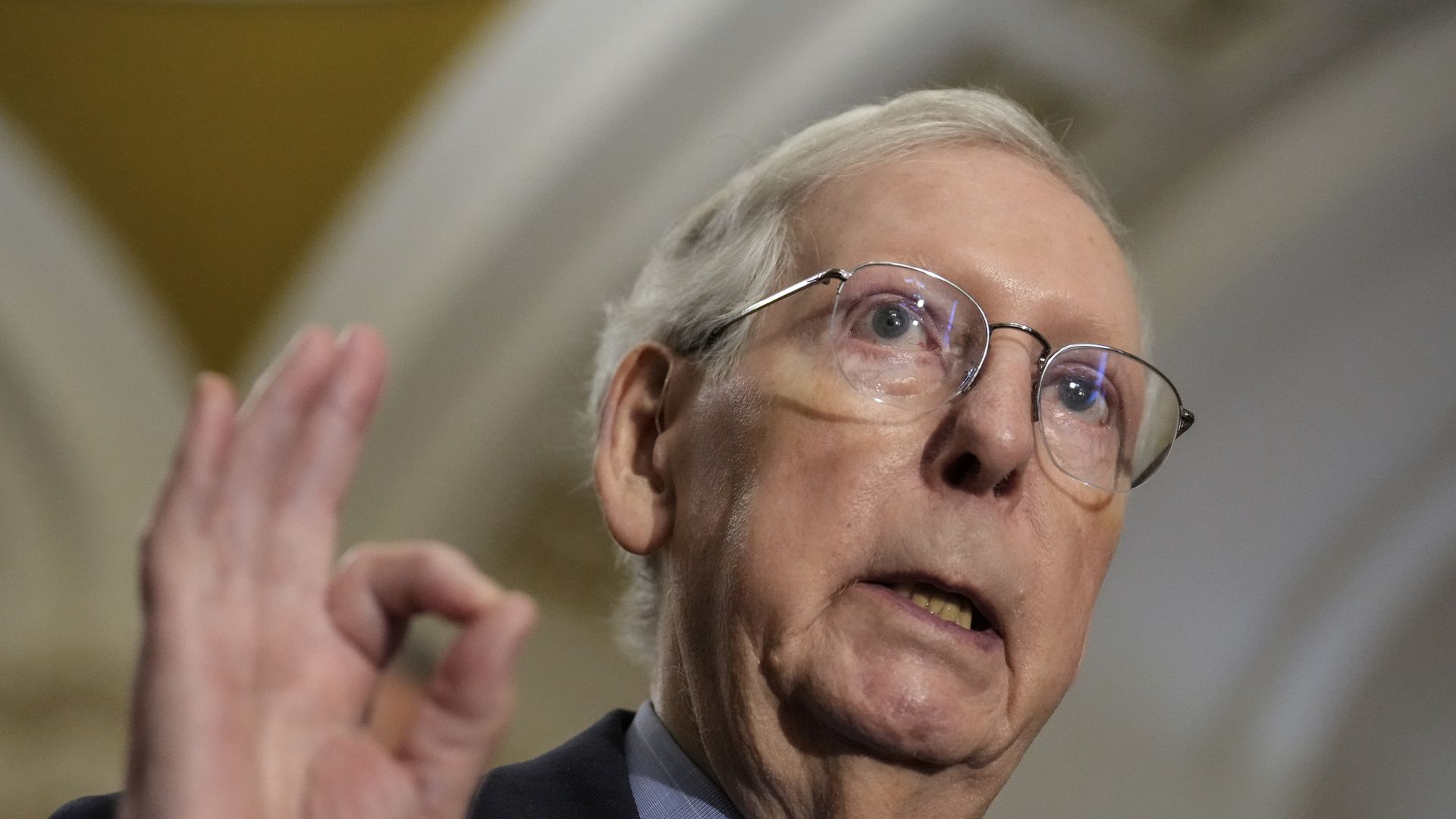 After two on-camera health scares in two months, Senate Minority Leader Mitch McConnell is trying to defuse doubts by taking the very on-brand stance that there's nothing to see here.
Why it matters: McConnell, 81, has repeatedly declined to give more information on his health beyond the doctor's note released Tuesday — and he reminded his colleagues of his unparalleled fundraising prowess.
"I think Dr. Monahan covered the subject fully," the Kentucky Republican said during a press conference on Wednesday.
Dr. Brian Monahan, the Capitol's attending physician, has ruled out a stroke, seizure or movement disorder as possible causes of his freeze-ups — saying they're likely the result of dehydration and his recovery from a concussion this spring.
"You've had a chance to read it," McConnell said. "I don't have anything to add to it. And I think it should answer any reasonable question."
McConnell said he has no plans to retire early, either from his Senate seat or as leader of Senate Republicans.
A pair of McConnell-aligned groups reported a record August haul of a combined $49.36 million, Fox Business reported Wednesday.
McConnell, whose Senate seat is next up for election in 2026, called himself a "concussion survivor" during his Senate Republican lunch on Wednesday, Punchbowl News reported Wednesday.
What they're saying: "He was more transparent, which I'm glad he did," Sen. John Cornyn (R-Texas) said of McConnell's lunchtime comments.
"This is not his style. But I don't think keeping things close to the vest serves his interests and it created a lot of speculation. So I think this is a positive development."
"I don't think there will be anything else said about it unless there's another incident," Sen. Tommy Tuberville (R-Ala.) said Wednesday. "And that's what we're hoping."
"I feel really good, I'm behind Mitch and let's move forward," said Sen. Lindsey Graham (R-S.C.).
"I think any questions about his internal standing were answered today. His conference rallied around him in a big way," a senior GOP aide told Axios.
The other side: Sen. Josh Hawley (R-Mo.) told reporters after the lunch that McConnell didn't face any questions from his colleagues.
And Sen. Rand Paul (R-Ky.), who publicly questioned Monahan's diagnosis on Tuesday, said after the lunch that "I don't have any reaction."
Between the lines: McConnell claimed that he's had no freeze-up incidents beyond the two documented on camera.
Now that he's back in D.C., he'll repeatedly be on camera during long work days.
Go deeper