Zoom brings more AI to your meetings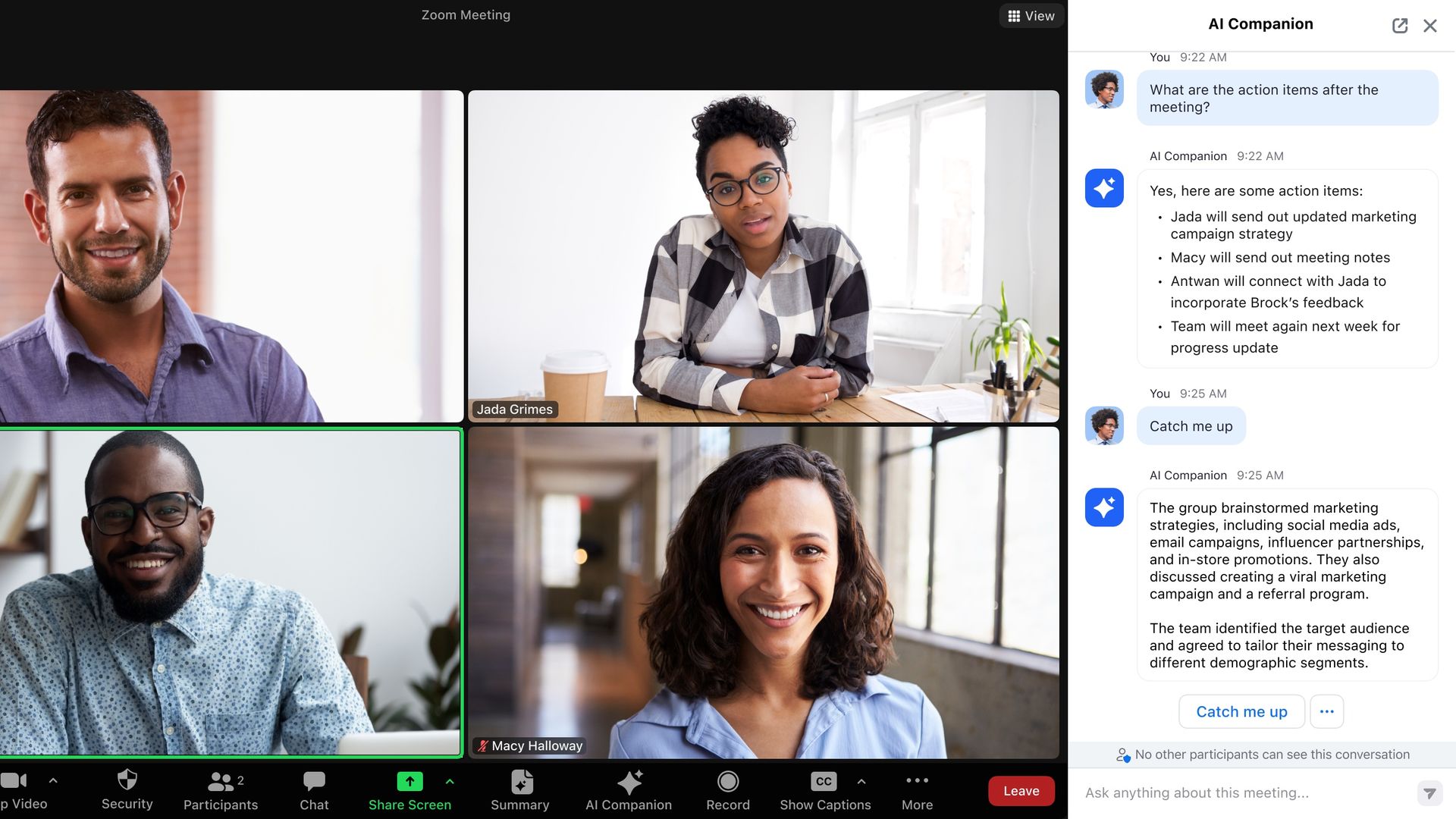 Zoom announced Tuesday it is building a new AI assistant into its software as it aims to hang on to its spot as the leader in video conferencing.
Why it matters: Tech companies have been racing to add generative AI to their products, with the effort particularly intense around helping workers get more out of meetings.
Details: Zoom's AI Companion, as the product is being dubbed, combines new features with a couple that the company had previously been testing.
The AI Companion will allow people catching up on meetings to watch highlights, read summaries and ask questions of a chatbot, among other features.
The AI features will be free to all paid users, Zoom said.
Zoom is relying on its own proprietary AI models, as well as Meta's Llama 2 and models from OpenAI and Anthropic.
Between the lines: Zoom attracted the wrong kind of attention last month amid concerns that the company was planning to use customer conversations to train AI systems. CEO Eric Yuan admitted the company made mistakes and Zoom clarified its terms of service.
The company reiterated that it will not do so and added that the new AI features, like its initial ones, will be off by default and that account owners and IT administrators will choose whether to enable the features.
The big picture: Google and Microsoft have been adding AI features to their rival products, as has Otter, with the ability to transcribe and summarize meetings emerging as table stakes.
Otter has its OtterPilot bot that can attend meetings on Zoom. Microsoft's Teams or Google Meet. Those in a meeting can ask questions about the meeting content in real-time or even choose to send the bot in their place.
Google announced last week a suite of AI features for Google Workspace, including the ability to have its Duet AI bot attend and record meetings.
What's next: Starting next year, Zoom said it will introduce AI features that will allow people to prepare for meetings by tapping a conversational interface that can search through "content across the Zoom platform, such as prior meetings, chats, and select connected third-party apps."
Go deeper