Ina Fried's "Prompt": Attend two meetings at once with OtterPilot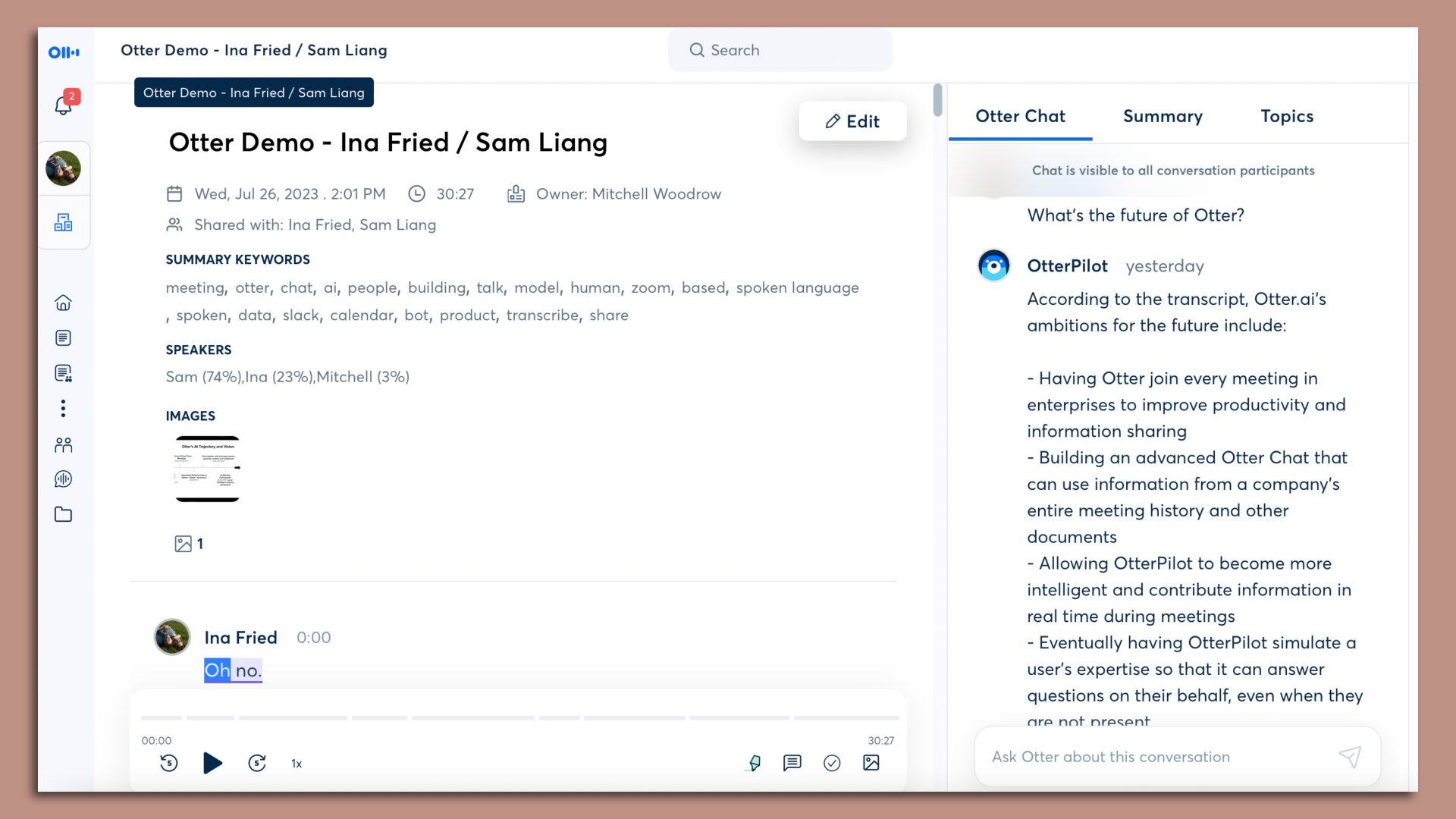 Axios chief tech correspondent Ina Fried today launches a new feature, "Prompt," showing us how to use the explosion of AI tools:
My grandfather had a saying that basically translated to "one tush can't be at two weddings." A new generation of AI tools, including ones I tested from Otter.ai this week, is on the cusp of making that family wisdom obsolete.
What's happening: While best known for its AI-powered voice transcription software, Otter now offers an AI bot, OtterPilot, that can join online meetings — with you or without you — and transcribe and summarize them in real time. Then another bot, Otter Chat, can answer questions based on what people have said in that meeting.
How it works: Once you connect an Otter.ai account to your Microsoft or Google calendar, the OtterPilot bot can automatically join an online meeting — in Zoom, Microsoft Teams or Google Meet — and start recording and transcribing it.
I used OtterPilot Thursday to record a Disability Awareness Month Zoom talk here at Axios while I did a TV news appearance.
I also used it to join and record our weekly newsroom-wide meeting, which was scheduled at the same time as the second half of the disability event.
Later in the day, OtterPilot accompanied me during an interview with Slack CEO Lidiane Jones over Google Meet, showing up as a separate participant labeled "Ina's OtterPilot."
Once I was sure it had joined (and I could see in Otter's mobile app that it was recording and transcribing), I felt comfortable enough that I opted not to take notes during our meeting, freeing me to be more present and engaged.
The good: Otter did a great job of not only recognizing speakers and transcribing, but also summarizing the meetings.
The paid version of Otter's service can take part in three meetings at once, and had no trouble joining meetings whether I was on the call or not.
The Otter Chat bot is surprisingly good at answering questions, as long as they'd been addressed in the meeting.
I was even able to watch OtterPilot transcribe a meeting in the mobile app while waiting for the TV appearance to start.
I kept an eye on its work while speaking with the Slack CEO, highlighting a couple of key moments so they would be easier to find when I go back to the transcript.
Of note: OtterPilot also saves the visuals presented in the meeting, and you can use Otter Chat to generate content after the meeting, such as a follow-up email or blog post.
I asked it to write a news story based on my interview with Jones. I hate to admit it, but it did a pretty decent job, aside from hilariously calling me Ina Fried of Protocol.
The bad: The transcripts are good, but not perfect.
If you are a student or reporter looking to quote from an interview, you'd be well served by double-checking against the recording rather than relying solely on the transcript.
My bigger concerns, though, aren't about shortcomings in the product but rather with ethical issues that Otter's current and future products are likely to present.
Companies can certainly get tons of value from having access to all the insights raised and shared in their meetings.
But there will be a lot of sensitive data in there, too — and having every meeting recorded and mined for data is a radical change in how organizations work. People may feel differently about what they share, too, when they know (or have to assume) they are being recorded.
That makes it extra important for users to get Otter's settings right. If you aren't careful, you can end up sharing your recording, the transcript — and even the queries you make of the chatbot — with everyone in the meeting.
What's next: Otter eventually wants its bots to take part in the conversation rather than just recording and taking notes.
Initially, that might be a generic bot trained on information from lots of company meetings.
Over time, it could be a bot version of an individual worker that makes contributions based on relevant comments they have made in the past.
That will raise a lot of questions!
Can I get in trouble for some wisecrack that this future hypothetical InaBot makes in a meeting?
If I leave Axios, does InaBot come with me — or does the company own the right to the bot version of me, because so much of the data that it's been trained on is company-owned?
The better these bots become, the thornier all this will get.
Otter CEO Sam Liang acknowledges these are tricky questions that the company, its customers and society as a whole still need to sort out. "I don't think we have all the answers yet," Liang said. "It's certainly challenging but also exciting to figure out solutions to those questions."
Details: Otter.ai has subscription plans ranging from a limited free account to several tiers of paid accounts that include more hours of transcription and greater AI capabilities.
The paid options cost between $8 and $20 per user per month, when billed annually.
The bottom line: For all the tough questions Otter's new services raise about our bot-filled future, there's little doubt to me that they can make my job easier — and help anyone who's stuck on meeting overload.
Go deeper