Voters disapprove of Biden just as much as Trump: poll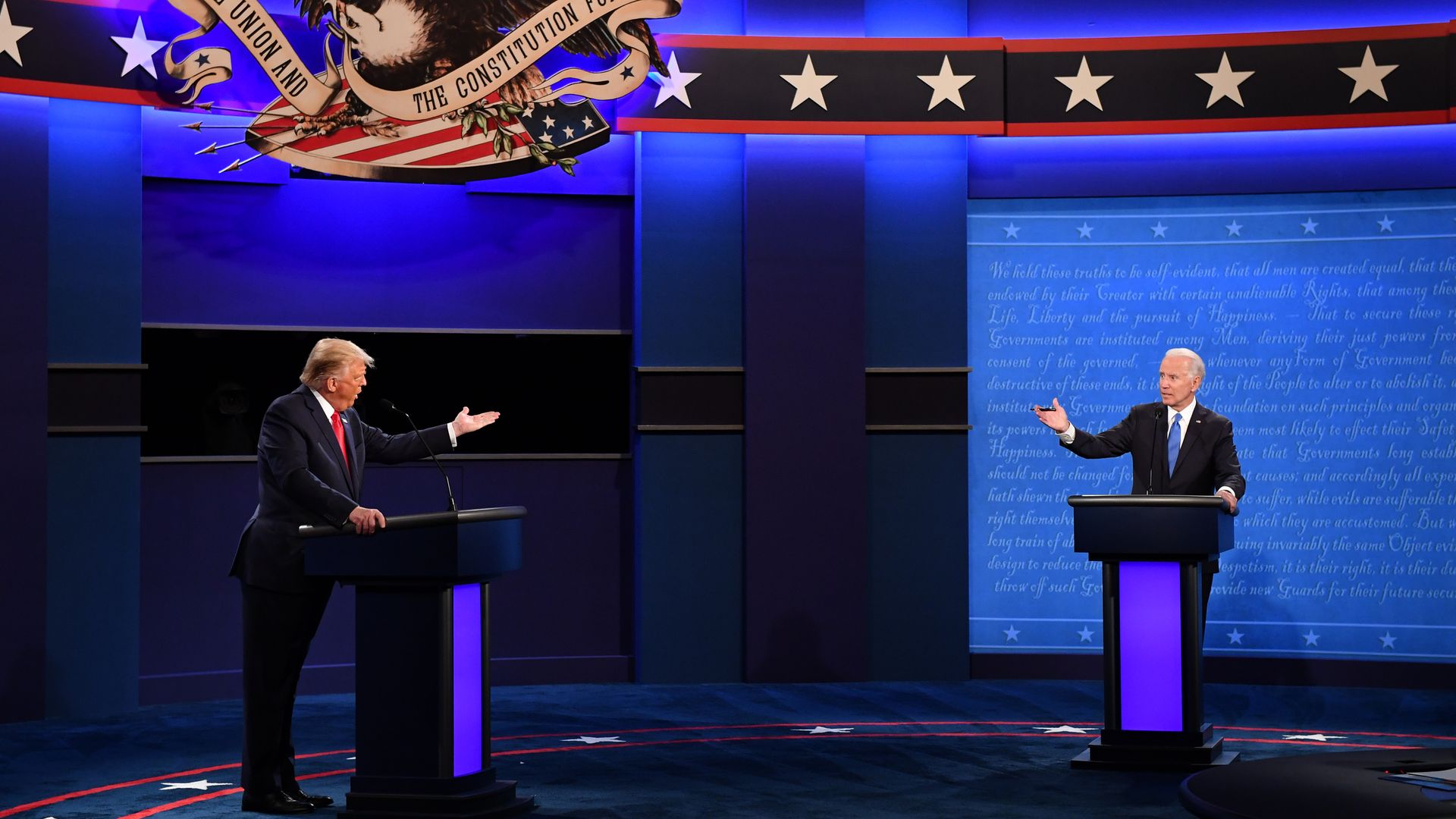 President Biden and former President Trump have identical ratings in a new WSJ poll: 39% of registered voters view them favorably, while 58% view them unfavorably.
Why it matters: Many analysts believed so many voters had turned against Trump that it would be difficult for him to win a general election. But the WSJ poll finds 49% view Biden very unfavorably, just behind Trump's 52%.
One key difference plays in Trump's favor: 27% of voters view him very favorably, vs. 17% for Biden.
Zoom in: The WSJ poll indicates that Trump's alleged criminal actions in the wake of the 2020 election may be a political liability for him, as a majority of voters believe at least some of the charges he faces are legitimate — though many also believe them to be politically motivated.
But the poll shed light on one of Biden's major liabilities: his age. More than half of respondents think Biden is not "mentally up for the job of president," while 73% believe the 80-year-old president is "too old" to run again.
Trump, 77, scores better on "mentally up for the job," while 47% believe he's too old to run.
Between the lines: While 51% of voters believe Trump has a "strong record of accomplishment as president," 40% say the same for Biden. Voters are also more likely to believe Trump "has a vision for the future."
Majorities of voters also disapprove of Biden's handling of the economy and immigration — two issues at the top of voters' minds.
Biden scores better than Trump when it comes to some personal attributes, such as being honest and likable.
The big picture: Biden's approval rating is 40.6%, according to the 538 tracker, almost identical to Trump's 40.3% rating at this point in his presidency.
Both are behind where Barack Obama (43.6%), George W. Bush (54%) and Bill Clinton (46.9%) were at this juncture.
Methodology: The poll contacted 1,500 registered voters Aug. 24-30 and 750 of these responded to the poll that has a margin of error of 3.6%.
Go deeper