Nikki Haley says America "less safe" due to older politicians stumbles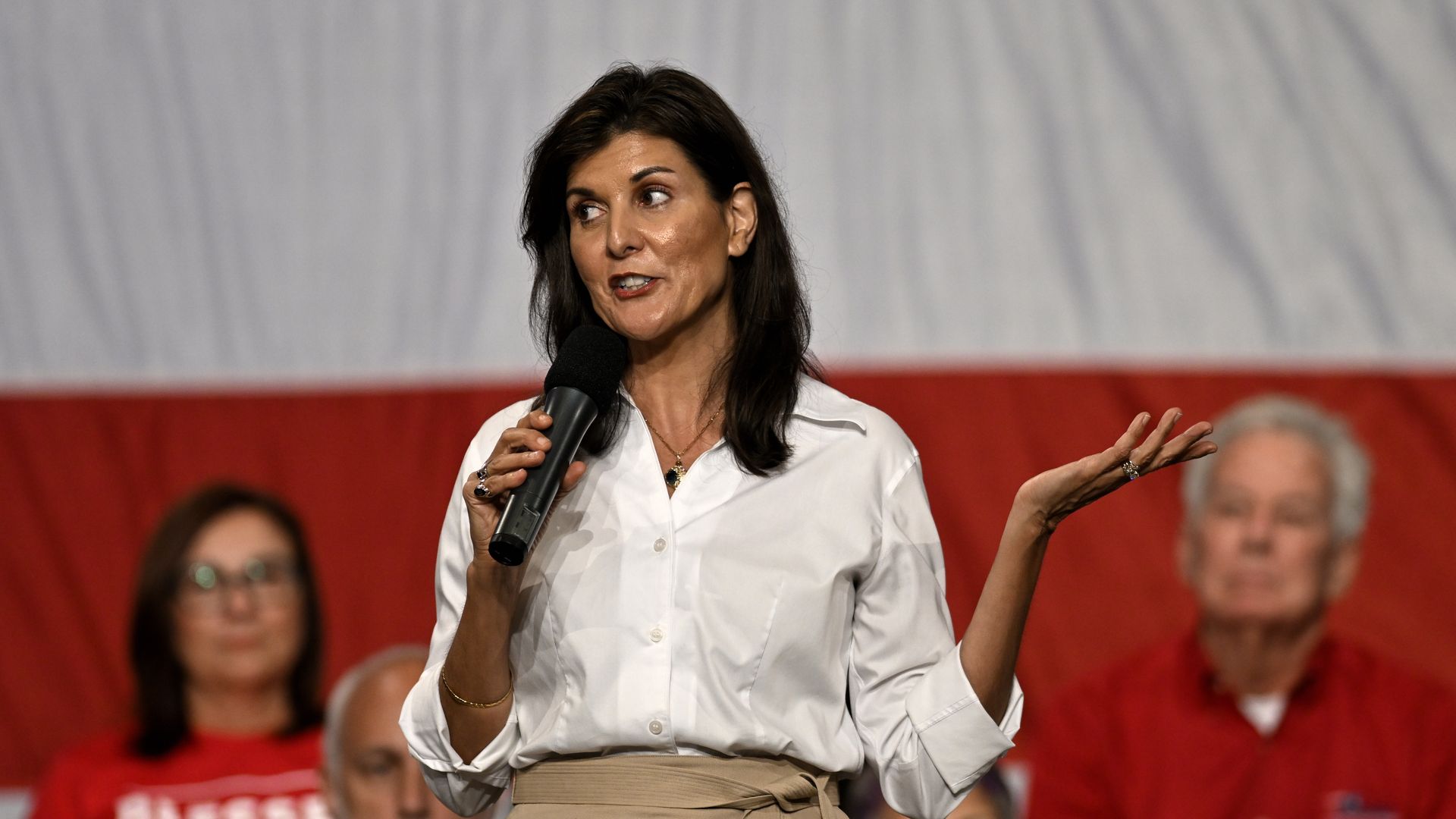 GOP presidential contender and former UN ambassador Nikki Haley said that America's enemies think the country is "out of control" when older politicians stumble in the public spotlight.
Driving the news: Haley, who has previously called for mental competency tests for some elected officials, told CBS News Sunday that U.S.' enemies are "watching all of this" and the country is "less safe" because of it.
"We can't stand watching Dianne Feinstein sit there and be told by an aide how she should vote. We can't worry about Mitch McConnell being frozen at a podium. We can't have Joe Biden forget where he is," she said on CBS' "Face the Nation."
Haley said the refusal of older members of Congress to step down is not a "Republican or Democrat problem" but a "congressional problem."
"It is time to pass this down to a new generation of conservative leaders that want to take our country to a better place," she said.
Flashback: Following McConnell's apparent freeze-up, Haley called the Senate "the most privileged nursing home in the country" during an interview with Fox News' "The Story" last week.
On Sunday, Haley called for "basic" mental competency tests and said she doesn't care if they're "for everybody 50 and older" or "the entire Congress."
Haley said questions on the test could include where the person was born, naming four words that start with the same letter and how many grandchildren the person has.
"These are basic questions that anyone should be able to answer, and the way you do that is: just when a candidate files to run for office, incumbent or a newcomer, they have to give their financial disclosures. They should also give a notice from the doctor that tells about their mental capacity," Haley said.
Of note: Haley didn't call for McConnell to step down, nor did she confirm if she thought he should step down from GOP leadership.
Instead, the White House hopeful pointed to McConnell having "done great service to the country" while still pushing for term limits and mental competency tests.
But, she said, older politicians "have to know when to leave."
Go deeper: Mitch McConnell appears to freeze during news conference a second time
Go deeper