Arkansas social media age-verification law blocked at the last minute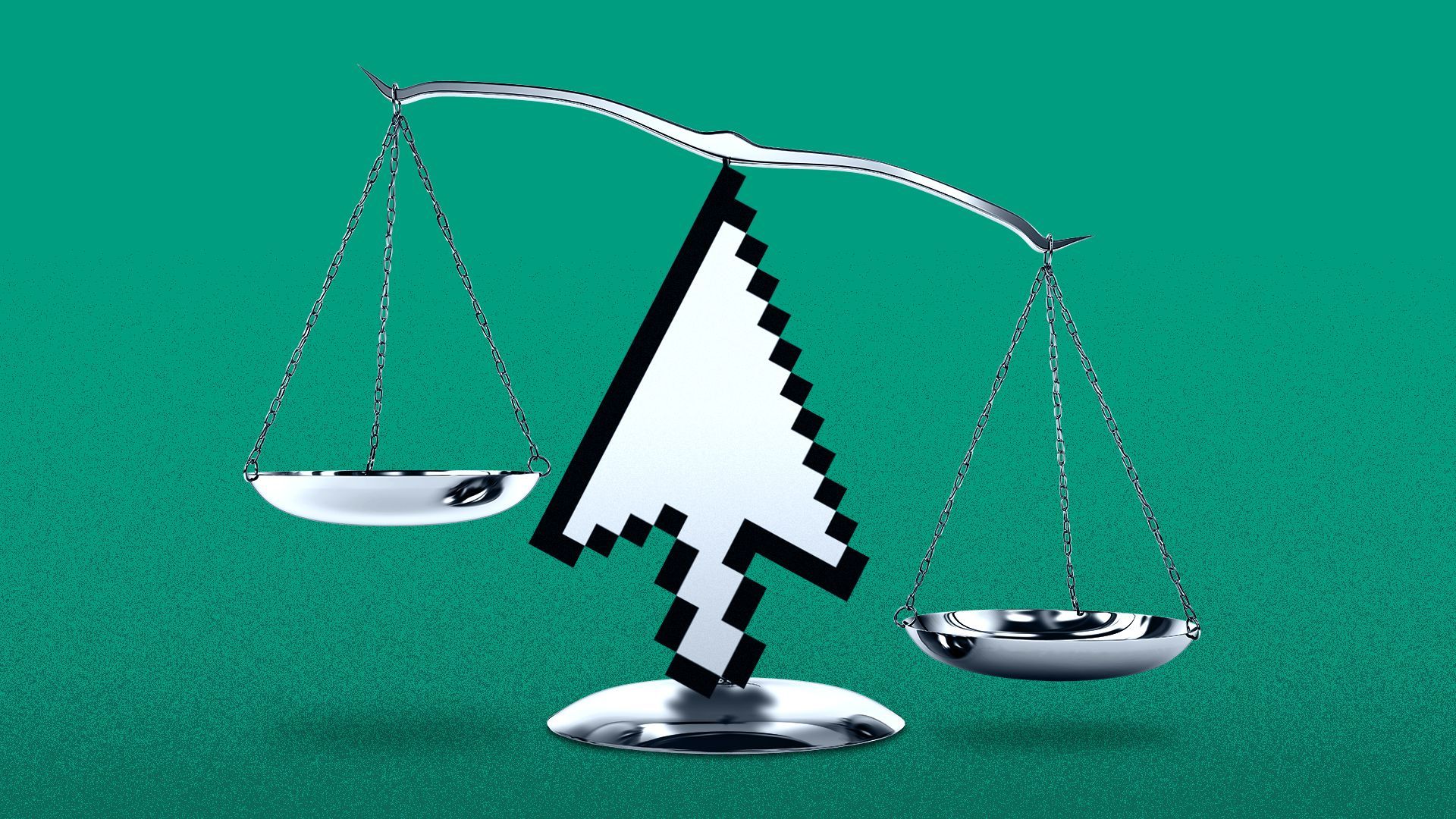 A federal judge late Thursday temporarily blocked the state's social media age verification law that was set to take effect Sept. 1.
Why it matters: The Arkansas law is the first such measure in the U.S. that requires age verification from users to open new social media accounts, and for anyone under 18 to have permission from a parent or guardian for a new account.
The law potentially sets a precedent for minors' First Amendment rights.
Driving the news: In his opinion, Judge Tim Brooks says the law is a burden on the free speech of minors and adults, and is "not targeted to address the harms it has identified."
The act is vague enough that social media companies represented by NetChoice, which is suing the state over the law, could suffer irreparable harm if it were to go into effect.
Context: NetChoice asked for the temporary injunction while the lawsuit progresses. The law was to take effect Sept. 1.
The big picture: Similar laws requiring social media companies to use a third party to verify new users' ages were passed in four other states over the last year, but all are set to go into effect after Arkansas'.
Utah, California and Texas will require verification that new users are 18 or older and Louisiana's law requires minors to be 16 to create such accounts.
Between the lines: Supporters say the law will help protect children from online predators and from potentially harmful effects of some content.
Opponents say it raises privacy, free speech and enforceability concerns, while discriminating against the largest social media companies.
What they're saying: "Legal precedent is clear: While parents have authority over their own children, it is not the government's role to dictate what parents should desire for their families," Holly Dickson, executive director of Arkansas' ACLU chapter said in a statement.
"Social media platforms are vital channels for the receipt and dissemination of information and individual expression," she sai
"We're pleased the court sided with the First Amendment and stopped Arkansas' unconstitutional law from censoring free speech online … We look forward to seeing the law struck down permanently," Chris Marchese, director of the NetChoice Litigation Center said in a statement.
The other side: "I'm confident we'll be able to defend this in court," Sen. Tyler Dees (R-Siloam Springs), the lead author of the bill, told Axios.
"Our kids and their protection are worth fighting for this," he said.
"I am disappointed in the ruling, but I will continue to vigorously defend the law and protect our children, an important interest recognized in the federal judge's order today," said Tim Griffin, the state's attorney general, in a statement sent to Axios.
Reality check: Virtual private network (VPN) services let users circumvent location-based content restrictions by routing internet traffic through other states or countries.
Google searches for these services in Arkansas spiked when Pornhub blocked access to its site from anyone in the state after a similar law requiring age verification went into effect Aug. 1.
What we're watching: The trial has not yet been scheduled.
Go deeper: Arkansas lawsuit accuses TikTok and Meta of "deceiving" users
Go deeper