Trump's mug shot strategy: He posted it on X for clicks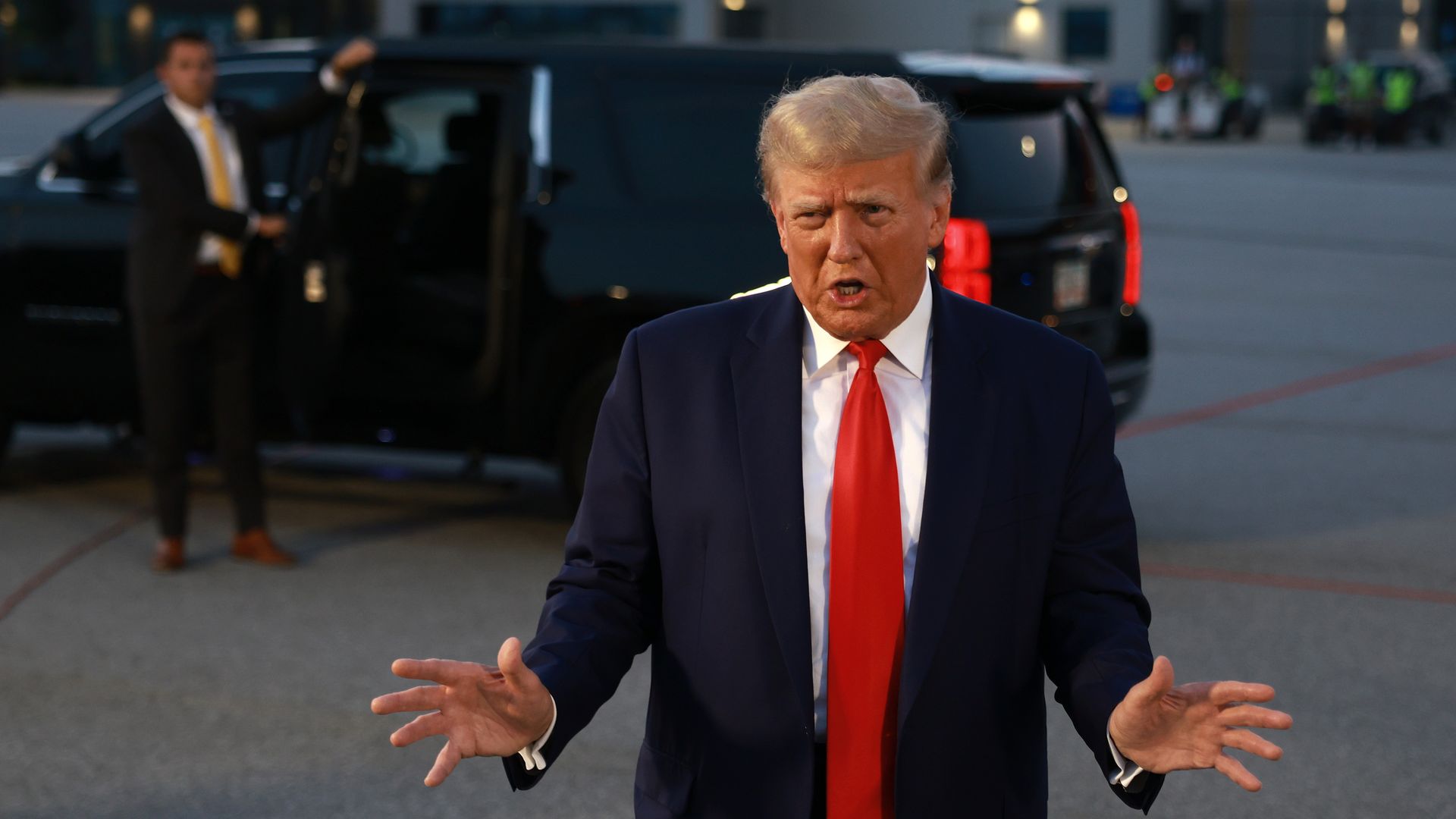 Former President Trump's surprise post of his mug shot on the social platform formerly known as Twitter was done because he wanted the image to reach a huge audience, his aides tell Axios.
Why it matters: It was the first time in more than 2 1/2 years that Trump posted on Elon Musk's platform now known as X — and was a signal that Trump might resume posting on the platform that was his main megaphone before and during his presidency.
Trump's team already is using Thursday's mug shot on campaign merchandise and multi-platform fundraising appeals that claim he's being prosecuted unfairly.
Trump aides said his own Truth Social platform will continue to be his focus — but they didn't rule out Trump returning to Musk's platform, where millions more people are likely to see his posts.
"I will leave it to President Trump to decide how he wants to use his social media accounts," one aide said. "Stay tuned."
Before Thursday, Trump hadn't posted on Twitter/X since Jan. 8, 2021 — two days after the Capitol riot — but he still has 87 million followers there, the ninth-most of anyone on the platform.
That's far more than the roughly 6.4 million followers Trump has on his Truth Social network, where he now posts regularly.
X's audience will be particularly tempting for Trump while he's wrapped up in four felony trials and a campaign for president.
Zoom in: Trump first posted his mug shot on Truth Social late Thursday — just after surrendering to authorities in Fulton County, Ga., where he's accused of leading a criminal enterprise that tried to overturn the 2020 election results in Georgia.
Minutes later Trump tweeted his mug shot from his dormant account on X. By late Friday it had 1.4 million "likes."
Three hours after the tweet, Trump returned to Truth Social with a message to supporters who had followed him to his platform.
"I LOVE TRUTH SOCIAL. IT IS MY HOME," Trump wrote.
According to a filing with the Securities and Exchange Commission, Trump is obligated to post on Truth Social exclusively unless it is about political matters.
As of late Friday he hadn't posted on X again, but was continuing to do so on Truth Social.
He complained about being prosecuted, criticized Fox News' ratings for the GOP presidential debate he skipped this week — and reposted his own post with the mug shot and a fundraising appeal.
Flashback: Under Twitter's previous ownership, Trump was banned on Jan. 8, 2021, over his actions on Jan. 6 that led his supporters to storm the Capitol to try to stop Congress' certification of the election results.
Less than a year later Trump launched his own platform, Truth Social, and it became his main way to message his conservative base.
Go deeper