Tropical Storm Hilary slams Southern California with historic rainfall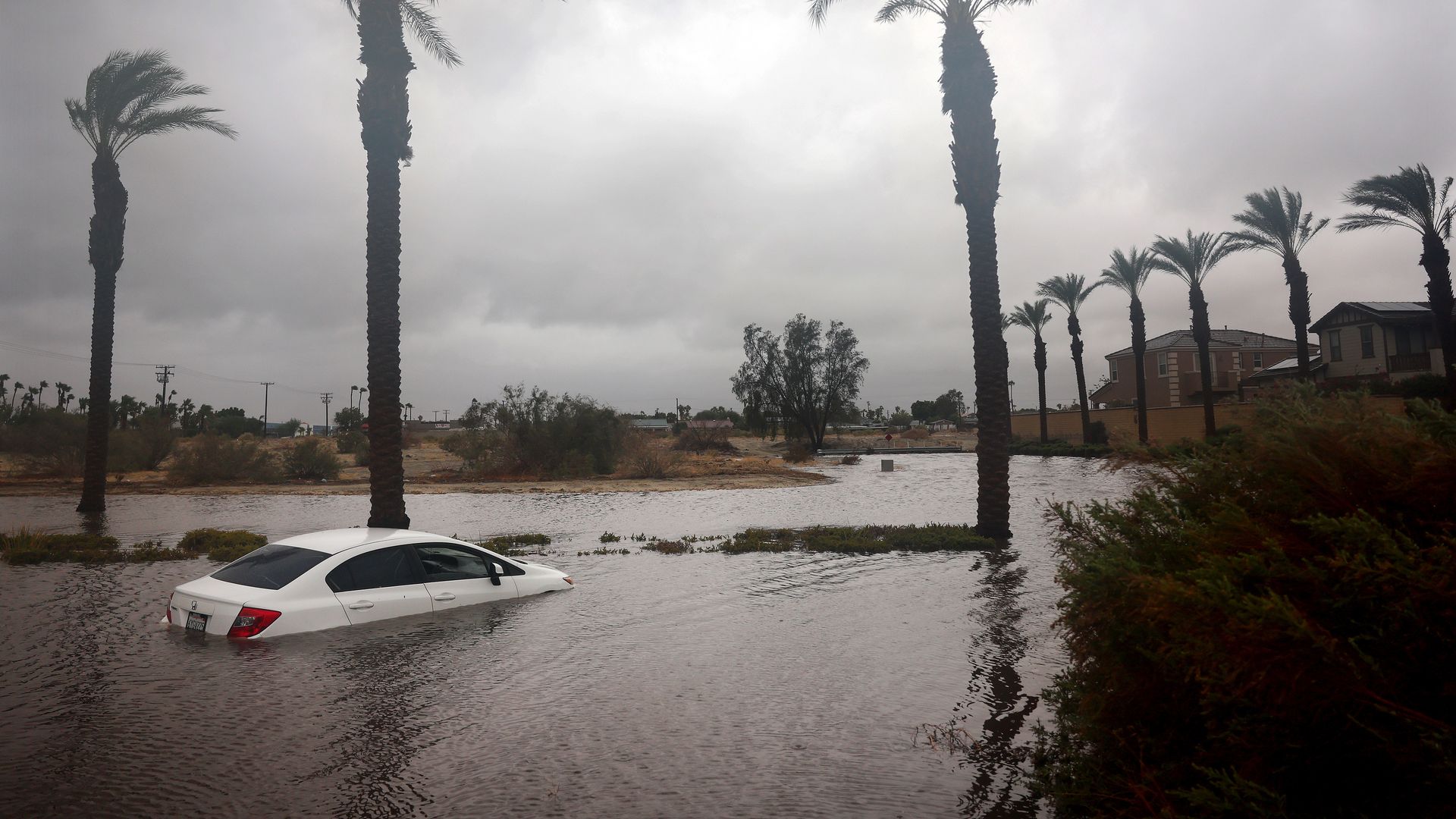 New rainfall records were set across Los Angeles County after Tropical Storm Hilary crossed into Southern California near Palm Springs on Sunday evening after earlier making landfall in Mexico.
The big picture: It's rare for a tropical storm to hit the region. The storm is bringing the likelihood of "catastrophic and life-threatening flooding" to parts of the U.S. Southwest through Monday, while prompting unprecedented tropical storm warnings for Los Angeles and San Diego.
Nevada's governor declared a state of emergency due to the threat of potential "flash flooding, rockslides and mudslides" amid forecasts that the south of the state would exceed its annual rainfall total in a short period of time due to the storm.
In Arizona, the Mohave County Sheriff's Office issued evacuation orders for parts of Lake Mead National Recreation Area "due to flooding risks from Tropical Storm Hilary."
Threat level: The storm brought two years or more worth of rain in California's desert areas. Now a post-tropical storm swirling through Nevada, it produced tropical rainfall rates, which can be torrential, to areas that have rarely, if ever, experienced them.
California is under a state of emergency, and evacuations away from the most vulnerable areas to mudslides, debris flows and other hazards were expected in Southern California especially.
The manager of Palm Springs County in Southern California declared a local emergency Sunday "due to the critically dangerous impacts" including "unprecedented rainfall & flooding of local roadways and at least one swift water rescue," officials said.
Storm impact: Tropical Storm Hilary caused road closures and flood damage across Southern California and led to over 4,500 flights being delayed or canceled across the U.S. Sunday, per FlightAware.
Of note: The Weather Prediction Center had painted a large zone in southern California and Southwestern Nevada as facing a "high risk" of excessive rainfall and flash flooding Sunday — including San Bernardino, Death Valley, Barstow, Indio, and Palmdale, Calif.
High risk-designated days are associated with about 40% of all flash flood-related fatalities and 83% of all flash flood-related damages in the U.S.
By the numbers: Precipitation totals from the storm have ranged from 11.74 inches at Mount San Jacinto, Calif., to 6.61 inches in Whitewater, Calif. and 2.5 inches in Carlsbad.
Some locations in the San Bernardino Mountains picked up 2 inches of rain in an hour.
The top amounts in L.A. County through Monday morning were between 5 and 7 inches, with most areas setting daily and monthly records. Downtown LA picked up 2.38 inches.
The strongest wind gust was 84 mph at Big Black Mountain in San Diego County, per NWS.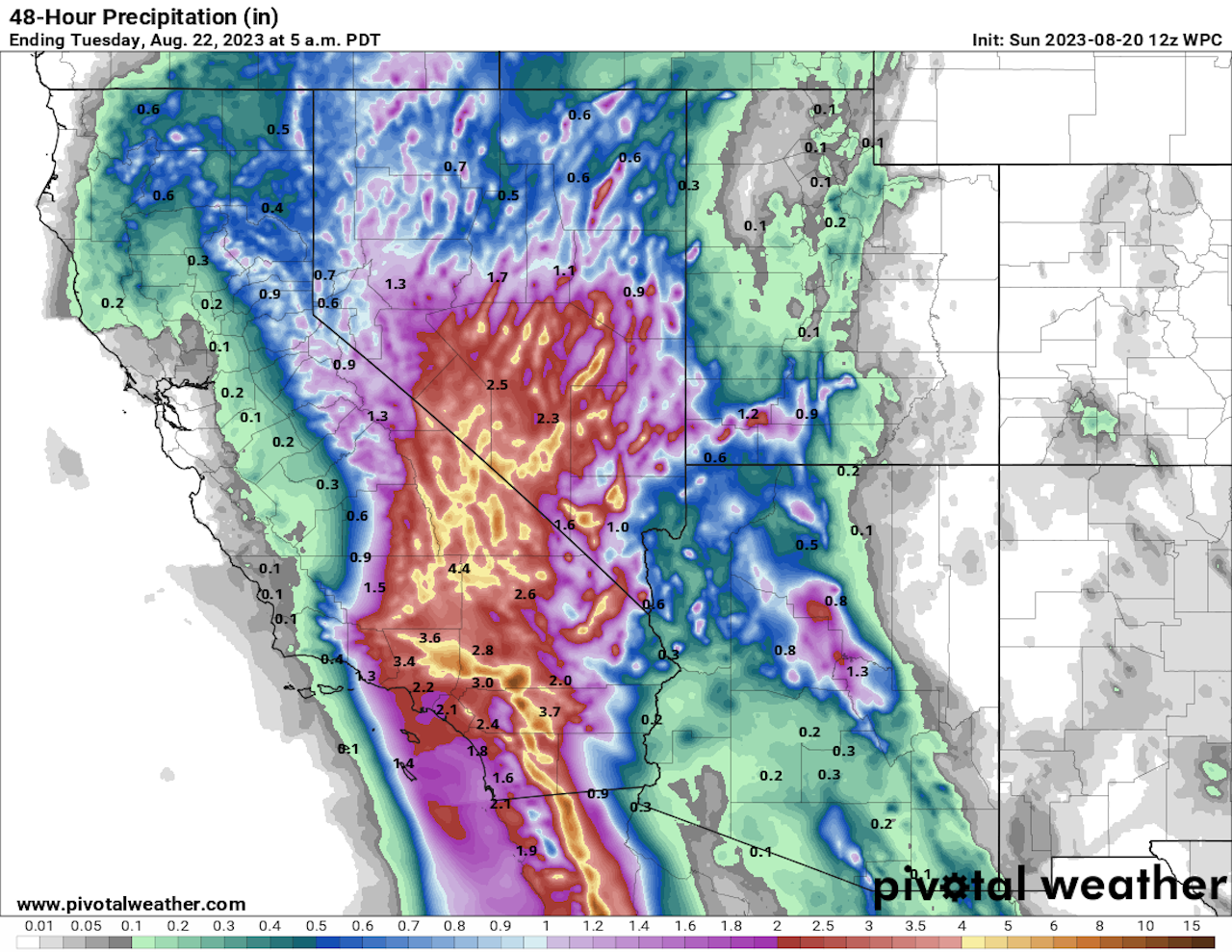 42.6 million people were under tropical storm warnings Sunday, from the LA metro area south to the U.S.-Mexico border. Gusty winds are expected to be strongest along the coast and in areas of higher terrain.
28 million people in half a dozen states were under flash flood watches, which extend all the way north into eastern Oregon and Idaho.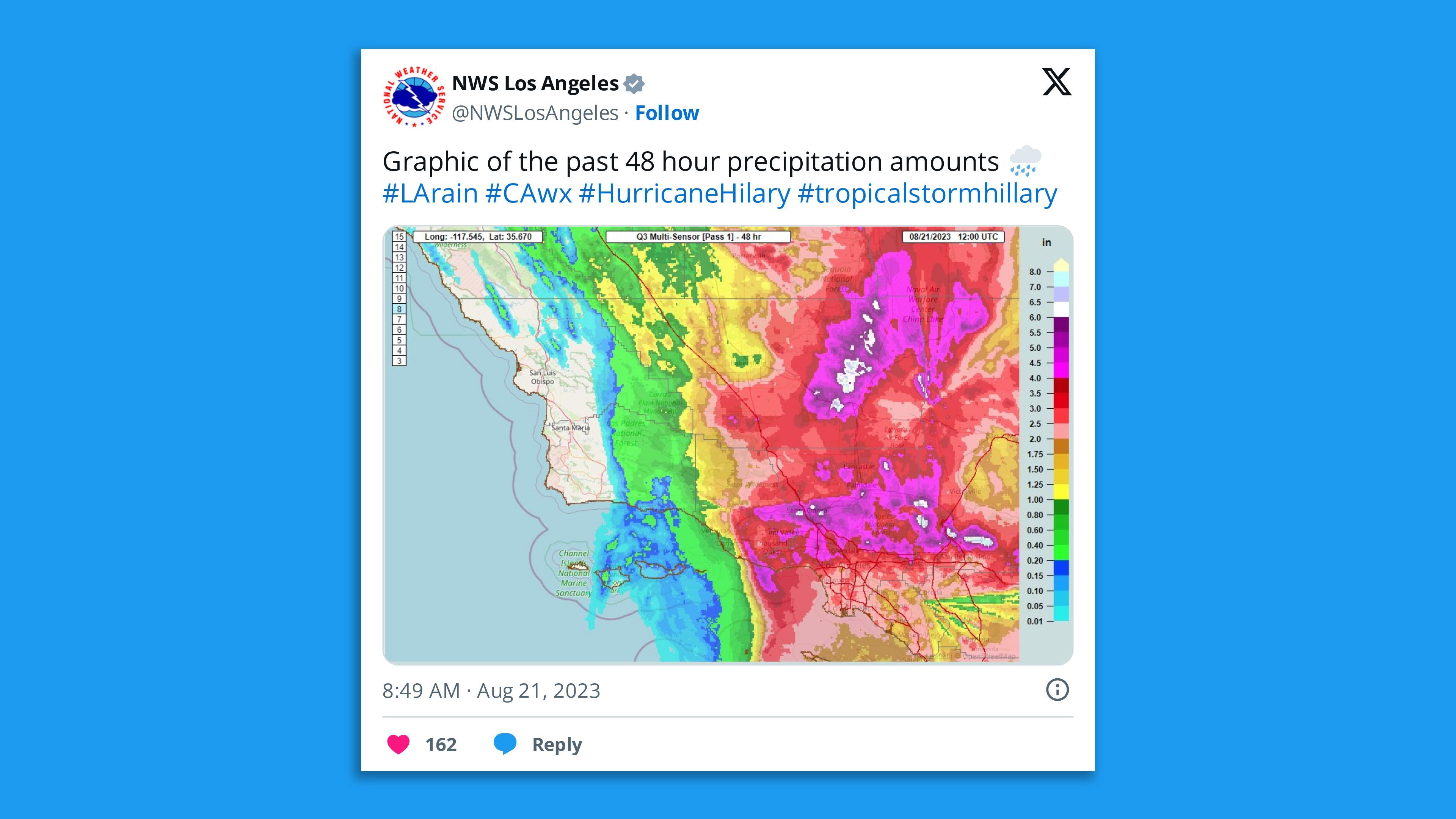 Context: Human-caused climate change is leading to more frequent and intense extreme precipitation events. It is also causing tropical storms and hurricanes to produce more rainfall, as a warmer atmosphere and oceans allow these storms to carry more moisture.
The presence of an intensifying El Niño event, with above-average sea surface temperatures in the equatorial tropical Pacific Ocean, may be enhancing the moisture funneling into this storm.
Go deeper: In photos: Tropical Storm Hilary's heavy rains flood California streets
Editor's note: This article has been updated with new details throughout.
Go deeper