Category 4 Hurricane Hilary prompts first-ever tropical storm watch for California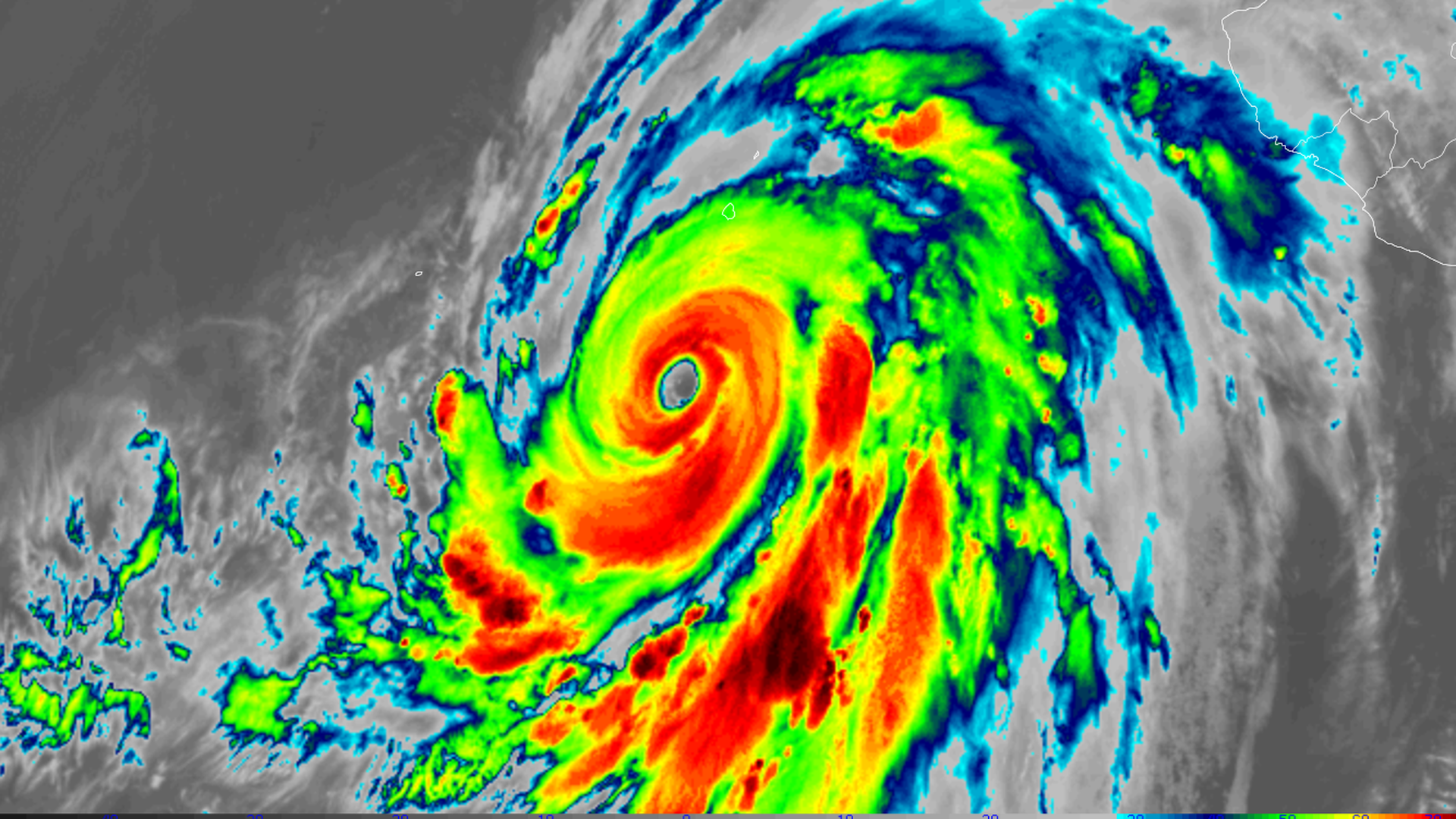 Editor's note: Read the latest on Hurricane Hilary's forecast here.
Category 4 Hurricane Hilary is headed for the possible first direct hit of a tropical storm in Southern California since 1939.
The latest: A tropical storm watch is now in effect from the California/Mexico border northward to all of Los Angeles County, portions of Ventura County and Catalina Island. This is the first such severe weather alert to be issued for this part of the country.
As of Friday at 5pm ET, Hurricane Hilary was a large Category 4 storm, with peak sustained winds of 130 miles per hour. Its center was located about 325 miles south-southwest of Cabo San Lucas, Mexico, and it was moving northwest at 12 mph.
A turn to the north and increase in forward speed is expected over the next 24-36 hours.
The storm's winds are expected to slow on Saturday as it moves over cooler ocean waters. However, a faster forward speed may limit the magnitude of this trend, and wind speed changes would not diminish the potentially dire flood threat.
Threat level: A highly unusual weather pattern is evolving across the country, with links to human-caused climate change, that will help propel the formidable storm — by then in a less formidable state, rapidly northward into the typically dry Southwest during the next four days.
The threat of heavy, flooding rains and high winds, along with beach erosion from large waves, is growing from San Diego to Los Angeles, inland across the deserts of eastern California beginning late Saturday and peaking on Sunday and Monday.
The NHC headlined a forecast update Friday evening with: "LIFE-THREATENING AND POTENTIALLY CATASTROPHIC FLOODING LIKELY" in parts of Baja California and Southern California this weekend into early next week.
"Prepare for life-threatening rainfall flooding having possible devastating impacts across Southern California," warned the National Weather Service forecast office in San Diego Friday evening.
State of play: Hurricane Hilary's biggest threat is water, with "Flash, urban, and arroyo flooding" flagged by the Hurricane Center.
The Weather Prediction Center placed a large area from San Diego to Las Vegas under a "moderate risk" for excessive rainfall. There's a first-ever "high risk" in low-elevation areas of San Diego County, where warm, moist air will be forced to rise, cool and condense, wringing out more significant rainfall.
Another area at high risk for excessive rainfall is in and around Death Valley, Calif., where flooding has already occurred this summer.
In a forecast discussion, the WPC noted that rainfall rates may exceed 3 inches per hour at times.
Rainfall totals could be 200% or more than typical annual rainfall in these high risk zones, WPC stated.
Of note: The Weather Service forecast office in Phoenix noted that more atmospheric moisture would be funneled into the Southwest from Hurricane Hilary than is typical during even the most intense wintertime atmospheric river storms.
Context: Human-caused climate change is leading to more frequent and intense extreme precipitation events. It is also causing tropical storms and hurricanes to produce more rainfall, as a warmer atmosphere and oceans allow these storms to carry more moisture.
By the numbers: The National Weather Service is forecasting 2-to-10-inches or more of rainfall across Southern California, extending into neighboring states.
Flash flood watches are in effect for about 26 million people in four states, including Calif., Utah, Nevada and Arizona.
The storm increased its maximum sustained winds Thursday into Friday by an incredible 80 mph in 24 hours, more than double the rate that defines rapid intensification.
In recent years, there has been a trend toward more frequent rapid intensification of hurricanes and typhoons, as well as larger leaps in intensity over shorter periods, which has been tied to human-caused climate change.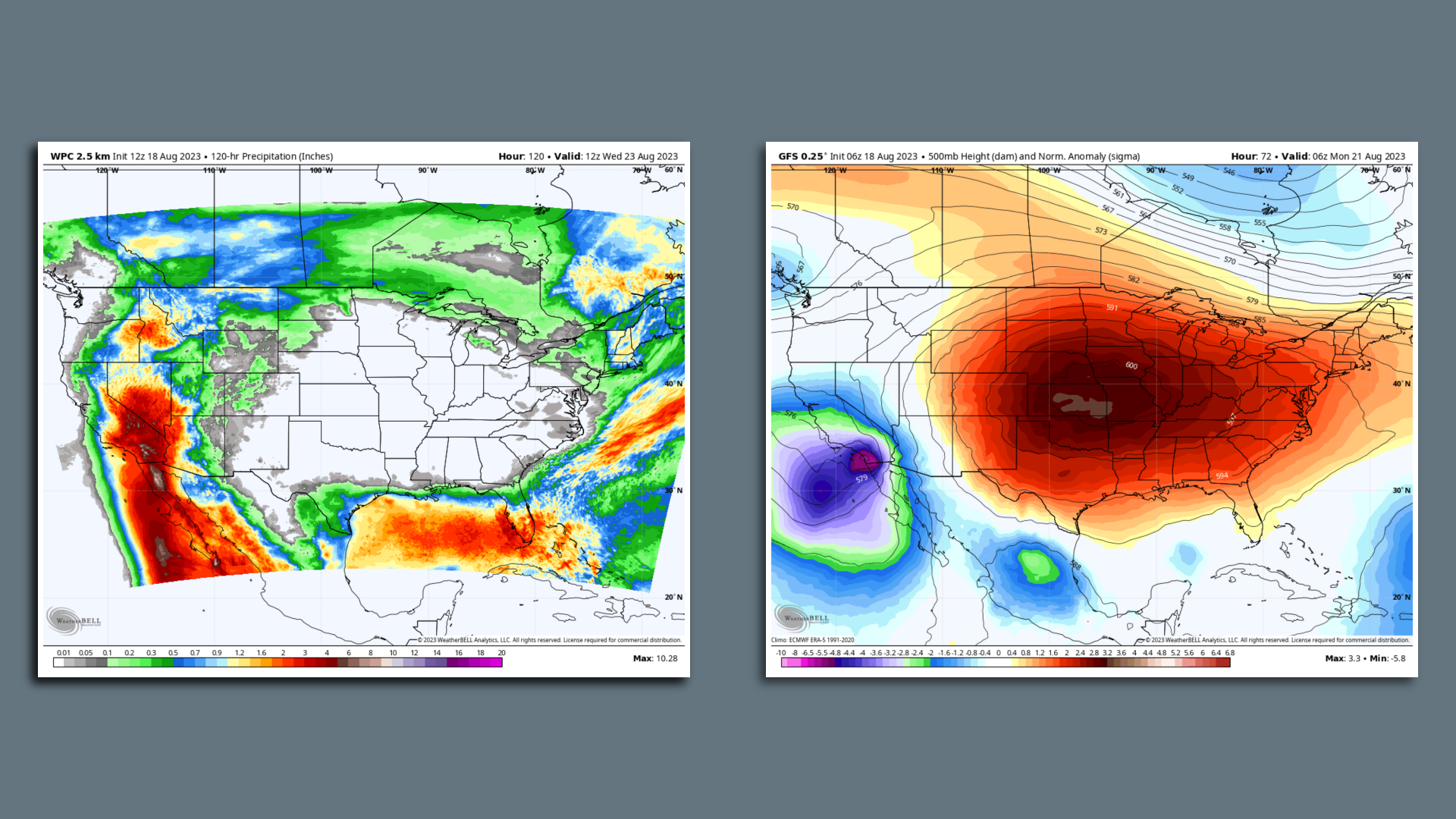 The big picture: The weather pattern that will accelerate Hilary into the Southwest features a developing, intense and sprawling heat dome across the Central U.S., along with a low-pressure area expected to move close to the Central California coast.
The heat dome — which is likely intensified by climate change -- will lead to the hottest week of the summer for tens of millions of people from Texas to Iowa, and sling-shot Hilary northward into Southern California.
Anomalous weather patterns often bring extreme weather events.
Editor's note: This article has been updated with new details throughout.
Jacob Knutson contributed to this story.
Go deeper