Hurricane Hilary closes in on California, "catastrophic" flooding likely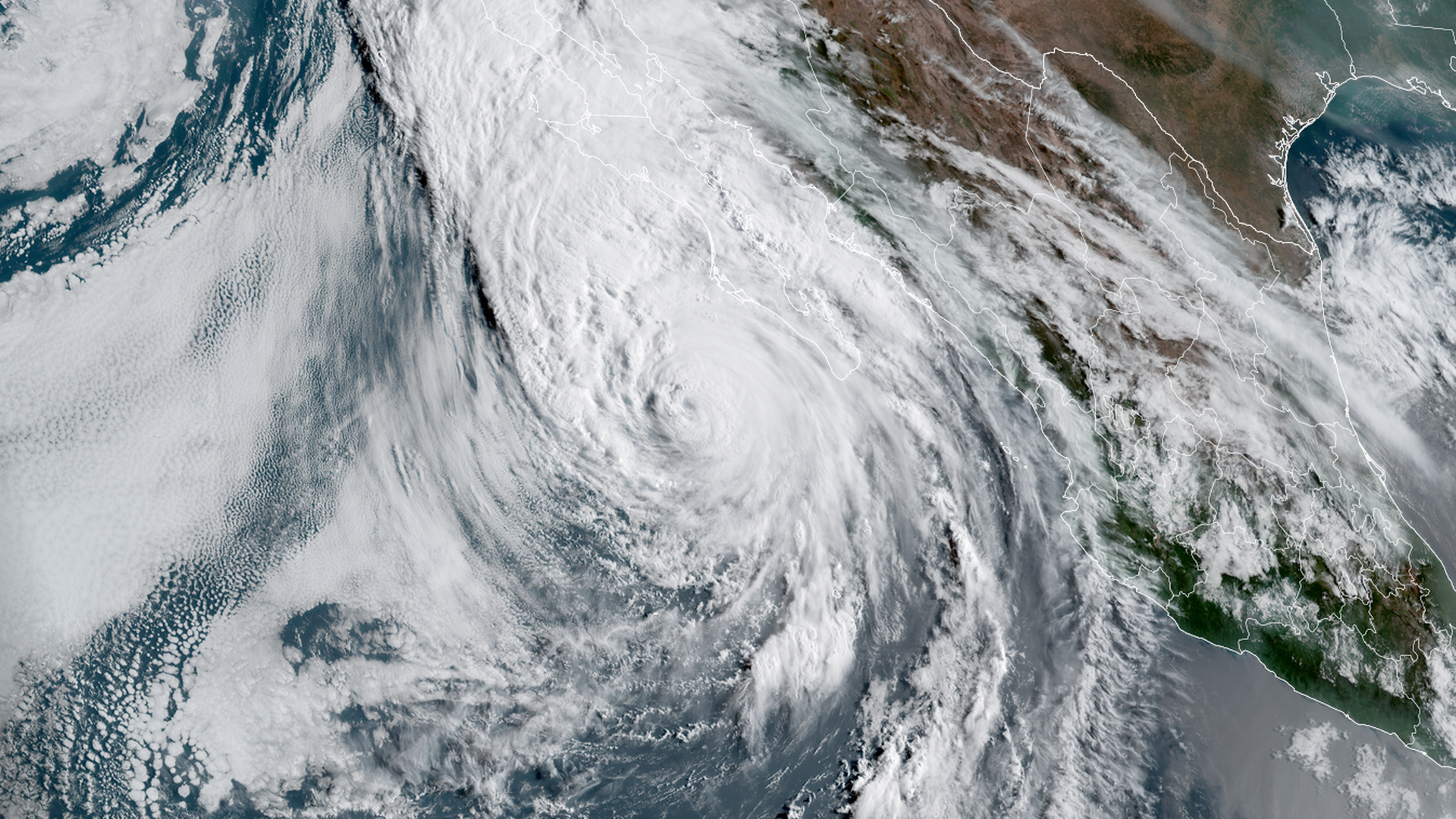 Hurricane Hilary is bringing potentially "Catastrophic and life-threatening flooding" to California Sunday, prompting unprecedented tropical storm warnings for Los Angeles and San Diego, according to the National Hurricane Center.
Threat level: Veteran National Weather Service meteorologist David Roth wrote that the potential for a plume of 5 to 10 inches or more of rainfall to extend from inland areas of San Diego County northeastward into Nevada is equivalent to a Western version of Hurricanes Harvey or Florence.
Both of those storms were deadly and devastating events that struck Texas and the Carolinas, respectively.
The Weather Prediction Center has painted a large zone in southern California and Southwestern Nevada as facing a "high risk" of excessive rainfall and flash flooding on Sunday, including San Bernardino National Forecast, Death Valley, Indio, and Palmdale, Calif.
The Coachella music and arts festival is held each year in Indio.
This is a rare designation for any location in the country, and a first for the California desert.
High risk-designated days are associated with about 40% of all flash flood-related fatalities and 83% of all flash flood-related damages in the U.S.
The big cities are in a moderate risk category, which is itself an indication that flash flooding is likely there too.
State of play: As of 5 pm ET, Hurricane Hilary was packing maximum sustained winds of 110 mph, located about 640 miles south-southeast of San Diego, and was moving north-northwest at 17 mph.
Of note: The WPC's heavy rainfall forecast discussion mentions the likelihood of localized rainfall totals of up to 10 inches.
The rainfall rates are likely to be beyond many Californian's lived experiences, since tropical storm systems tend to churn out precipitation with ruthless efficiency.
Some of the rain could pile up at torrential rates of 3 inches per hour, and Nevada's 24-hour rainfall record could be eclipsed, forecasters warn.
Rainfall totals could be 200% or more than typical annual rainfall in these high-risk zones, WPC stated Friday. "Catastrophic and life-threatening flooding is likely," the NHC stated Saturday.
The NWS office in San Diego is advising residents to avoid unnecessary travel Sunday "due to the high flooding potential."
By the numbers: Rainfall totals of between 2 to 4 inches are forecast for San Diego and LA, with more significant amounts approaching 6 to 8 inches or more falling in higher elevations and desert areas to the east.
Las Vegas could see its wettest storm on record, and Death Valley may pick up two to three years' worth of rainfall at once from this storm, which would almost certainly yield damaging flooding.
43 million people were under tropical storm warnings as of Saturday at midday, from the LA metro area south to the U.S.-Mexico border.
27 million people in half a dozen states are under flash flood watches, which extend all the way north into Idaho.
Between the lines: Hurricane Hilary's biggest threat to the Southwest region will be water, rather than high winds. If it does move into Southern California as a tropical storm, it would be the first such occurrence since 1939.
Yes, but: Whether it is classified as a tropical storm or post-tropical low pressure area, the threat of widespread, dangerous flooding will not diminish.
Zoom in: The heaviest rain and strongest winds are expected to arrive in southern California on Sunday morning, continuing into the night. In some places, though, rainfall loosely related to the storm has already begun, in what is referred to as a "predecessor rain event."
Such rainstorms can result from the interaction between moisture streaming northward from a tropical storm or hurricane, and another atmospheric disturbance, like a cold front.
Context: Human-caused climate change is leading to more frequent and intense extreme precipitation events. It is also causing tropical storms and hurricanes to produce more rainfall, as a warmer atmosphere and oceans allow these storms to carry more moisture.
The presence of an intensifying El Niño event, with above-average sea surface temperatures in the equatorial tropical Pacific Ocean, may be enhancing the moisture funneling into this storm.
The storm increased its maximum sustained winds Thursday into Friday by an incredible 80 mph in 24 hours, more than double the rate that defines rapid intensification.
In recent years, there has been a trend toward more frequent rapid intensification of hurricanes and typhoons, as well as larger leaps in intensity over shorter periods, which has been tied to human-caused climate change.
Editor's note: This story has been update with additional forecast information.
Go deeper