Families scramble as union strike shutters hundreds of L.A. schools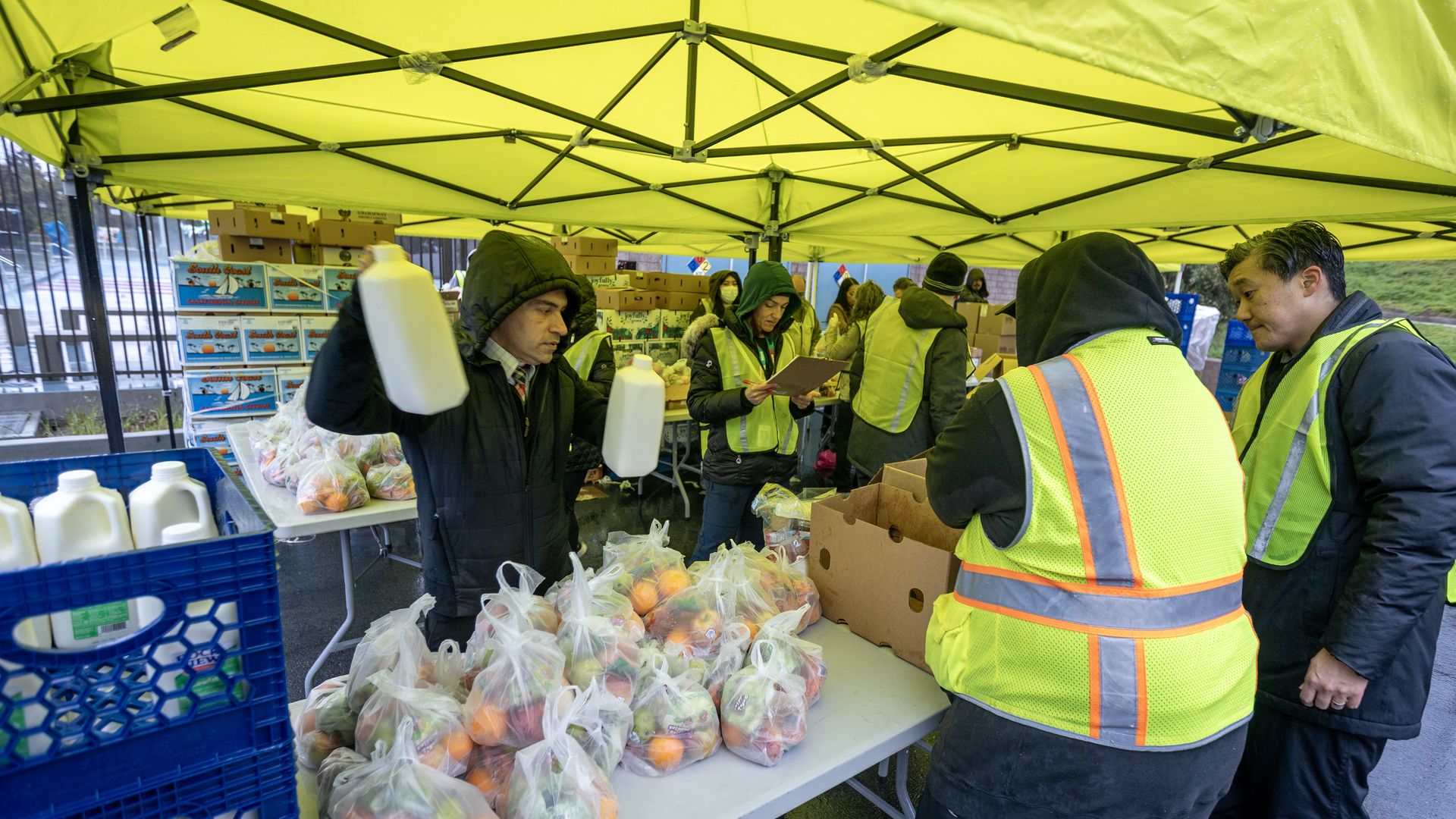 Hundreds of Los Angeles schools are closed for three days starting Tuesday as workers strike for higher wages and better working conditions.
The impact: The Los Angeles Unified School District, the nation's second largest, serves nearly half a million students who will not be in school for most of this week, impacting hundreds of thousands of families and leaving parents scrambling to find child care.
80% of students in the district come from low-income families, making the school system pivotal for providing children with meals, per the Los Angeles Times.
Superintendent Alberto Carvalho said the "anticipated lack of both teachers and school staff" would lead to the closures, without the option of virtual education.
Yes, but: The school district as well as L.A. county and the city of L.A. are offering resources for students and their families.
"We are ready to provide safe places and meals so students are cared for and parents can keep working," Los Angeles Mayor Karen Bass said Tuesday. "Schools are so much more than centers of education – they are a safety net for hundreds of thousands of Los Angeles families. We will make sure to do all we can to provide resources needed by the families of our city."
The district created a website for updates and an online map to show locations with child-care options.
Food resources
Families can pick up meals for their students at "Grab & Go" sites on Tuesday.
Six meals will be provided per student to cover breakfast and lunch over three days.
Child care
Student supervision is being offered at dozens of elementary, middle and high schools from 8 a.m. to 6 p.m.
Additionally, 18 L.A. County Recreation and Park sites are offering a free, drop-in recreation program, where students can work on school assignments and use the computer lab, as space permits. Meals will be provided to children who participate.
The city of L.A.'s Department of Recreation and Parks will have programming at 30 recreation centers for students in first to fifth grades. The program will include assistance with school assignments, recreation activities and lunch.
Some of the sites weren't too busy Monday.
Jesse Encarnacion, a recreation service leader at Belvedere Park, said they had about 30 students come in for breakfast and lunch Monday. They're entertaining them with arts and craft, playing Nintendo and dodgeball, and painting, he added.
Chevy Chase Recreation Center saw about two dozen students throughout the day, recreation coordinator Ricardo Gutierrez said. The center was offering homework assistance, playing games and running activities with the students.
The Pan Pacific Park Recreation Center in downtown Los Angeles said they were pretty busy with more than 40 kids present for their "strike camp." The center, which does not provide meals, was expecting more students Wednesday.
Other resources
The L.A. Zoo is offering free admission to LAUSD students and a "Community Safari Day" during the strike period.
L.A. Public Library is offering digital resources including online tutoring and homework help, at its various locations.
The libraries are also loaning out laptops and Wi-fi hotspots through the Tech2Go program.
What they're saying: Parent Jerilyn Lopez Mendoza told AP that although she supports the strike, she's worried about how missing school and being out of routine will affect her 15-year-old daughter, who is autistic.
"I'm obviously in favor of the strike and want to be supportive of the workers and their requests for fair pay and working conditions, but it also does affect my family negatively," Lopez Mendoza said.
"Ultimately, I feel that they're probably being left behind in a battle between adults," parent Mike Bernstein told local station ABC7.
Catch up quick: The Service Employees International Union, Local 99 (SEIU Local 99) says its members are striking to protest "unfair practices," along with union United Teachers Los Angeles, which is on strike in solidarity.
The walkout includes as many as 65,000 workers, according to the Los Angeles Times
The SEIU Local 99 is seeking a 30% pay raise overall for its members, plus an additional $2 an hour "equity wage adjustment for all."
Carvalho said Tuesday that LAUSD remains ready to return to negotiations to reach a deal.
Go deeper