Los Angeles schools shut down for 3 days as union strike begins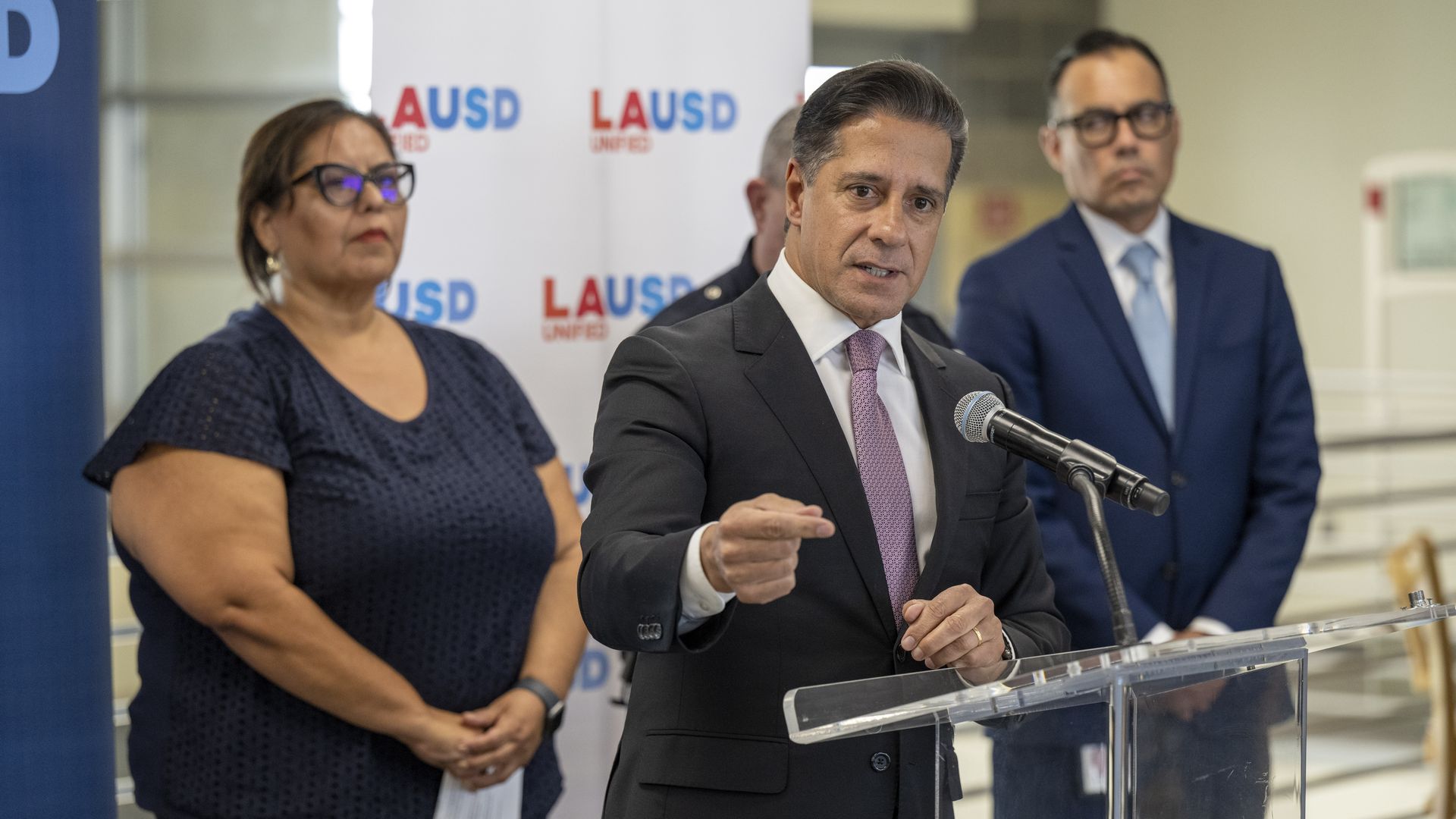 Thousands of workers in the Los Angeles Unified School District, the second largest in the U.S., walked off the job Tuesday over failed contract negotiations, joining teachers and other education staff across the city on a three-day strike.
Driving the news: The Service Employees International Union, Local 99 (SEIU Local 99), which represents 30,000 school workers across the district that serves over 600,000 students in kindergarten through 12th grade at more than 1,000 schools, says its members are striking to protest "unfair practices."
The union United Teachers Los Angeles asked its 35,000 members to go on strike in solidarity.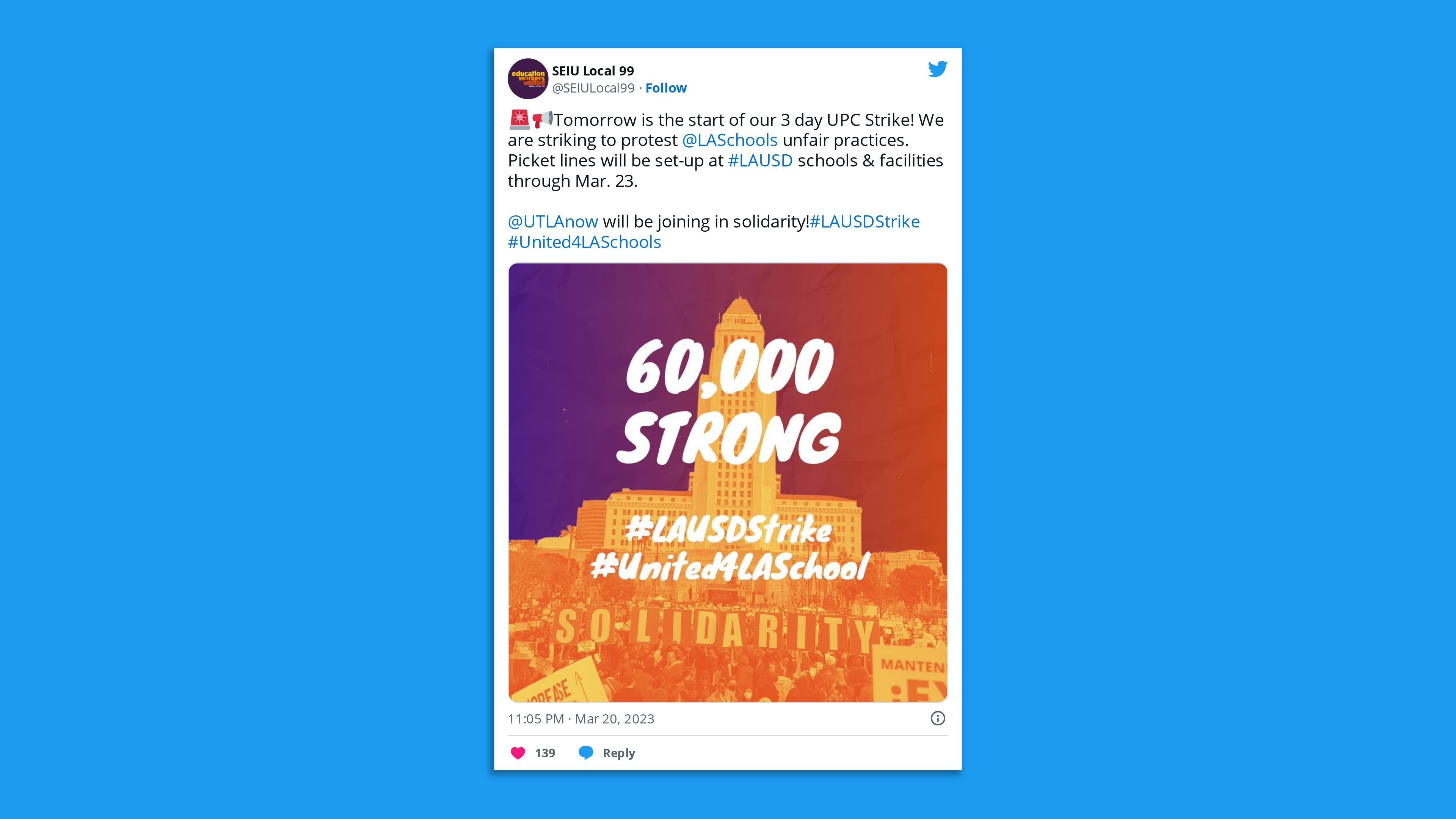 The latest: LAUSD remains ready to return to negotiations to reach a deal, superintendent Alberto Carvalho said in a statement Tuesday afternoon.
Carvalho praised the District's "historic" proposal to workers, while acknowledging many employees' frustrations were likely decades in the making.
Workers gathered in picket lines Tuesday morning, with some hoisting signs reading, "We keep schools safe, Respect Us!," AP reported. Demonstrations are expected at schools across Los Angeles.
Despite the strike, schools would still be providing meals to children in need, Carvalho tweeted.
The big picture: The SEIU Local 99 is seeking a 30% pay raise overall for its members, plus an additional $2 an hour "equity wage adjustment for all."
The average salary of school workers in the LAUSD is about $25,000 per year, with most working part-time hours, the union notes.
Carvalho at a news conference Monday announced a proposal for a 23% recurring raise and a 3% cash-in hand bonus.
What they're saying: "This afternoon, SEIU Local 99 had agreed to enter a confidential mediation process with LAUSD to try and address our differences," per a statement Monday from SEIU Local 99 executive director Max Arias.
"Unfortunately, LAUSD broke that confidentiality by sharing it with the media before our bargaining team, which makes all decisions, had a chance to discuss how to proceed. This is yet another example of the school district's continued disrespect of school workers. We are ready to strike," the statement continued.
"We want to be clear that we are not in negotiations with LAUSD. We continue to be engaged in the impasse process with the state."
The other side: "I made myself available alongside my team for hours today, hoping that we would, in fact, be able to have a conversation for a whole host of reasons, some of which I do not understand," Carvalho said.
"All schools across LAUSD will be closed tomorrow," Carvalho said. "Tomorrow will be a difficult day."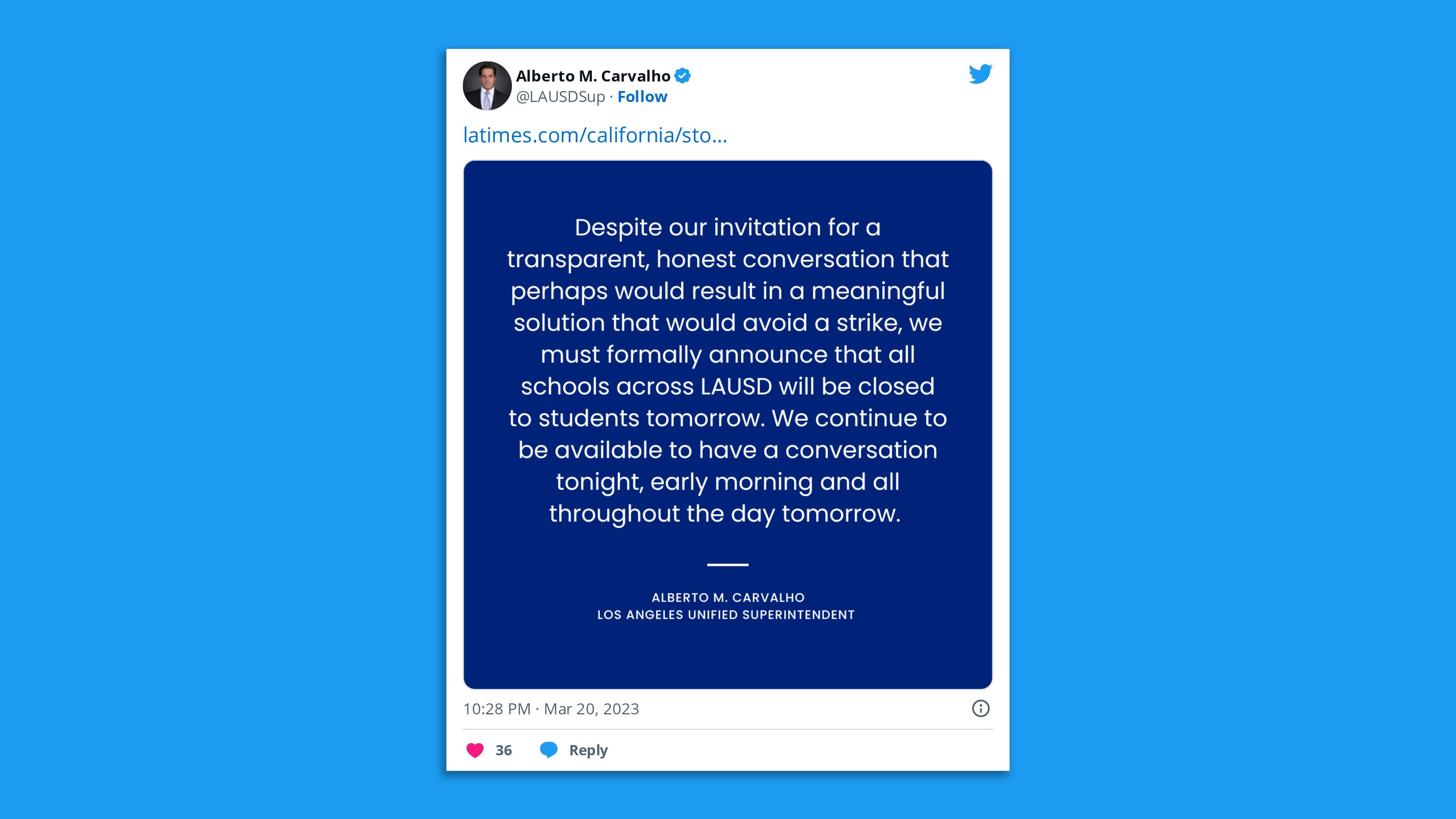 Go deeper