Drive-thru mania pushes chains to rethink restaurants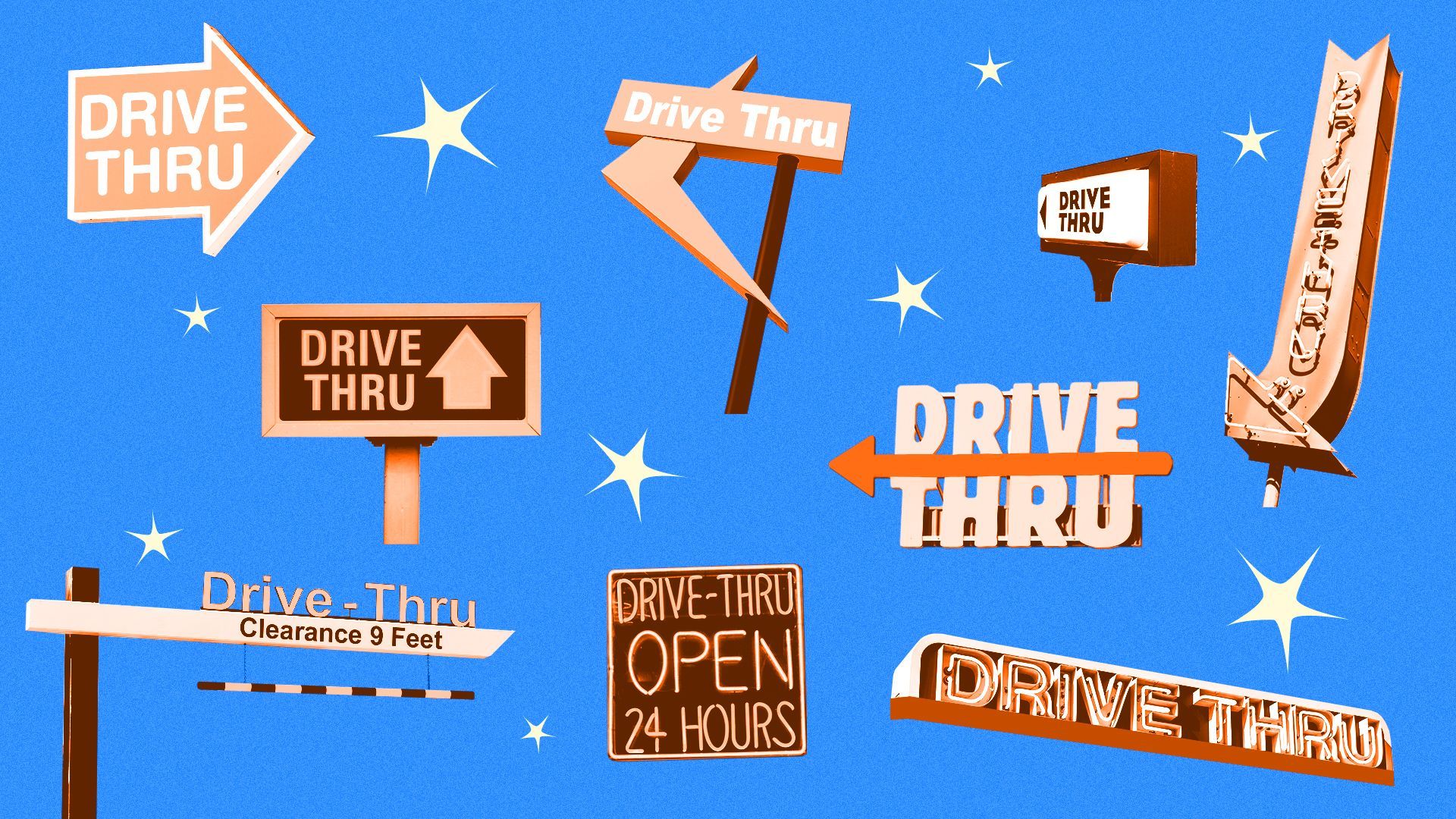 The future of fast food is already here with AI already taking orders and the first "underground delivery system" on the way.
Why it matters: The push for more efficient drive-thrus at some of the country's biggest chains reflects massive consumer demand for quicker service.
The big picture: More restaurants are testing automation tools like artificial intelligence and the use of conveyor belts to deliver orders taken on apps.
They are also testing more curbside delivery, walk-up pickup models and restaurant concepts that eliminate dining in.
Bluedot's restaurant trends and predictions for 2023 anticipated tech-friendly concept stores would "gain momentum" with many including drive-thrus.
Between the lines: The combo of the drive-thru, delivery and mobile ordering are crucial to helping restaurants drive sales and profits.
The three ordering channels have grown dramatically since the pandemic started but chains are looking to speed up the process.
What's next: More technology features.
Chris Siefken, head of technology at Xenial, which works with restaurants, told Axios that voice bots aided by AI are expected to be used by quick service restaurants to help take orders in the drive-thru.
"Camera-based car recognition technology is another solution that is gaining traction, especially as drive-thru locations get more lanes and more sophistication," Siefken said.
Reality check: Anyone who has ever gotten into a "fight" with Siri or Alexa knows that the digital assistants aren't perfect. Chains are rolling out AI slowly to learn and make improvements.
At McDonald's drive-thru of the future in Fort Worth, Texas, several TikTok videos have been made about AI adding extra items to orders.
Here is a rundown of what major chains are doing:
Wendy's drive-thru to test AI, underground robot system
Wendy's plans to automate its drive-thru service with an AI chatbot service it's been testing with help from Google.
Generative AI will process orders and language model technology will "talk" with customers in real time to answer menu questions.
The Ohio-based chain confirmed to Axios that it is "aiming for a late summer pilot launch of automated drive-thru ordering" after it completes "extensive beta testing."
More bots: McDonald's, Panera Bread, Carl's Jr., Hardee's and Popeyes are among the chains already testing AI-powered ordering.
White Castle announced in early August that it will expand use of SoundHound's bots at 100 more drive-thrus by the end of 2024.
Meanwhile, Wendy's announced in June that it is partnering with Pipedream to pilot its underground autonomous robot system with "the goal of delivering digital food orders from the kitchen to designated parking spots, for faster and more convenient pick-up experiences. "
Wendy's plans for the system to debut during the second half of 2023.
Chick-fil-A elevated drive-thru
Chick-fil-A plans to test an elevated drive-thru format where four lanes go underneath the building and kitchen.
The new drive-thru concept is slated to open in 2024 in the Atlanta metro area and will have dedicated mobile order lanes for orders placed in the app.
The chicken chain also plans to open a walk-up concept restaurant in New York City next year.
Taco Bell Go Mobile
Taco Bell unveiled its next iteration of its Go Mobile concept this week, which features a walk-up pick-up window.
The new design eliminates the indoor dining area and adds dedicated parking for mobile and delivery orders. It also has a two-lane drive-thru.
Flashback: Taco Bell opened a restaurant concept in June 2022 that features an elevated drive-thru design that looks like a mix between a fancy bank and the Jetsons.
Target rolling out Starbucks with Drive Up
Target said this week it is starting the nationwide rollout of "Drive Up with Starbucks" where shoppers with a curbside pickup order can have items from the coffee giant's menu delivered to the car too.
It is slated to be available at 1,700-plus stores with Starbucks Cafés and Drive Up service by October.
"It doesn't feel the pain of a drive thru because you aren't waiting in that long line — it is brought to you when ready," said Hope Neiman, chief marketing officer at Tillster, a tech company that works with restaurant brands on digital ordering,.
Outside of its Starbucks locations at Target stores, the Seattle-based company is testing new format restaurants like pickup, drive-thru only and delivery-only stores.
More from Axios:
Go deeper