Travel boom fuels record Global Entry applications and long waits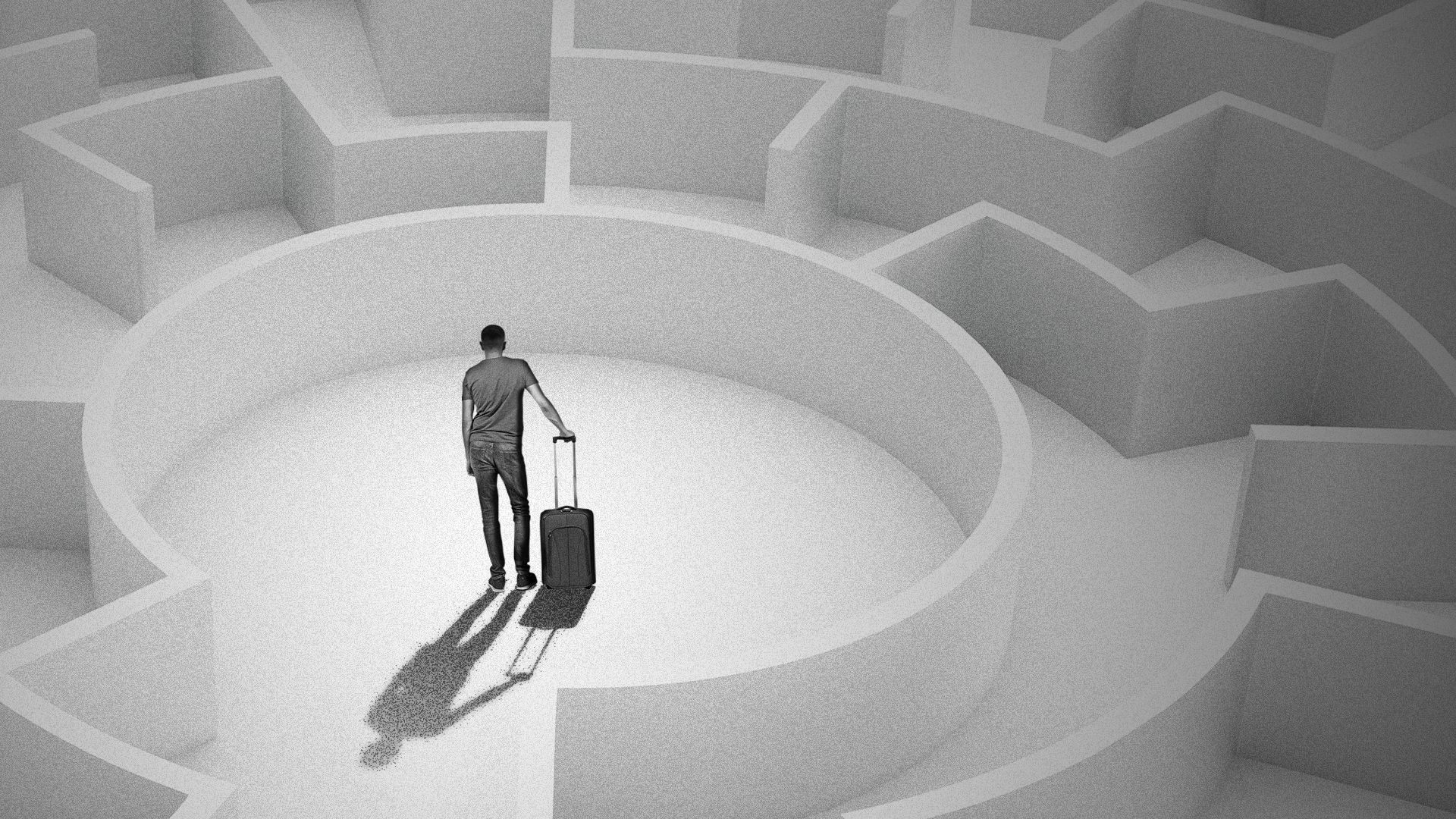 Surging international travel demand is fueling record applications and long waits for Global Entry, a program that promises "expedited processing" when returning from abroad.
Why it matters: Call it the summer of "revenge travel" part two with COVID-19 restrictions largely a thing of the past and travelers wanting to make up for delayed trips.
What's happening: Americans don't need to have Global Entry for international travel like a passport, but they're signing up for the "Trusted Traveler Program" at a record pace.
U.S. Customs and Border Protection (CBP) is on track to receive 3.2 million-plus Global Entry applications for the 2023 fiscal year that runs through Sept. 30, according to data provided to Axios.
This would beat the record of 2.95 million applications set during the government agency's 2022 fiscal year.
The high demand means the odds of signing up and getting approved for Global Entry ahead of any remaining summer travel or even later in the year are low for many.
The CBP website lists a four-to-six-month processing time for the program.
The surge in travel has also created a backlog for passport applications and led the State Department to increase processing times.
Zoom in: CBP data shows the average time to enroll in 2022 was 93 days and that 75% of applicants were able to complete the interview within 130 days of being conditionally approved.
Axios analyzed appointment availability for all Global Entry enrollment offices and found a handful of offices didn't have any available appointments until 2024.
In a statement to Axios, a CBP spokesperson said the Global Entry program "continuously seeks opportunities to help more travelers streamline their international arrivals process."
Global Entry cost 2023
A nonrefundable $100 fee is required when submitting a Global Entry application through the Trusted Traveler Program system.
The membership lasts five years and the renewal fee is currently $100.
Applications that are denied will not get the fee refunded.
Of note: Many annual fee travel credit cards offer reimbursement for Global Entry or TSA PreCheck fees up to $100 as part of their perks.
How does Global Entry work
When returning to the country, Global Entry members proceed to kiosks at certain airports, per the CBP website.
At the kiosks, members "present their machine-readable passport or U.S. permanent resident card, place their fingerprints on the scanner for fingerprint verification and complete a customs declaration."
TSA PreCheck included with Global Entry
Being able to skip the line and reduced wait times when returning to the country are key benefits of the program.
The program also includes TSA PreCheck for five years, which costs $78 on its own or $70 to renew.
PreCheck offers expedited airport screening for domestic flights at TSA checkpoints while Global Entry speeds up the customs process when returning to the U.S.
Global Entry application process
Follow these steps to apply for Global Entry after first checking eligibility requirements.
Create a Trusted Traveler Programs (TTP) account through the Department of Homeland Security.
Log in to your account and complete the Global Entry application. The $100 non-refundable fee is required with a completed application.
If your application is conditionally approved, you will be instructed to schedule an interview at a Global Entry Enrollment Center or can choose to complete an interview with Enrollment on Arrival.
You'll need to bring your passport and another form of ID like a driver's license to your interview, where your fingerprints will be taken.
Day to check for Global Entry appointments
The first Monday of every month is a good time to check for an interview.
Since February, CBP has released interview appointment slots for enrollment centers on the first Monday of every month by 9am local time.
It's a move customs officials said at the time was to "increase transparency in the scheduling process."
Between the lines: Some Global Entry centers offer walk-in appointments but this is decided on a local level.
Check with individual centers to see if they offer walk-ins as a list isn't available.
Global Entry Enrollment on Arrival
The intrigue: If you can't get an interview before your international trip, CBP's Enrollment on Arrival allows travelers with conditional approval to complete the interview process when returning to the U.S. at select airports.
Average monthly Enrollment on Arrival enrollments have nearly doubled from 30,000 in spring 2022 to 59,000 so far in the 2023 fiscal year, data shows.
How it works: After landing in an international terminal, follow the signs for "Enrollment on Arrival" to complete your interview with a CBP officer.
You'll need a passport and documents proving residency like a regular interview.
Global Entry appointments with longest wait times
Here are some of the longest waits for appointments at Global Entry enrollment offices, per Axios' research as of Aug. 1.
San Diego (Otay Mesa), California: June 6, 2024
Portland, Oregon: May 31, 2024
Boise, Idaho: May 13, 2024
Huntsville, Alabama: March 14, 2024
Salt Lake City, Utah: Feb. 8, 2024
Go deeper