Airlines squeeze rewards programs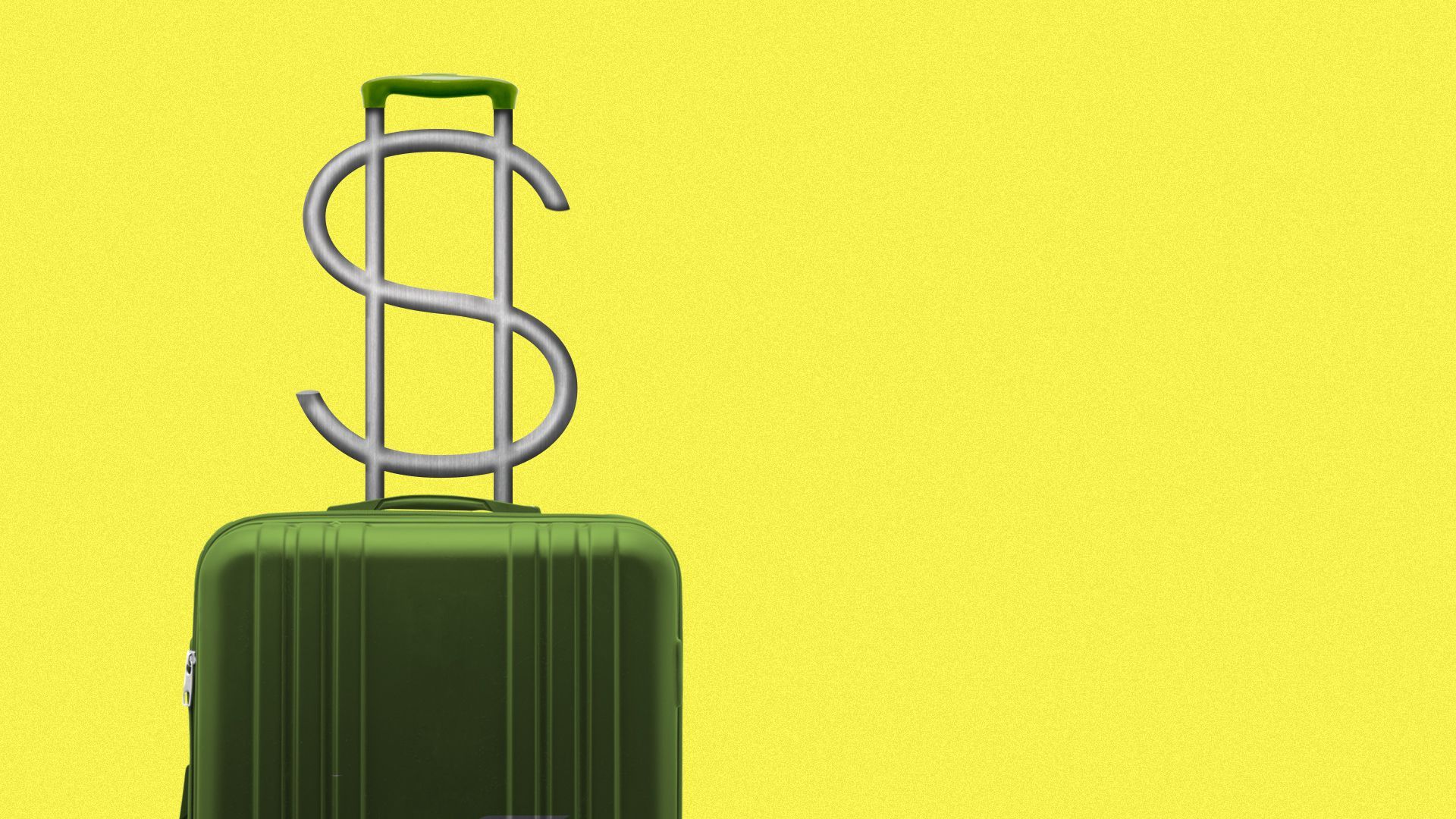 Pent-up demand is driving travelers to frequent flyer programs and rewards credit cards, but airlines are making it harder to cash in on popular perks.
The big picture: Now that people are packing flights again there are fewer and less appealing rewards to go around.
What's happening: Airlines, including Delta, American and United, are raising the qualification requirements to earn or maintain their "elite" frequent flyer tiers to pre-pandemic levels and beyond.
Priority boarding lines are longer and many airport lounges are having to cap capacity because of demand and popularity, making the perks less valuable to members, experts told Axios.
Meanwhile, airline fares continued to rise in December compared to the same month in 2021 with a 28.5% increase year-over-year, new Consumer Price Index data shows, making it harder to earn free flights.
Experts told Axios they expect some current benefits to be curbed or reworked with high demand since they are not the same selling points.
"Airlines might have to rethink what perks you get with status because if something is overly crowded it becomes a logistical problem," Sara Rathner, NerdWallet travel and credit cards expert, told Axios.
When most travel shut down in the early days of the COVID-19 pandemic, many airlines reduced their program qualification requirements and extended members' status.
The elite travel extensions, which were put in place when people weren't traveling or able to take advantage of the benefits, are ending with Delta's SkyMiles Medallion Members "able to enjoy their Status through Jan. 31, 2023."
Delta is increasing the Medallion Qualification Dollars (MQD) requirements for the first time since 2015 to achieve 2024 Medallion Status for Diamond, Platinum and Gold members.

Thresholds are increasing $2,000 for gold members to $8,000; a $3,000-increase to $12,000 for platinum and a $5,000-increase to $20,000 for diamond medallion.

During the pandemic, consumers were able to earn and redeem travel rewards for non-travel purchases like restaurant takeout or groceries, Rathner said. "But as travel has returned, travel cards have also returned to the way they work in many ways," she said.
Gaining status with an airline also likely won't make much of a dent with the kinds of massive travel headaches plaguing airlines recently. Southwest Airlines' mass cancellations and an outdated FAA system grounding thousands of flights Jan. 11 stranded and delayed tens of thousands of travelers.
Between the lines: The Department of Transportation statistics shows nearly 1 in 4 U.S. flights was canceled or delayed between January and September 2022, Axios' Joann Muller reports.
Here are tips to make the most of your next flight:
Cashback cards versus travel loyalty programs
There are decisions to weigh when signing up for travel credit cards and cashback cards with annual fees, Rathner said.
"You want to get more value from the card than the annual fee," she said.
If you're not going to stay loyal to one airline, it also likely isn't worth the cost and a cashback card could be the better choice.
What they're saying: "Travel rewards are great and they tend to be more lucrative than cash back," Bankrate.com analyst Ted Rossman told Axios.
"But we also know from our research that cash back is the most popular reward and I think that's accelerated during the pandemic," Rossman said. "We see more people than ever gravitating to cashback cards just to keep it more simple and universal."
Free flights and "award seats"
Earning free flights is one of the big reasons someone chooses a frequent flyer program with a branded credit card. Free flights also can be earned with a travel cashback credit cards from brands including Chase, American Express and Capital One.
What's happening: Airlines have been making it harder in some cases to use miles and requiring more miles to get the free flight, Rossman said.
With the travel surge, Eric Jones, co-founder of The Vacationer, also said there's been less award seat availability over the past two years.
What they're saying: "Many people are flying for the first time in a few years, and planes are packed," Jones told Axios. "Many airlines are also offering fairly cheap first class and business class cash upgrades, so there are not as many award seats."
"Unfortunately, that is making it harder to truly maximize credit card points," he said.
Checked bag, trip insurance and more
Many annual fee cards offer free checked bags, trip insurance and perks including free TSA PreCheck and Global Entry fees.
A few flights with free checked bags can make the fee worth it, Rathner said.
Also look for signup offers, which change often, for bonus points.
Between the lines: Your non-travel credit card spending with select cards can "supersize your point earning" as well, Rathner added.
Many travel cards come with travel insurance, Rossman said, which can help if flights are canceled, delayed or if your luggage is lost.
Free airline loyalty programs
Signing up for airlines' free programs is worth doing, Rathner said, but be prepared for it to take time to see your points add up.
"It can take years to build up enough points to get one free flight," she said.
More from Axios:
Go deeper