Inside Taco Bell's attempt to solve drive-thru bottlenecks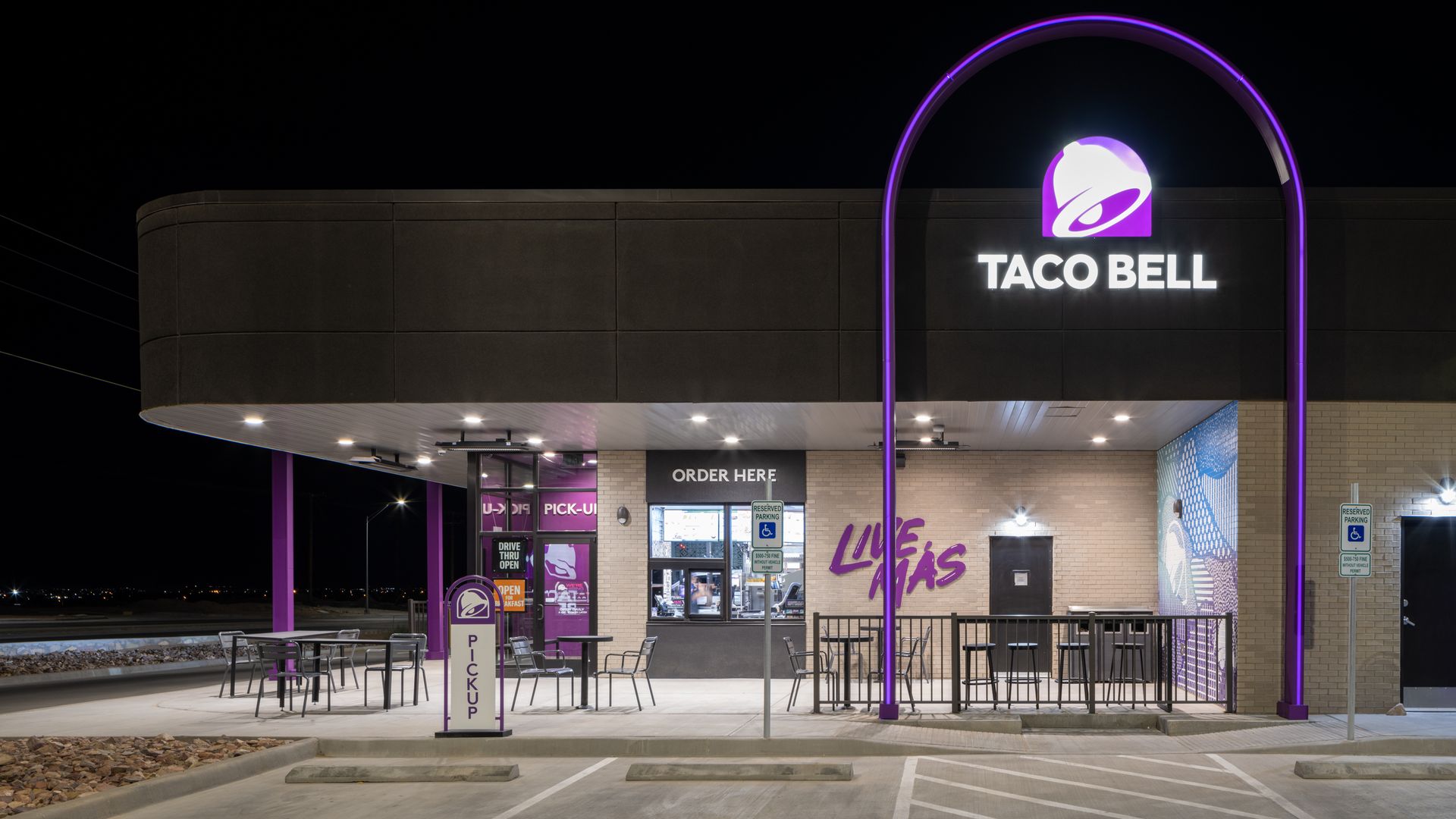 Taco Bell is looking to solve a growing industry problem — drive-thru bottlenecks — by adding an outdoor pick-up window to new restaurants.
Why it matters: The fast-food drive-thru, delivery and mobile ordering have become more popular and helped restaurants drive sales since the pandemic despite congestion that slows the wait for food.
Chick-fil-A, McDonald's and Starbucks are among the chains that are also experimenting with new restaurant formats.
State of play: Taco Bell unveiled its next iteration of its Go Mobile concept Tuesday in an exclusive interview with Axios.
"This is really born out of a problem that we've had," Scott Mezvinsky, Taco Bell's managing director for North America, told Axios. "The drive-thru gets really backed up at late night with the new delivery channel coming through."
The new design eliminates the indoor dining area and adds dedicated parking for mobile and delivery orders with the walk-up window. It also has a two-lane drive-thru.
What's happening: Taco Bell opened its first new iteration of Go Mobile in March in El Paso, Texas, and a second location in Columbus, Georgia.
Elements of the concept will be incorporated into future restaurants, Mezvinsky said.
Taco Bell is also looking to grow its Cantina concept, which has a different menu and serves alcohol. The format has up to 50 locations with new Indianapolis and downtown Los Angeles restaurants projected to open by the end of this year.
Zoom in: Bluedot's restaurant trends and predictions for 2023 anticipated tech-friendly concept stores would "gain momentum" with many including drive-thrus.
Chick-fil-A announced last month that it will test an elevated drive-thru format where four lanes go underneath the building and kitchen. The restaurant is slated to open in 2024 in the Atlanta metro area.
McDonald's said starting in early 2024 it will test out a brand with smaller restaurants called CosMc's.
Flashback: The new Go Mobile iteration builds on a concept with the same name that the company announced in August 2020.
It's also different from its Defy restaurant concept, which features an elevated drive-thru design that looks like a mix between a fancy bank and the Jetsons.
More from Axios:
Go deeper