Climate change's multi-level sticker shock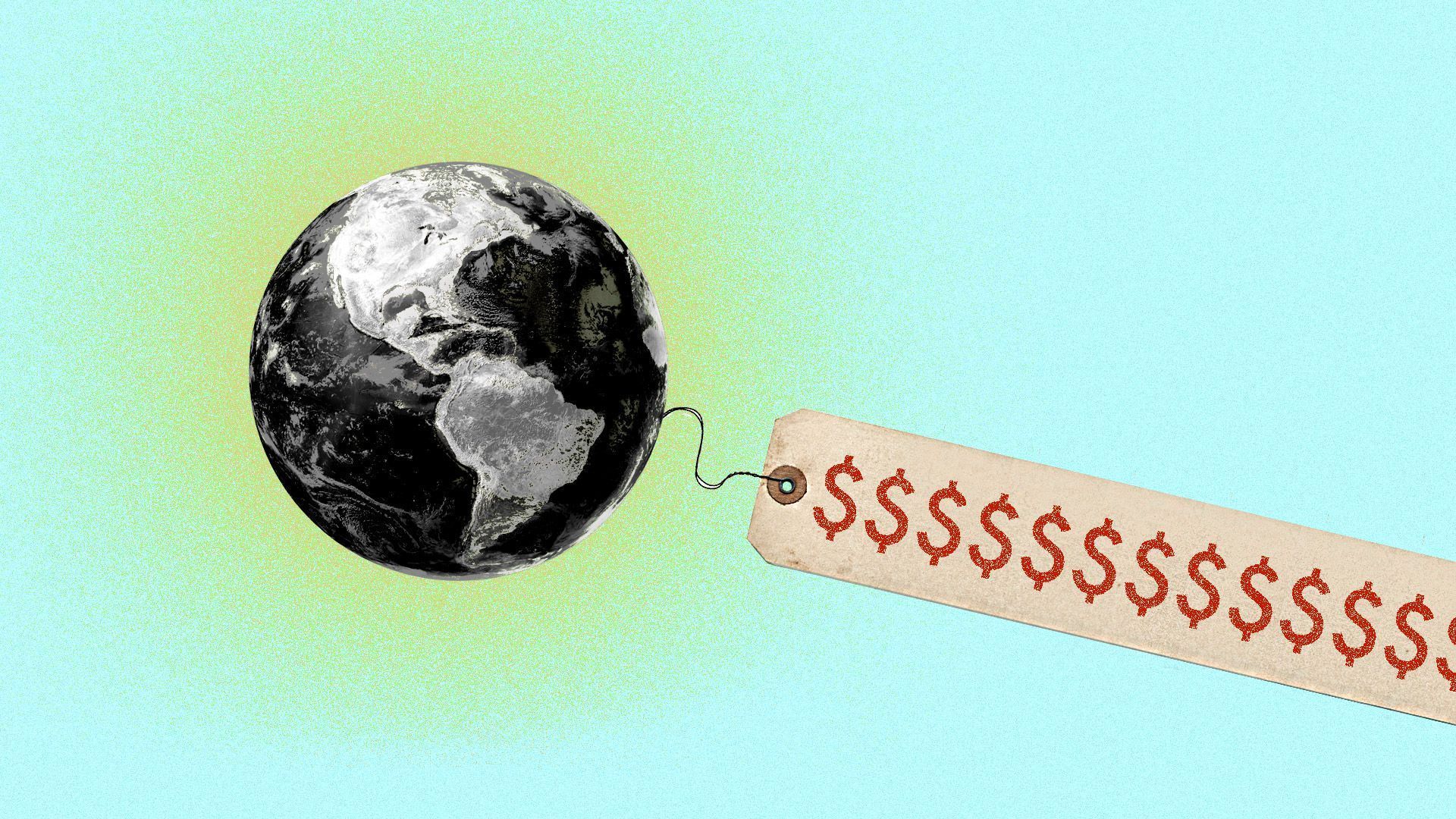 The hidden costs of living in U.S. areas particularly susceptible to extreme weather are becoming increasingly more obvious — and expensive.
Why it matters: Intense heat, devastating floods and ravaging wildfires — natural disasters caused or worsened by climate change — are disrupting life globally. But for millions of Americans, they're also driving up living expenses, creating unexpected bills and triggering existential headaches.
The big picture: The effects are wide ranging, amounting to an unofficial climate tax in various areas:
In flood and hurricane-prone Florida, property insurance rates are skyrocketing, making locals and transplants alike reconsider life in the Sunshine State.
In Arizona, electricity bills were ballooning even before a stifling, weeks-long heat wave broke records in Phoenix.
In fire-tormented California, health care costs are piling up as research has shown that wildfire smoke leads to increased emergency room visits.
Be smart: Eventually, the extra costs could become a deterrent to living in certain areas, which would undermine housing values.
"Housing markets in the U.S. have yet to fully price in these risks, leaving many properties significantly overvalued," Capital Economics economist Leah Fahy said in a recent analysis.
"But as these risks begin to manifest, housing markets will eventually adjust. This will weigh on house prices, particularly in Florida as well as Appalachia, northern New England and the Northwest."
Threat level: In a paper published in the journal Nature, researchers found that U.S. "residential properties exposed to flood risk" from 2020 to 2050 are currently overvalued by somewhere between $121 billion and $237 billion.
In particular, flooding poses a threat to housing values because some vulnerable areas are becoming uninsurable. That includes swaths of Florida and California, where insurers like State Farm and All State have stopped offering new home coverage, just as nature-related risks are amplified by a warming climate.
"Residential property in Florida is by far the most over-valued in dollar terms, accounting for over a third of the national total," Capital Economics' Fahy wrote. "And overvaluation is also significant in California, New Jersey and Texas."
Between the lines: Even people that don't experience a decline in their home values are poised to experience sticker shock in their monthly bills due to climate change's second-order effects.
For Arizonans, electricity bills could rise by up to $2,200 in 20 years, according to the Environmental Defense Fund.
For Floridians, home property insurance rates are poised to approach an average $10,000 annually within a few years, according to the Insurance Information Institute.
What they're saying: "These costs are enormous," Tulane University climate adaptation scholar Jesse M. Keenan tells Axios. He adds that other costs are poised to spike as well — including water, car repairs and food — due to climate change.
As water becomes increasingly scarce, costs rise to fund infrastructure needed to obtain it.
As heat intensifies, soil dries out, leading to more potholes — and thus more car repairs.
The U.S. is already experiencing about $31 billion to $34 billion in average annual losses from flooding, according to a separate paper published in Nature.
And yet the U.S. as a whole faces a 26% increase in flood risk connected to climate change alone by 2050.
The researchers are projecting a rise in hurricane flooding affecting Virginia, the Carolinas and the west coast of Florida, while sea level rise pummels other areas of the Atlantic and Gulf coasts.
The bottom line: After years of theoretical, high-level debates, costs of climate change are coming home to roost for Main Street.
Go deeper