"Dark Brandon" is driving Biden's campaign merch sales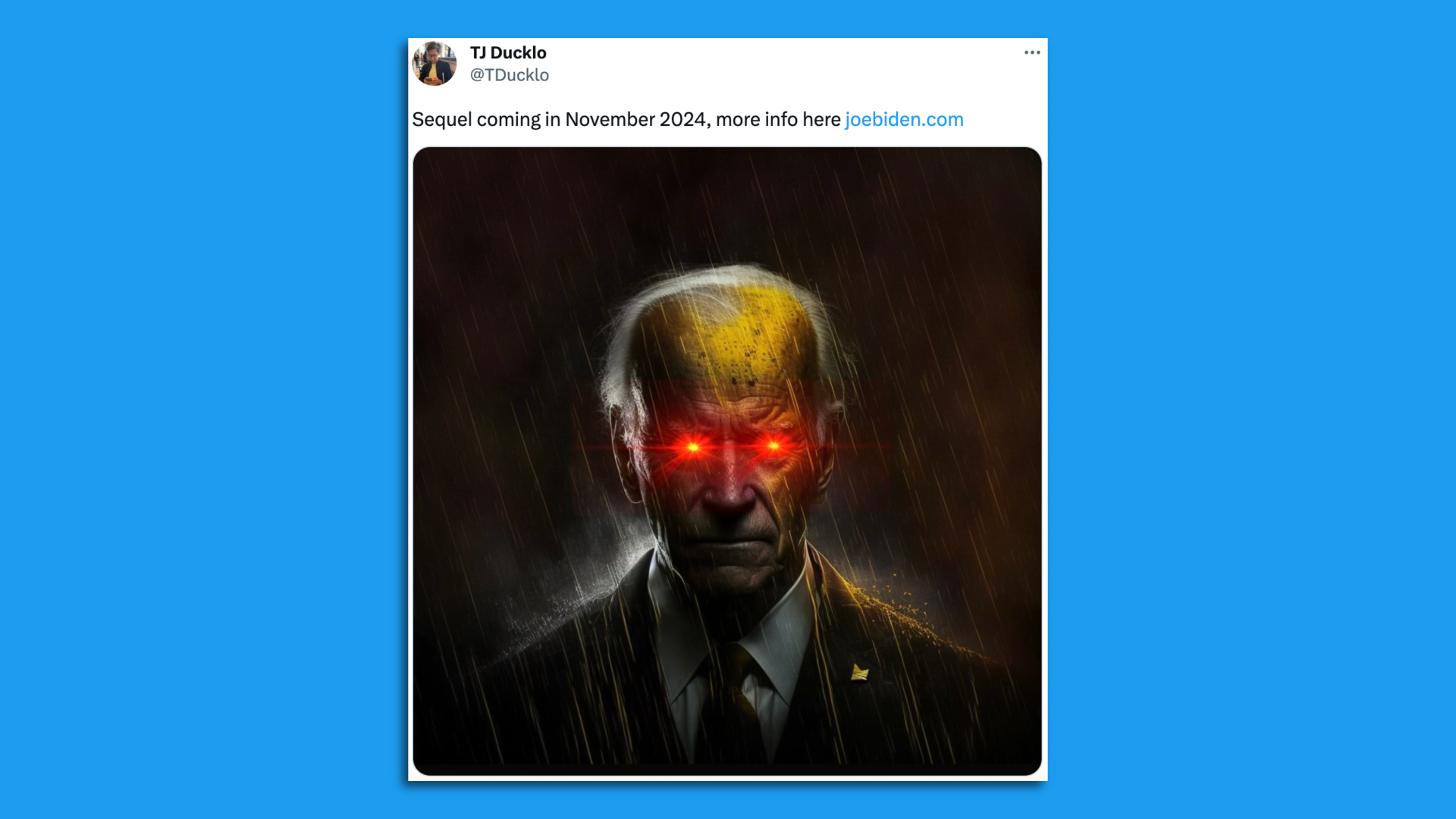 A few hours before Donald Trump was arraigned Thursday, Joe Biden's campaign posted a cheeky video of the president drinking coffee from a mug featuring a photo of him with laser eyes — a common illustration for the meme known as "Dark Brandon."
Why it matters: Biden has long had trouble trending online — especially compared to Trump, his once and perhaps future GOP rival. But "Dark Brandon" is giving Biden's 2024 campaign some social media virality.
By the numbers: "Dark Brandon" — an online meme that portrays the 80-year-old president as a two-steps-ahead Machiavelli — is driving the Biden campaign's merchandise sales. More than 54% of the store's total revenue is coming from Brandon-themed products, his re-election team told Axios.
The "Dark T-Shirt" and "Dark Roast Mug" are the best-selling products in the campaign's store, which offers 43 products, the campaign says.
There are eight Dark Brandon-themed products in the store, including a crop top, stickers, and white and navy baseball caps.
Those products alone have accounted for 44% of all store orders and driven nearly 76% of all clicks onto the website, per the campaign.
What's next: The campaign told Axios it will release a Dark Brandon tank top soon and that they are "prototyping" a color-changing Dark Brandon mug.
Campaign spokesperson TJ Ducklo told Axios: "All we're saying is that if you're MAGA extremists, Vladimir Putin, the post-COVID economic collapse, climate change, a crumbling bridge, or our grassroots fundraising goals: You better watch out, Jack."
Yes, but: Despite the early successes in Dark Brandon merchandise, Biden's team has struggled with small donors — people who give less than $200.
Background: The Biden White House first embraced the Dark Brandon meme last summer, when Biden aides began tweeting various images.
Flashback: There is a comedic presidential parallel to Dark Brandon.
In 1986, "Saturday Night Live" depicted Ronald Reagan — then the oldest president in U.S. history at 75 — at a time when there were concerns about his mental competence.
SNL's Phil Hartman played Reagan as sweet and doddering in public, but an all-seeing, multi-lingual mastermind behind closed doors.
Go deeper