McCarthy's winning streak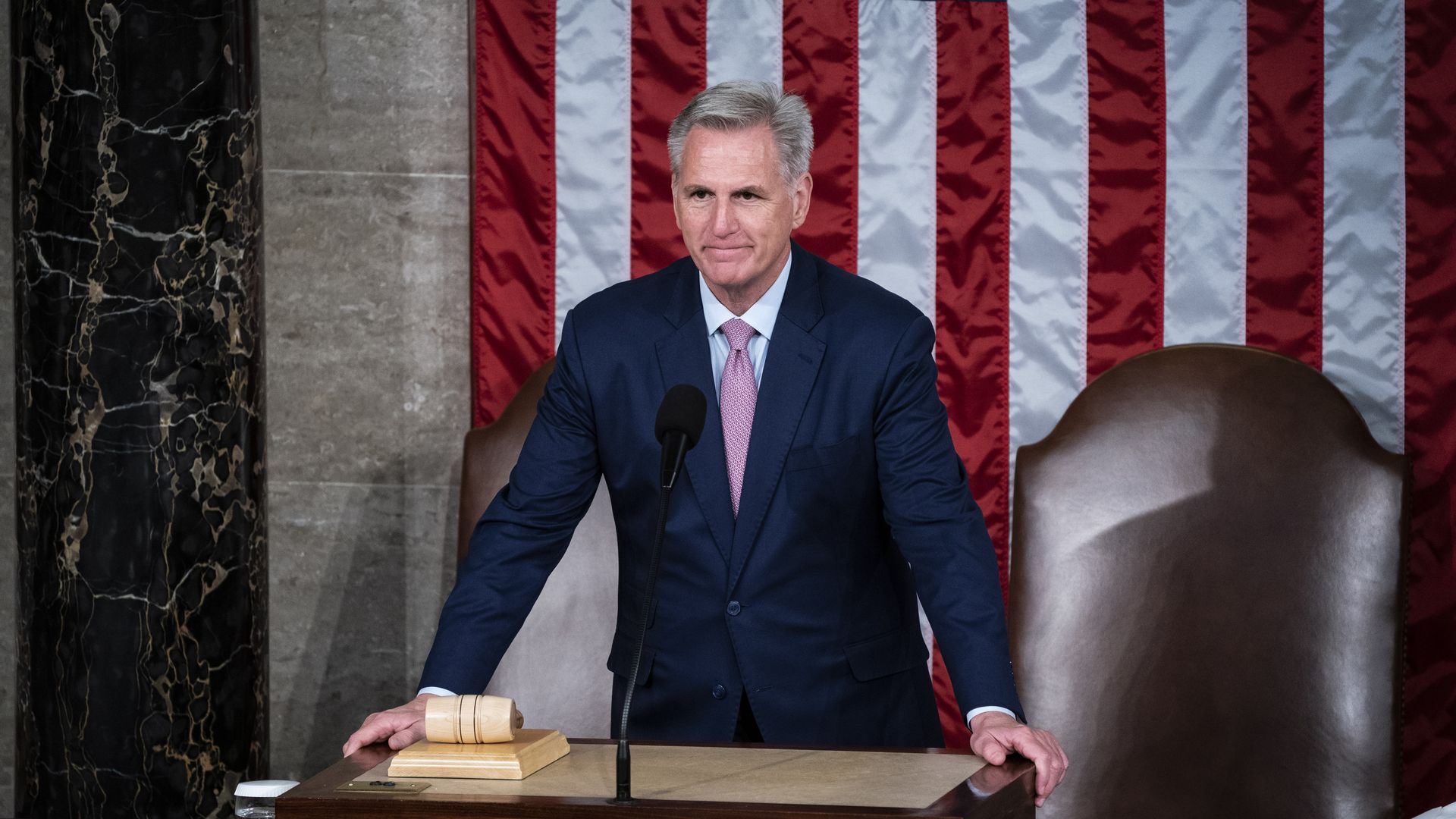 One of the defining skills of House Speaker Kevin McCarthy's (R-Calif.) tenure is his ability to identify issues that divide moderate Democrats from their more progressive counterparts.
Why it matters: On issues ranging from crime, immigration, energy policy, COVID-19 mandates and, most recently, Israel, McCarthy has brought bills to the floor that win bipartisan support from Republicans and a sizable number of Democrats — while both marginalizing and raising the profile of polarizing progressives.
McCarthy rose to power in the GOP conference as a political operator, not a policy wonk. He's more attuned to how Republicans can keep the House majority than crafting consequential legislation in a divided Congress.
While many of these votes are symbolic, they're designed to re-emerge in campaign advertisements against vulnerable Democrats in 2024.
Driving the news: The most recent headache for House Democrats came this week after Congressional Progressive Caucus chair Pramila Jayapal (D-Wash.) called Israel "a racist state" during a progressive panel.
As Democratic leaders quickly criticized her comments (and Jayapal herself backtracked and clarified), Republicans offered a resolution condemning antisemitism and declaring Israel isn't a racist or apartheid state.
The resolution passed 412-9, with only a small faction of left-wing lawmakers, like Rep. Alexandria Ocasio-Cortez (D-N.Y.) and Ilhan Omar (D-Minn.), voting against.
The big picture: This has been a familiar pattern on the House floor. The GOP's biggest victory came during the debate over Washington, D.C.'s crime bill, when Republicans worked to overturn the local City Council's less-punitive rewrite of the criminal code.
Most House Democrats initially opposed the GOP's efforts, with the most vulnerable members divided. But as public outcry over rising D.C. crime ensued, President Biden — who initially signaled he'd veto the GOP legislation — announced he would sign it.
That paved the way for most Senate Democrats to join with Republicans in their anti-crime efforts.
Meanwhile, the D.C. City Council, responding to the changed politics over crime, just passed a new tough-on-crime law that strengthens penalties for certain crimes and allows courts to detain juveniles for certain violent offenses.
Zoom in: Republicans also point to several other areas in which they've divided Democrats on issues that resonate with voters.
Legislation ending the COVID emergency won support from 11 politically vulnerable House Democrats. It then passed the Senate in a 68-23 bipartisan fashion and was signed into law by Biden in April.
A bill to prohibit the federal government from banning gas stoves won healthy bipartisan support, with 29 House Democrats crossing over to join all House Republicans.
A symbolic resolution denouncing the horrors of socialism won 109 Democratic supporters, while 86 House Democrats voted against.
What they're saying: "It is normally easy to stay united in the minority, but Speaker McCarthy continues to find ways to divide Democrats and divide House Democrats from the White House," said Dan Conston, president of the McCarthy-aligned Congressional Leadership Fund super PAC.
Reality check: Republicans have been taking tough political votes too, with McCarthy pressured to placate an empowered right-wing faction of Republicans.
Democrats point to the GOP amendment to the defense authorization bill that reverses a Pentagon policy paying for service members' travel to access abortion care. Democrats unanimously opposed the measure, while two House Republicans from Biden districts defected.
Protecting abortion access was an effective argument House Democrats used against Republicans in last year's midterms.
Republicans also split over controversial amendments — backed by Rep. Matt Gaetz (R-Fla.) and Marjorie Taylor Greene (R-Ga.) — defunding U.S. efforts to help Ukraine's fight against Russia.
A minority faction of 70 House Republicans voted to prohibit all Ukraine security aid, while 89 voted in favor of cutting $300 million in Ukraine funding.
Internal GOP arguments over spending will likely ramp up pressure on McCarthy this fall, as right-wing members push for deep cuts in appropriations bills.
The bottom line: A central maxim of politics: The party that's united is the one that's winning.
On the whole, McCarthy's forces have been more united than House Democrats during the first six months of this Congress. It's a testament to his political acumen and ability to unite a fractious Republican Party.
That development has run against expectations, given the ideological divisions within the GOP and McCarthy's own struggles to secure the speakership.
Go deeper