Republicans "salivating" over Democrats' Israel drama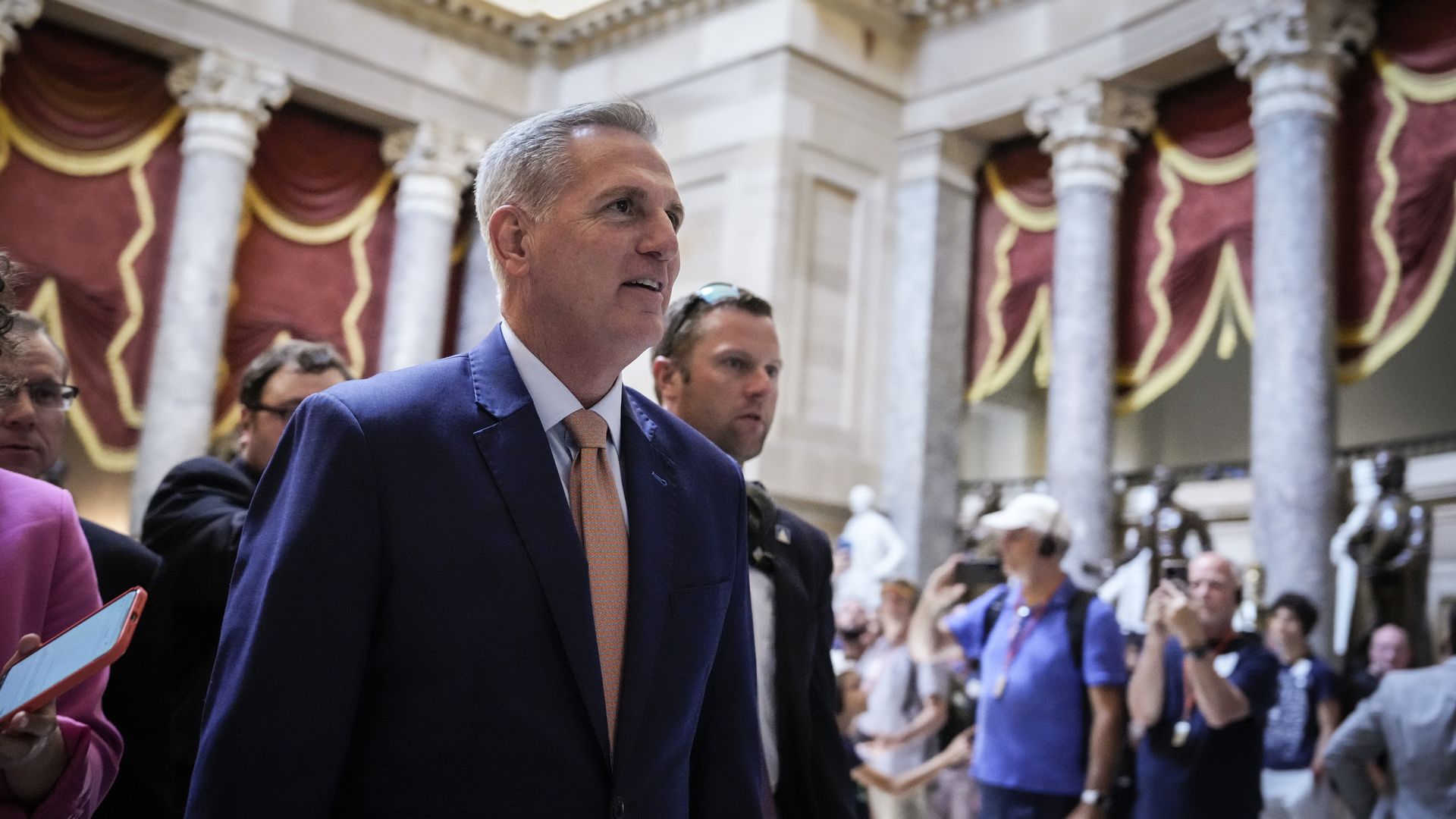 Recent anti-Israel comments and plans by progressive lawmakers are putting House Democrats on the defensive.
Why it matters: Even as Democrats largely affirm their support for Israel, Republicans are eager to capitalize politically.
Driving the news: Congressional Progressive Caucus Chair Pramila Jayapal (D-Wash.) told a group of anti-Israel protesters on Saturday that she is "fighting to make it clear that Israel is a racist state."
Several progressives also plan to boycott Israeli President Isaac Herzog's speech to Congress on Wednesday.
What we're hearing: "We're salivating about the possibilities that tomorrow will hold," a Republican strategist working on House races told Axios, referring to progressives' boycott plans.
House Speaker Kevin McCarthy (R-Calif.) has been arguing Democrats have an antisemitism problem and should try to oust Jayapal as Progressive Caucus chair, an argument he repeated in a GOP conference meeting Tuesday, according to a source familiar with his remarks.
Yes, but: Republicans are also plowing ahead with plans to have Robert Kennedy Jr. testify at a committee hearing on censorship despite a video surfacing of him suggesting COVID was "ethnically targeted" to spare Ashkenazi Jews and Chinese people.
100 House Democrats signed onto a letter calling for McCarthy and House Judiciary Committee Chair Jim Jordan (R-Ohio) to uninvite Kennedy.
Behind the scenes: Jayapal has been reaching out to Jewish colleagues about her comments.
"I have corresponded with her, and she's seeking visits with many members," one Jewish member told Axios.
Rep. Elissa Slotkin (D-Mich.) said Jayapal "called and reached out" to her and "apologized." The National Republican Senatorial Committee reacted with an email blast saying: "Slotkin caves to the left."
What they're saying: Rep. Jamie Raskin (D-Md.), a Jewish member of the Progressive Caucus, told Axios "it is absolutely wrong to say Israel is a racist state."
"We don't help the progressive forces in Israel by falsely casting the whole society in this absurd negative light," he said.
Rep. Jerrold Nadler (D-N.Y.), another Jewish progressive, said denying Israel's right to exist, versus criticizing its government, is "beyond the pale."
The other side: "Whenever we see these episodes, these dust ups ... I don't think it should be lost on anyone that they are always targeting a woman of color," Rep. Alexandria Ocasio-Cortez (D-N.Y.) told Axios.
"This is about power," she added. And there's a deep cynical weaponization of a very real crisis of antisemitism."
What's next: The House plans to vote Tuesday on a resolution declaring Israel is not a "racist or apartheid state" and denouncing antisemitism.
Rep. Annie Kuster (D-N.H.), the chair of the center-left New Democrat Coalition, told Axios: "If Republicans are trying to plan a 'gotcha' moment, I think they'll find strong bipartisan support for it."
Nadler, who said he supports the resolution, predicted the opposition to it will be confined to "maybe a couple of people."
Ocasio-Cortez said she will "probably be voting 'no' on it" because of its language on apartheid, but said she still needs to review the text.
Go deeper