Hollywood actors say strike is a battle for workers' rights amid AI's rise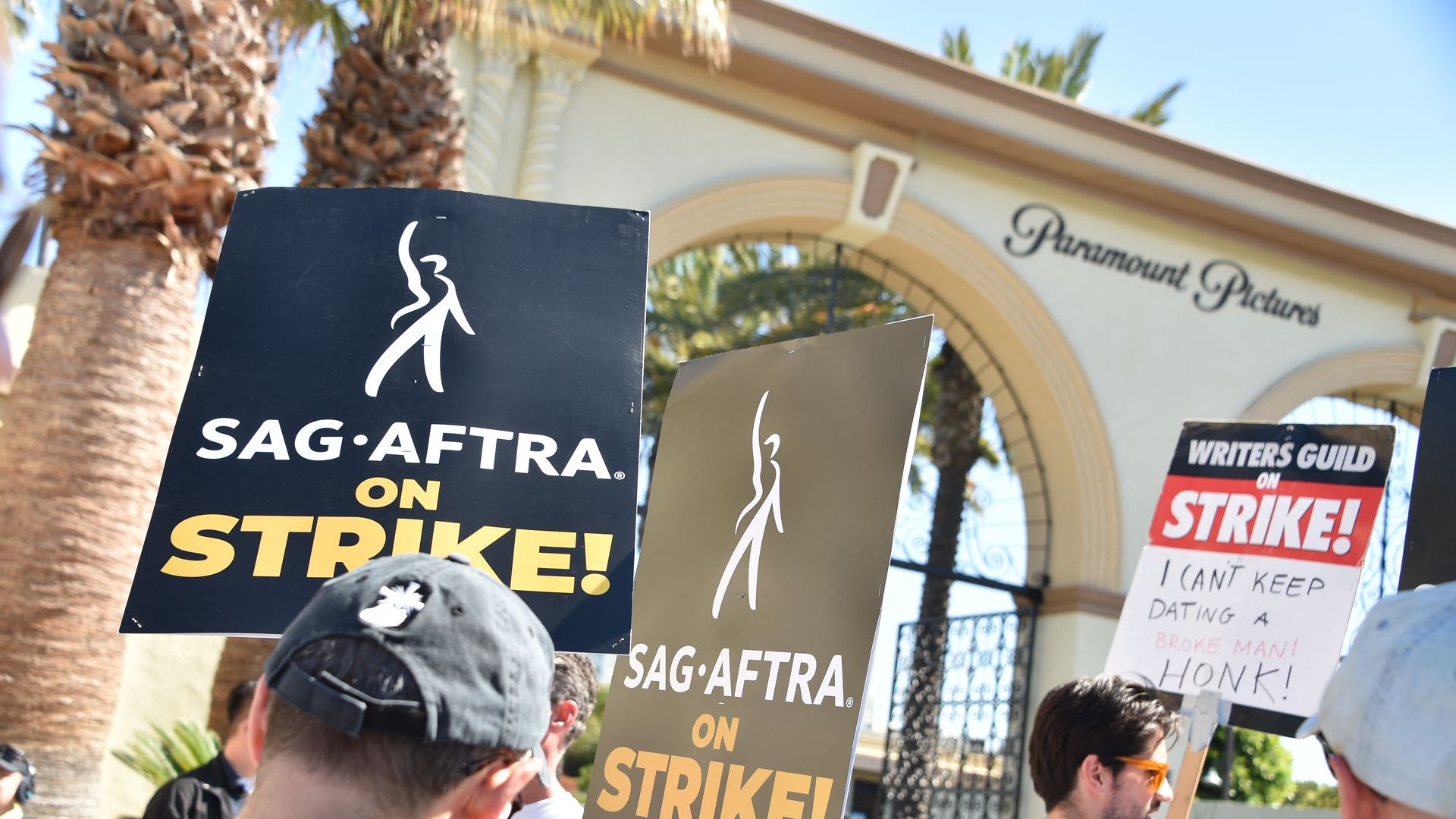 The Hollywood strike that has brought the industry to a halt is about a greater battle for workers' rights amid the rise of generative AI, several actors tell Axios.
What's happening: Actors joined writers on the picket lines last week when negotiations for a new contract between the SAG-AFTRA union that represents 160,000 people and the Alliance of Motion Pictures and Television Producers (AMPTP), which represents the studios, broke down.
The actors say they are not paid equitably and are gravely concerned about the potential consequences of the use of AI in the industry — concerns shared by the writers on strike since early May.
The battle, they say, is not about celebrities who earn millions of dollars per movie, but about actors still breaking through in a rapidly changing industry upended by the rise of streaming services.
SAG-AFTRA says streaming has led to reduced residuals (payments made when a show or movie airs again), and to daily pay minimums that haven't kept up with inflation.
The union says the studios want to pay actors a few hundred dollars to scan their image and use it in perpetuity through AI — a claim the AMPTP denies.
What they're saying: "This isn't a fight about only actors versus studios. It's a fight about the right to work and dignity to work in a world where technology is used against us," says Marcus Raye Pérez, a Texas native and union member based in New York City.
"This is hopefully setting the precedent for all of us in this country as AI continues to advance."
Pérez juggles three jobs in between auditions and taping, he says. He points to the unpaid work he does for auditions, including prep, filming, editing and commuting.
Dani Fernandez, an actor and writer, said she was most concerned about the studios' refusal to buck on AI.
"If they're trying to replace us with AI, I know they're going to do that to you. We're actually fighting for all of us."
Natalia Castellanos, an LA-based actor who is part of the union's negotiating committee, says that the strike and the public faces behind it show the country that workers' rights are important.
Castellanos once went two years without booking any work and relied on a side job because residual payments weren't enough, she says.
"Acting is my passion. I can do a lot of other things, but it's just not in my heart to do it," she says. "I think it's so important for our world. When COVID happened, where did they turn to? They turned to us and their screens."
The other side: "The claim made by SAG-AFTRA leadership that the digital replicas of background actors may be used in perpetuity with no consent or compensation is false," AMPTP says in a statement to Axios.
"In fact, the current AMPTP proposal only permits a company to use the digital replica of a background actor in the motion picture for which the background actor is employed. Any other use requires the background actor's consent and bargaining for the use, subject to a minimum payment."
It previously said in a statement to news outlets that its offer involved "historic pay and residual increases" and a "groundbreaking AI proposal that protects actors' digital likeness."
The big picture: Latinos are severely underrepresented in Hollywood, and actors argue that the inability to make a living under the current industry model will push more actors of color out of the business.
"We have to ask ourselves how are we going to be able to make a decent living in this industry and make sure people of color, Latinos, are represented," says Fanny Grande, who with her husband started Avenida Productions, an independent movie studio focused on telling Latino stories.
"As it is, we only get a few jobs."
Subscribe to Axios Latino to get vital news about Latinos and Latin America, delivered to your inbox on Tuesdays and Thursdays.
Go deeper