Focus groups: Minnesota swing voters reject DeSantis culture wars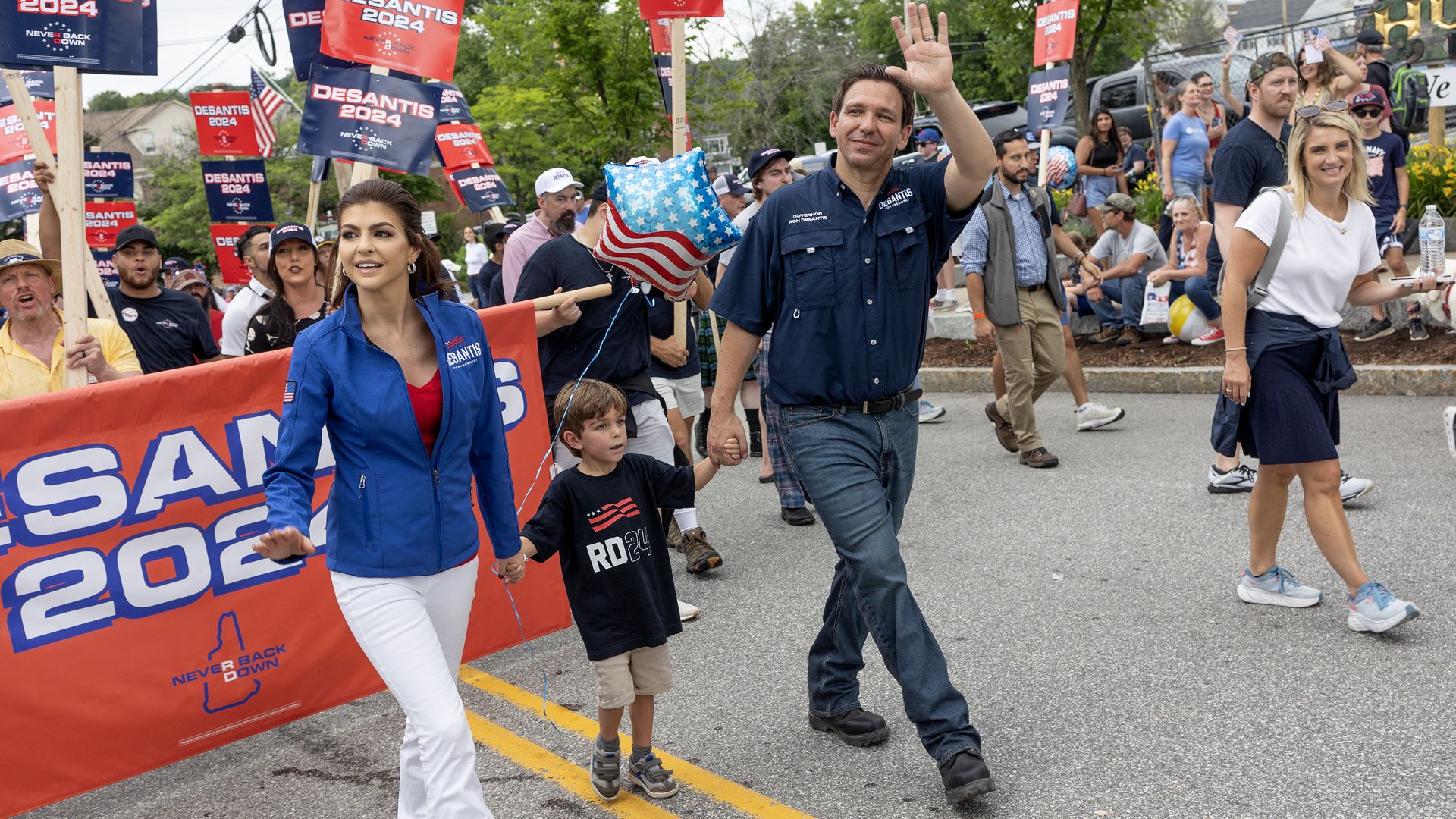 Florida Gov. Ron DeSantis' positions on LGBTQ issues aren't landing with a group of Minnesota swing voters, with several describing him as a "wannabe dictator" in our latest Engagious/Sago focus groups.
Why it matters: The culture wars that have boosted DeSantis' popularity in Florida (and now, he hopes, nationally) are already souring his image with some voters in a key Midwestern state.
The big picture: These voters are looking for an alternative to both President Biden and former President Trump — but they're not interested in the right-wing ideas that DeSantis campaigns on, instead citing crime and the economy as their top concerns in 2024.
Axios sat in on two online focus groups Tuesday night with 13 Minnesotans who voted for Trump in 2016 and Biden in 2020. Nine identify as independent, three as Republican and one as a Democrat.
While a focus group is not a statistically significant sample like a poll, the responses show how some voters are thinking and talking about current events.
Zoom in: No one said they're more likely to vote for DeSantis after being shown a video, shared by his campaign online, that portrays him as an anti-LGBTQ crusader.
All but three described the video as "troubling."
Four voters admitted they simply didn't know enough about the governor to offer an opinion, but the rest who knew him didn't like him.
"Minnesota swing voters fall into two camps; either they don't know what DeSantis is saying, or they don't like it," said Rich Thau, president of Engagious, who moderated the focus groups.
What they're saying: Respondents described him as a "wild card" and "unpredictable," with some, like Felipe I., dismissing his campaign attempts as inauthentic: "It looks like he's just trying to get the Trump base."
Others had a harsher view of the governor: "We saw what happened in Germany 80 years ago," said Jeff D., making a reference to Hitler's rise.
Amber H. echoed the voter who called DeSantis a "wannabe dictator" after watching the video and likened his vision to that of a dictatorship. "He just wants to take over and not work for the people, is really isolating and he'll do what he wants how he wants it."
"The video makes it seem like DeSantis is proud to be anti-trans," said Mike K.
Another, Mark B., was disturbed by what he saw as "pure hate" from DeSantis toward the LGBTQ community.
Some, like Cyndi H., said that DeSantis is out of step with the country. "In today's day, we are more open than we ever have been and to be that far on the other side of it I think is just kind of ridiculous."
Between the lines: It's still very early in the Republican presidential primary, but DeSantis' steady second-place polling has made him the likeliest Trump alternative so far.
Seven of the 13 voters said that they'd ditch Biden in favor of "a generic, middle-aged, white, male, Republican governor with mainstream conservative views," when asked about that hypothetical matchup by the moderator.
Go deeper