Conservative media's tone shift on Ron DeSantis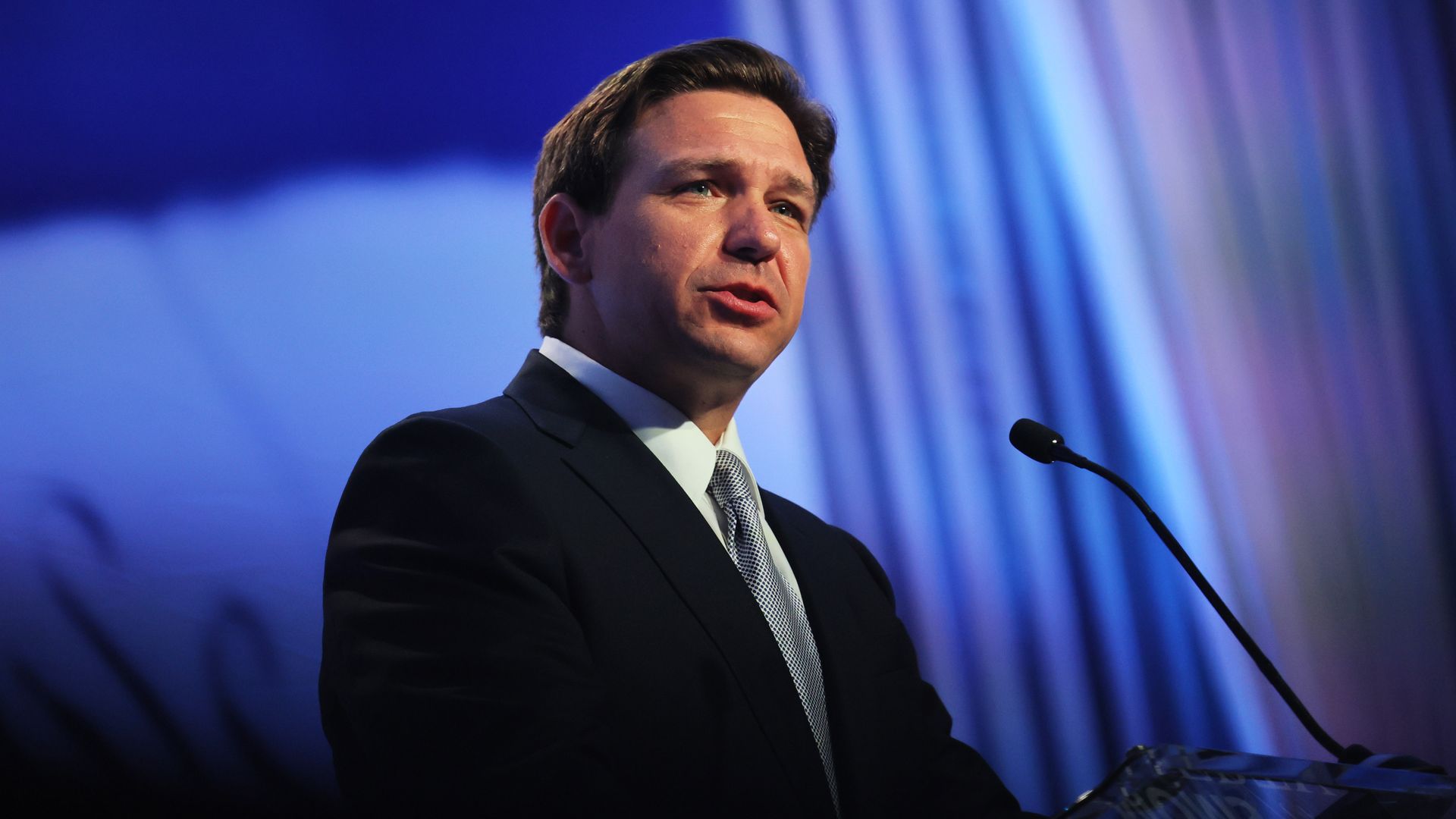 Florida Gov. Ron DeSantis' campaign faces increasing scrutiny from conservative media, a departure from earlier in the campaign.
Why it matters: DeSantis' presidential campaign has had a series of missteps, starting with his glitchy campaign launch in May, and his poll numbers lag behind former President Trump.
Driving the news: DeSantis appeared on Fox News in March, when he threw a baseball with host Brian Kilmeade during an interview about his political vision.
He's faced more critical questions from conservative hosts recently, including when Fox News host Will Cain asked DeSantis last week about his poll numbers, the New York Times reports.
"There are those that say there's something about you that's not connecting, for whatever reason, not connecting with the voter," said Cain, who also praised DeSantis' leadership in Florida.
Fox News host Maria Bartiromo also questioned DeSantis over the weekend about the progress of his campaign.
"You've done a great job pushing back against 'woke,' we know that," Bartiromo, who pushed Trump's false claims about the 2020 presidential election, said.
"But I'm wondering what's going on with your campaign. There was a lot of optimism about you running for president earlier in the year," she said.
DeSantis has criticized the media for his poll numbers, saying "who do they not want to be the nominee? They're going after me."
Between the lines: The New York Post, also owned by Murdoch, earlier this month covered the backlash against a DeSantis video taking aim at Trump's previous support for the LGBTQ community.
Fox News covered the video, with influential Republican strategist Karl Rove calling it an "unforced error" during an interview with the network.
Zoom out: Trump, who has a commanding lead in the Republican primary, has a growing distrust of Fox News and felt snubbed by the network's coverage of DeSantis, Axios' Alex Thompson and Sara Fischer reported in early June.
Trump's relationship with the network is tense and he hasn't committed to participating in the first debate, set to be hosted by Fox.
Trump's acrimony with Fox News grew increasingly contentious since his impeachment process and after the network made an early call for Arizona during the 2020 presidential election.
He's somewhat retreated from interviews with mainstream media, surrounding himself with friendly journalists or provide one-way commentary from Truth Social.
Spokespeople for DeSantis' campaign and for Fox News did not immediately respond to Axios' request for comment.
Go deeper: TV networks battle for Republican debates
Go deeper