Newly approved Alzheimer's drug may not work as well on women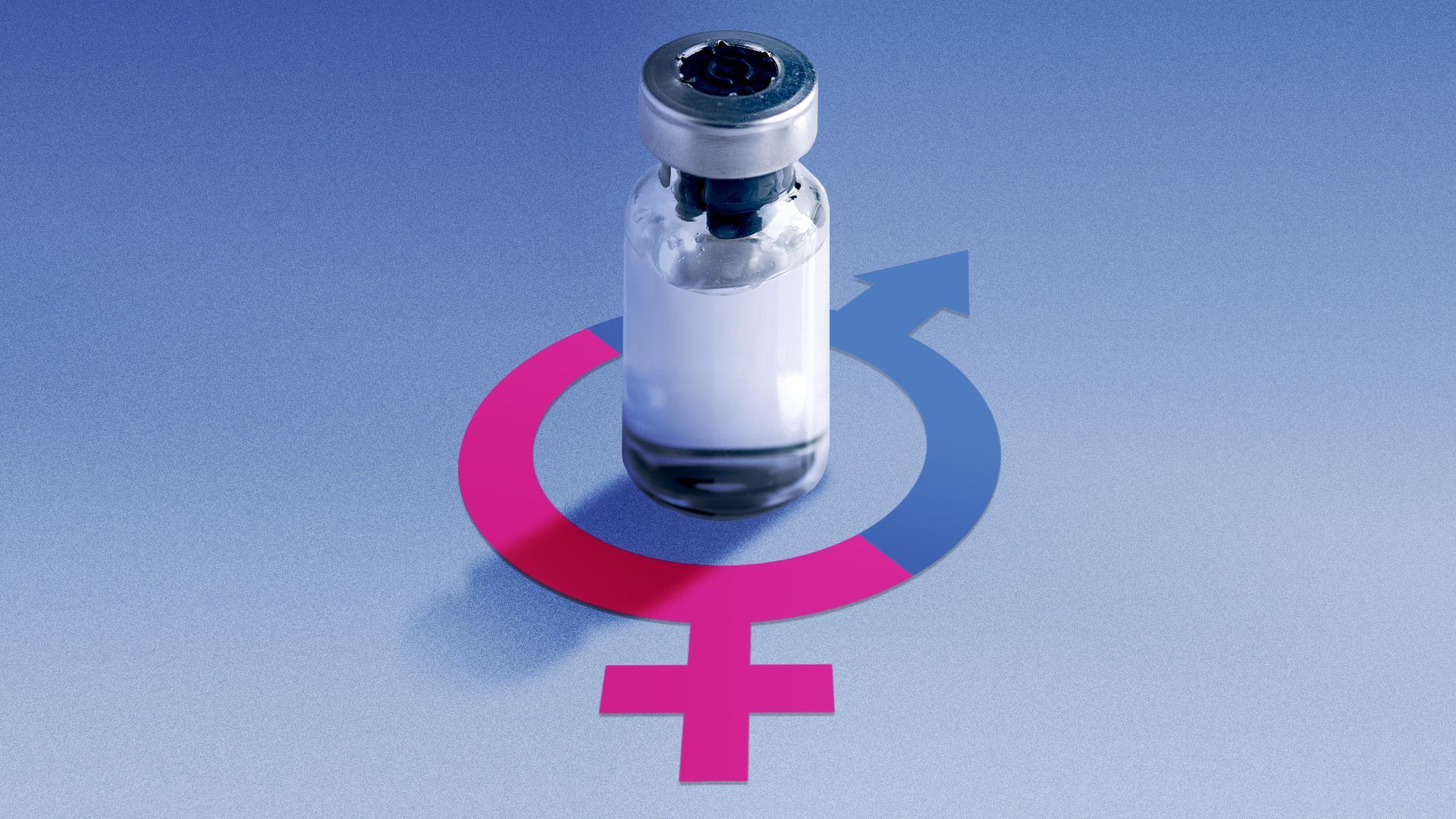 Some experts are questioning whether a newly approved Alzheimer's drug was shown in clinical trials to be less effective on women — even though the FDA didn't flag any such concerns when it was authorized last week.
Why it matters: Nearly two-thirds of Americans living with Alzheimer's disease are female, according to the Alzheimer's Association. The $26,500 drug, Leqembi, also can cause significant side effects, and some experts question whether the benefits outweigh the risks even without accounting for any gender disparities.
Driving the news: The FDA's traditional approval of the drug from Eisai and Biogen opened the door to much broader Medicare coverage and was celebrated by patient advocates as a win for patients suffering from the disease, which has no cure.
Although the drug had already received a conditional approval in January, Medicare coverage limits curbed access to it until last week.
Details: The results from Leqembi's clinical trial were published in the New England Journal of Medicine last year and concluded that the drug slowed clinical decline by 27%.
But in a supplementary appendix also published in the NEJM, analyses of subgroups found that the rate the disease was slowed was lower for women than for men in the study.
The drug slowed cognitive decline in women by 12% compared to 43% in men.
"To me, it's likely that males are benefitting more from this drug than females are," said Madhav Thambisetty, senior investigator and chief at the clinical and translational neuroscience section at the National Institute on Aging.
"I think these are important subgroup analyses in a clinical trial that was very adequately powered, and I think we can make interpretations from these," he added.
Yes, but: The gender disparities were not found to be statistically significant, which essentially means the observed difference happened by chance, Eisai said, adding that the study was not designed specifically to measure efficacy by sex.
For both males and females "treatment is effective in the positive direction," said Shobha Dhadda, senior vice president of biostatistics and clinical development at Eisai.
What they're saying: "You would get data that looks like this if you were flipping a coin," said Christopher van Dyck, the lead researcher on Leqembi's clinical trial and the founder and director of the Alzheimer's disease research unit at Yale University School of Medicine.
But at the same time, "based on this data, if you had to make a bet on a male versus a female subject, how well they would do or likely to benefit, absolutely, you'd bet on the male."
The big picture: Some clinicians said those results will influence the conversations they have with female patients weighing whether to take the drug.
"I don't think that it's enough to say no woman should be treated with this. I think that would be the wrong take-home message. But the risk benefit ratio, which is always complicated because of lots of things, will need to weigh gender as part of the equation," said Alvaro Pascual-Leone, a neurology professor at Harvard Medical School.
Other researchers pointed to their already-existing concerns about the drug's safety. "I would be hesitant even more so with [women] to prescribe it, because I just don't see that the benefits outweigh the risks, because there's just not a benefit that is being shown here," said Reshma Ramachandran, an assistant professor at Yale School of Medicine.
"I think it is a point of caution. It's one of those things where you shouldn't view this as a definitive answer, but it does temper their results, where you're looking at this and saying, it doesn't look like the women benefitted nearly as much as the men did," said Matthew Schrag, an assistant professor of neurology at Vanderbilt University Medical Center.
But Schrag said the benefit is small for all subgroups, especially in the context of the drugs' risks. "I don't think that there's any group of patients that I would recommend this drug to."
Between the lines: Since patient gender were not a primary consideration and it's possible that the patients were not comparable enough, "you really can't draw conclusions from that difference," said Constantine Lyketsos, an Alzheimer's researcher at Johns Hopkins School of Medicine.
"Keep in mind that what you don't know is whether men and women at baseline differed on severity of illness or a variety of other variables that would have predicted the outcome, so this might have nothing to do with gender," he added.
What we know: Although the results suggest male patients benefited more, limitations in the analyses mean they are "not adequately powered to allow for firm conclusions on treatment effects for inclusion in labeling," an FDA spokesperson told Axios.
The spokesperson added that "female patients benefit from treatment with Leqembi."
Zoom in: Eli Lilly this month is due to release full clinical results for its experimental Alzheimer's treatment donanemab, which works similarly to Leqembi. It'll be worth noting whether there are any gender discrepancies there.
"If it seems to be a pattern across studies with different drugs, there may be an issue," Lyketsos said. "But you still have to resolve the question as to whether men and women coming into the study are comparable in their risk to progress."
What we're watching: A Medicare requirement that patients be enrolled in a registry in order to be covered for Leqembi will likely yield useful additional data on how well the drug works in different populations, experts said.
Thambisetty said the hope is the registry-based studies will yield a larger sample size with more patients. "That will inform the relevance of these results."
Go deeper