Why some birthday freebies are becoming less rewarding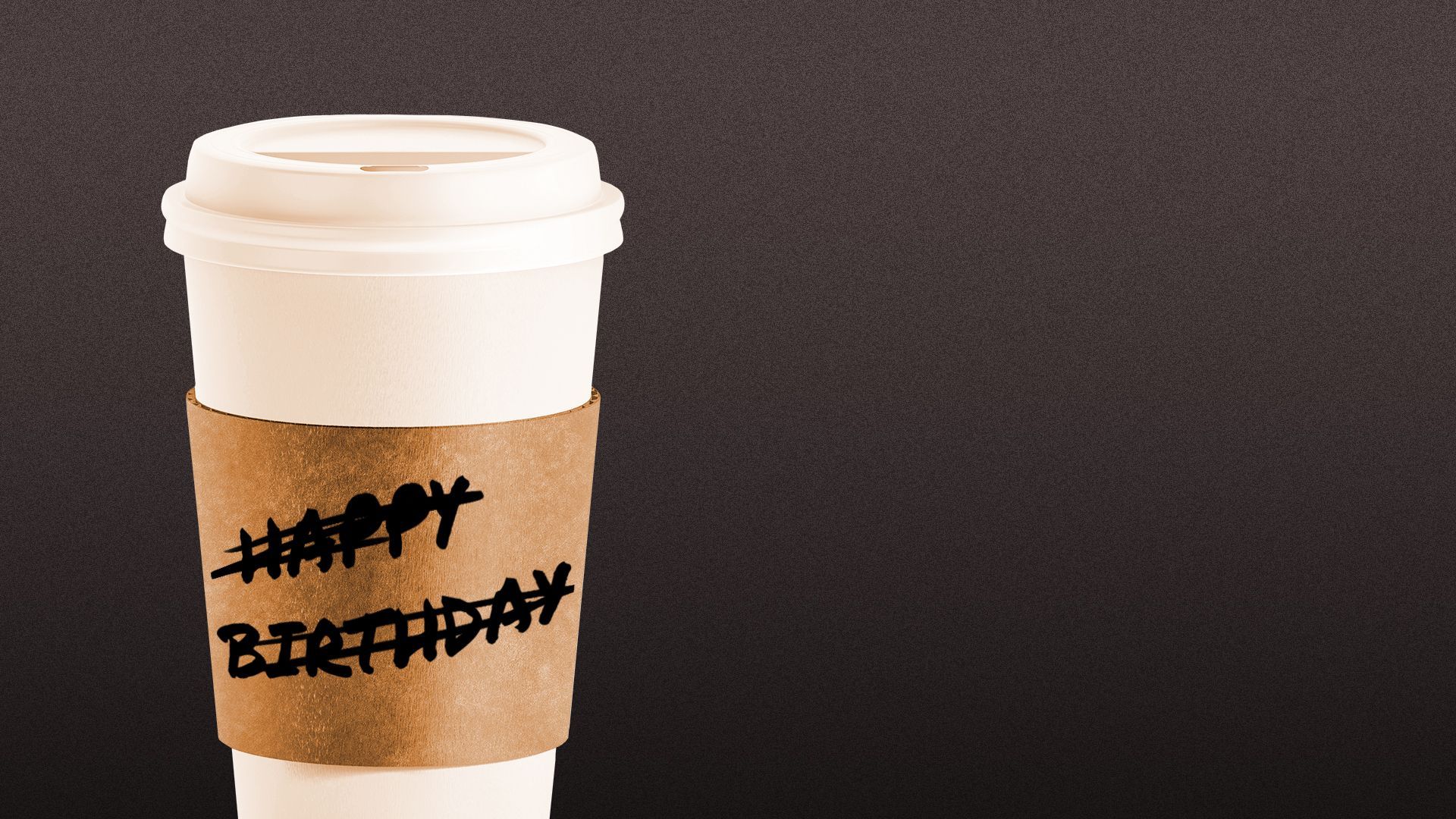 You may have to celebrate your birthday with fewer freebies and specials as cutbacks and changes come to popular rewards programs.
Why it matters: Consumers love these once-a-year "gifts" that include treats like free coffee, ice cream or a cosmetic product and discounts to help inflation-weary shoppers save. The programs also help businesses build loyalty and boost sales.
Driving the news: Companies are pivoting from "giving straight-up freebies to offering loyalty program perks instead," Kristin McGrath, a shopping expert with RetailMeNot, told Axios.
More retailers and food chains are offering discounts and promotions through their apps or programs, "which means you can't simply tell the cashier it's your birthday. You will often need to scan a barcode or activate an offer in your account," McGrath said.
GlobalData managing director Neil Saunders said that birthday rewards are "definitely becoming stingier and more restrictive, which is not something that always goes down well with people who are used to getting freebies."
The Associated Press reported Wednesday about the changes to three deals — Sephora, Dunkin' and Red Robin.
As of June 1, Sephora started requiring a $25 minimum purchase for customers wanting to redeem their birthday freebie online, AP reported. The gift is the choice of a beauty or skin-care kit or 250 loyalty points. There's no minimum purchase to redeem in stores.
Red Robin announced in December that its birthday burger would change in 2023 to be dine-in only and would require a minimum purchase of $4.99 to redeem the reward.
Dunkin's revamp of its loyalty program in October quickly drew critics who bashed the chain on social media, calling Dunkin' Rewards less rewarding because members need to earn more points to redeem rewards.
Dunkin' didn't respond to Axios' questions but told AP that its new program lets "members celebrate their birthday even longer" and pointed to the three-day window of the new special.
Yes, but: The former program, DD Perks, offered a free birthday beverage in any size starting two days before your birthday and expiring five days after it, per a member birthday email from summer 2022.
Starbucks updated its rewards program in February but didn't touch the birthday freebie — a free food or drink item of your choice that can be redeemed on the birthday entered on your reward account.
What's next: "Businesses are looking at all costs right now and they are making changes to a whole range of customer benefits to reduce expenses," Saunders said. "Birthday rewards are just one area, alongside things like free returns."
McGrath said shoppers should "expect to see more red tape — a minimum purchase, for example, or some kind of minimal engagement with the program before the birthday."
Birthday gifts at Ulta, Sephora and more
The best birthday freebies and deals are the ones that save you money without forcing you to spend extra, McGrath told Axios.
"Freebies with a reputation for high value and a physical item, just like an actual birthday gift, are the ones shoppers make sure to take advantage of," she said.
Kelly's thought bubble: Despite losing a free Dunkin' coffee, I took advantage of a bunch of deals for my June birthday, all of which required me to be signed up for loyalty programs.
Top gifts: Starbucks birthday drink, Ulta gift (the product changes each month), free quart of Publix ice cream, Kohl's $10 off any purchase (amounts can vary), dozen Krispy Kreme glazed doughnuts, Ikea $10 off coupon, Sephora free Dior fragrance birthday gift set, and an extra 5% off a Target purchase.
More from Axios:
Go deeper