Trump plots Twitter return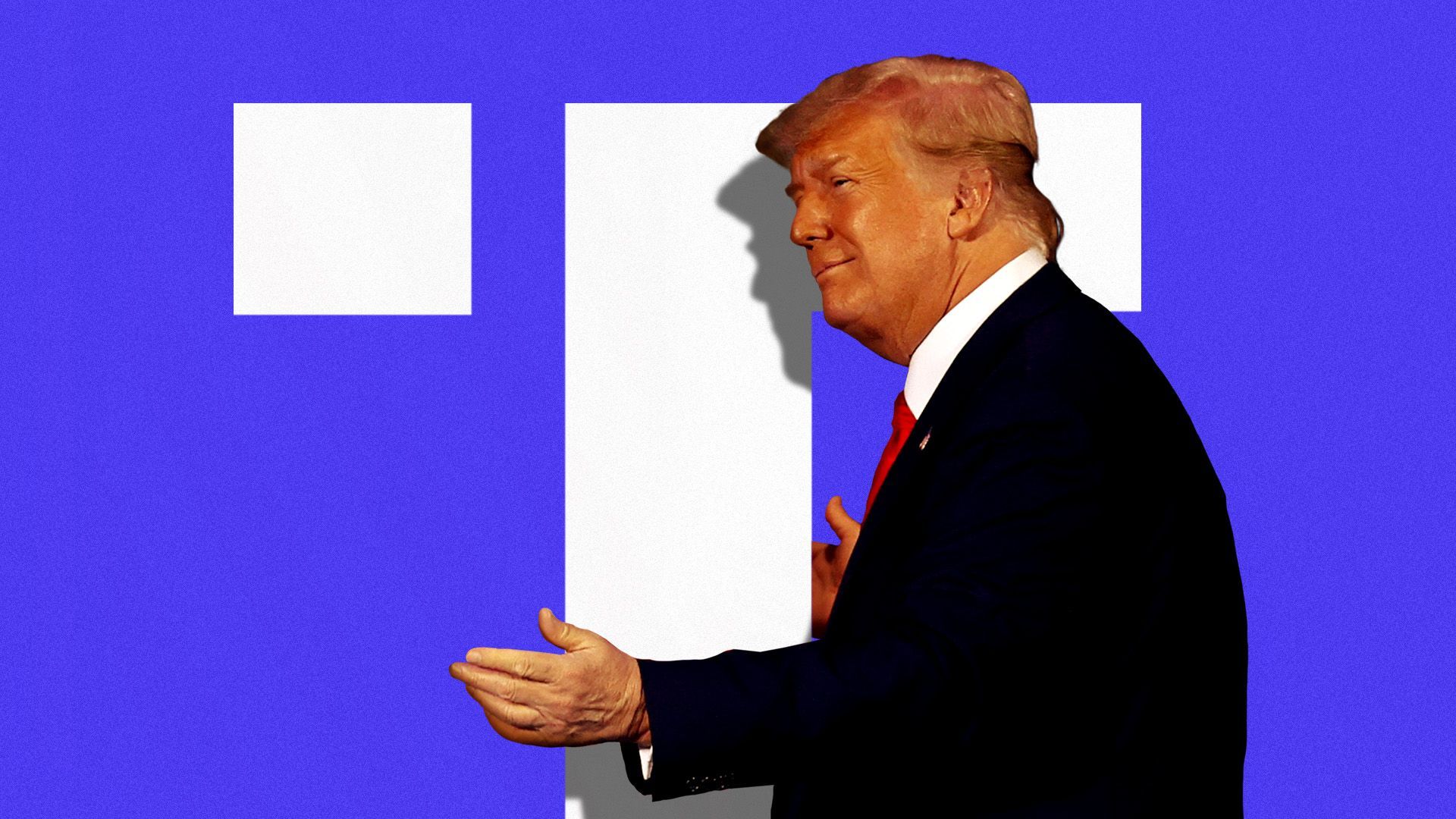 It may take a while, but former President Trump has entertained the idea of returning to his happy place on Twitter, where he's been absent for nearly 2 1/2 years, sources tell Axios.
Why it matters: Trump still has nearly 87 million followers on Twitter, but hasn't posted there since he was banned after the Jan. 6 riot in 2021. Now a growing number of Trump allies — and some close to his campaign — are expecting him to tweet again.
For more than a year, Trump has been blasting his thoughts to some 5 million followers on Truth Social, where he is majority owner and has a financial incentive to keep the rage flowing.
Twitter's Elon Musk reinstated Trump last November, but the former president — not always known for his messaging discipline — so far has steadfastly stayed on Truth Social.
Under Musk, Twitter has become a favorite of conservative Republicans, many of whom repost Trump's Truth Social diatribes to Twitter's much broader audience.
Zoom in: As Trump tries to reclaim the White House while fighting off felony charges, people close to his team think he'll eventually get back on Twitter — and that when he does, it will be with showmanship and a purpose.
A person close to Trump's campaign cast the ex-president's Twitter return as a tool his team could use to try to offset bad news — another indictment, for example.
That was the strategy this month in Miami, after Trump was arraigned on federal charges of mishandling classified documents. He blasted complaints on Truth Social, stopped by a popular Cuban restaurant, and later skewered his critics in a speech at his golf club in Bedminster, N.J.
Others close to Trump are more focused on amplifying his message on Musk's platform.
"President Trump needs to make Twitter great again. I want him to get back on before the presidential campaign heats up," says Mike Davis, a Trump ally and founder of The Article III Project, a conservative legal group.
"From a business perspective, it's very smart he's only on Truth. From a political perspective, he needs to be on Twitter."
What we're watching: Truth Social — replete with ads for alternative medicine, diet pills, gun accessories and Trump-themed trinkets — has been Trump's medium of choice to rant about his myriad legal challenges.
He "reTruths" posts from allies in Congress, favorable polling and clips from conservative networks. He also reposts his own messages.
Trump sends less than half of the Truth Social posts on his own, one person close to him tells Axios.
Others he dictates or are written by senior campaign advisers Dan Scavino and Jason Miller, or communications director Steven Cheung.
Trump's activity on Truth Social has ramped up this month, starting with when he pre-empted the Justice Department's announcement that he was being charged in the classified documents case.
It was a familiar Trump tactic of jumping ahead of bad news to deliver it through his filter — and promote Truth Social, as media outlets showed screen-grabs of his post.
His all-caps posts usually rage against prosecutors and Biden administration officials.
The big picture: Trump owns 90% of Trump Media & Technology Group, the umbrella group for Truth Social, a person familiar with the matter told Axios.
On SEC financial disclosure forms, Trump has listed TMTG's value as $5 million to $25 million.
The value of TMTG and Truth Social could decline significantly if Trump returned to Twitter and favored it over Truth Social, analysts say.
The intrigue: Since leaving office in 2021, Trump has reported less than $201 in income from Truth Social, according to SEC filings in April.
Between the lines: Trump considered returning to Twitter at the end of Congress' Jan. 6 hearings in December 2022, people close to Trump tell Axios.
His team even drafted possible tweets to post before he decided to stay on Truth Social, which had debuted months earlier.
If Trump rejoins Twitter, he could be subject to an agreement that has required him to post on Truth Social first, and at least six hours before posting on another platform, according to a regulatory filing from Digital World Acquisition Group.
Another scenario: Trump could rejoin Twitter but post exclusive content on Truth Social.
Go deeper